The amount of spending we do during the month of April, between taxes and birthdays and anniversaries, I always feel the need to tighten the belt and reign in the budget. First place I felt we could save some money this year, was with our groceries. I don't feel like I'm typically frivolous with my dollars, but if I'm not careful, I tend to load up the cart with interesting and fancy extras we don't necessarily need. And besides the need to save some money, it also began to feel like I was becoming a bit of a hoarder in the food department, at one point stocking almost 50 lbs of meat in our freezer, yet still finding myself buying more. So bottom line, I've been working on being more intentional with our grocery budget for the past couple of months, and it's working! Because I've received lots of questions about my weekly grocery haul photos on Instagram, I thought I'd answer a few of the most commonly asked questions, and also share with you my most recent Thrive Market purchases.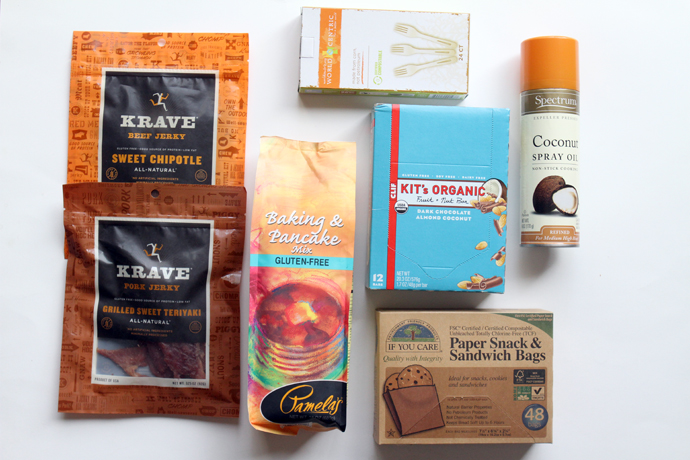 First, let's start with Thrive Market. If you're not familiar with Thrive, it's an online grocer offering only "natural" healthy living foods, at a discount price. While in the beginning Thrive was said to offer wholesale pricing, it's more like 25% off of retail. which is still a pretty good savings. Membership costs $49 a year, yet I've easily made up the cost in savings with just 2 orders (you get recaps in each order on how much you've saved, and accumulated savings). If you use this link, you'll save 15% off your first order and your first month is free, so you can at least try it out with no membership obligation.
This month I ordered a case of Kit's Organic bars, 3 packs of Krave jerky, 1 package of Pamela's pancake mix, 1 bottle of Spectrum coconut spray oil, and because I'm trying to switch us away from Ziploc completely, paper sandwich bags. I only had to spend $2 more for free shipping, I added on the package of sustainable "plastic" forks to pack in the kid's lunches and meals on the go. I've shopped around and even when these items are on sale or with a coupon, I can't get them cheaper anywhere else. The key with Thrive is to have a general knowledge of prices so you can pick and choose which items you're really going to find significant savings on. You may find some items for around the same price at your local market, but most items offer a significant savings.
Now let's talk a bit about the grocery budget and answer some questions.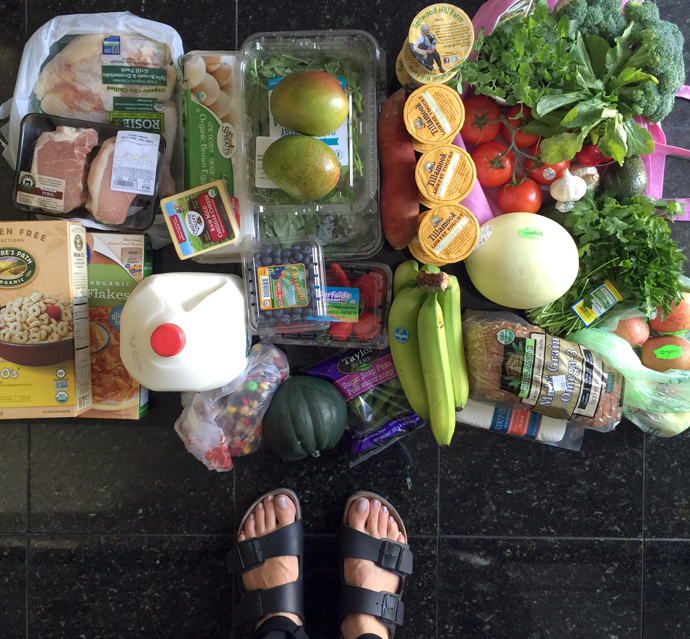 The $100-$125/week grocery budget does include the kid's school lunches, breakfast and dinners. It does not include packing a lunch for my husband, as he eats out almost daily with his employees. I eat lunch out 1-2 times a week as well, but eat leftovers or make something else at home.
The grocery budget does not include home/personal care products.
In addition to the weekly budget, we also do a monthly Costco trip and spend on average $100-$150.
Once a month I purchase our CSA produce box at $75, and includes 2 boxes of fruit and vegetables and 5 dozen eggs. You can email me directly, if you're local to the Southern California area, and I can add you to our CSA distro list with pick-up locations on Long Beach and Los Alamitos.
Once a quarter I also spend about $100 on our beef CSA, J&J Grassfed Beef.
We don't buy or eat 100% organic, but rather on average 50% of total food purchases are organic, the rest conventional. We do strictly purchase organic milk and chicken, and pastured pork and grass-fed beef.
We eat out as a family on average 2-3 times a week, usually Friday night dinner, Sunday lunch out after church, and on a busy sports day, we may get take-out from Chipotle or ZPizza.  We could and should be better about this, I'd like to get eating out down to just once a week. Goalsssss.
Total monthly spend, on average is then $700-$800/month for our family of 5.
A few ways I've been able to save extra money.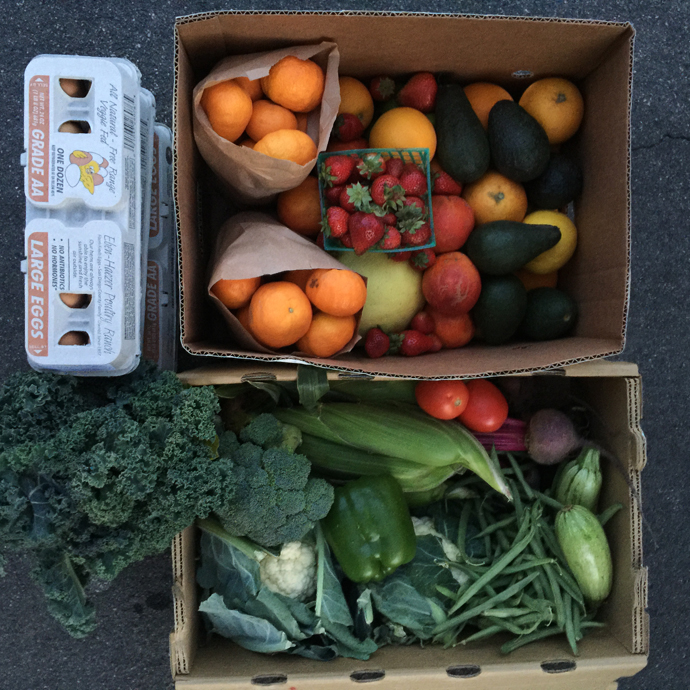 Coupon clipping and the Target Cartwheel app. Sprouts offers a monthly coupon book with some pretty good savings, and of course the Cartwheel app has a ton of products with a savings of 5%-20% off. I've had the best luck by searching the app for only the things on my shopping list, rather than perusing the app and adding on items we don't necessarily need, just because it's "on sale."
Meal planning is of course the easiest and most significant way to save money, since you can stay on track with your shopping list and spending.
Keeping an organized pantry and regularly cleaning out the fridge keeps me from buying more of what I don't need, and makes sure we eat *most* leftovers.
Fenugreen fresh paper has really helped with keeping the produce fresh for at least a few extra days, thus reducing waste. I recently used them on a bunch of berries I bought at Costco, for Taylor's tea party, and they kept them fresh for over a week.
Not being shy about putting items back along the grocery
Being stingy with meat. Unless I'm planning on making enough for plenty of leftovers, I usually only cook with 1-1.5 lb meat portions for our dinners. I also remain pretty steadfast on our Meatless Mondays.
The USDA reports the average cost of food for a family of 4, to be anywhere from $150-$300/per week.  Considering the high cost of living in Southern California, I think we're doing pretty well. Are you happy with your weekly food costs, and if so, how do you work to save money each week? Would love some extra tips!