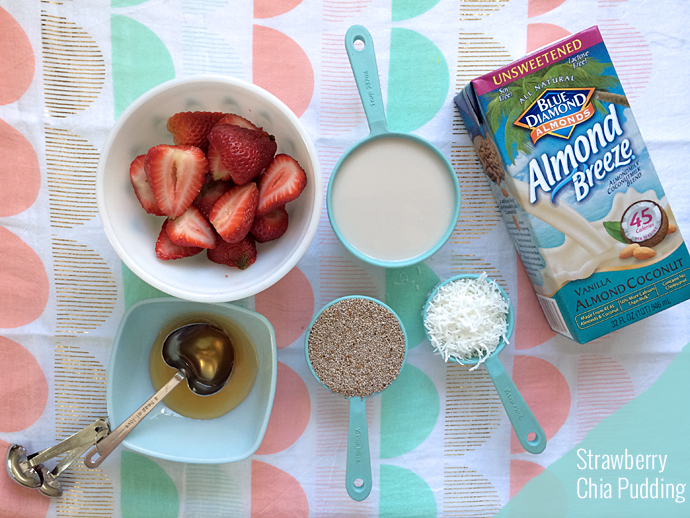 I've been experimenting with adding new snack and breakfast items to my rotation. Things I can grab when I'm feeling hungry but have very little time. Things that will prevent me from dipping into a bag of chips or stopping at the coffee shop and grabbing a muffin. Chia pudding is a somewhat new-to-me concept, and while I admittedly don't love these for their decadent, indulgent flavor, I love them for their ease and health benefits. Chia seeds are packed with protein, Omega 3's and leave me feeling full and nourished, which is the true end goal when I'm craving a snack – something to fill a need so I don't keep craving junk. All this to say, if you make these, don't be surprised if you don't fall head over heels in love with them. They don't knock your socks off like a fantastic donut or leave you craving more like a bag of chips. But that's okay. There's a reason those other foods leave you wanting more, and there's a reason foods like these exist; to help keep us on track.
If ever there was a crappier sell on a recipe, I'd prove you to find it, but really I'm just trying to be honest. Eating healthy isn't always fireworks and moon beams. Many times it's just trying to find the best version of a good-for-you health food you can find. In that case, this particular strawberry chia seed pudding recipe fits the bill perfectly. I tweaked it a few times to get it just how I like it, but feel free to add a bit more honey or maple syrup to make it sweeter, or change up the fruit to use what's in-season at the time. At any rate, I hope you enjoy it. I divided mine up into little ramekins so I can grab and go, and they've done a great job preventing hangry meltdowns on my part.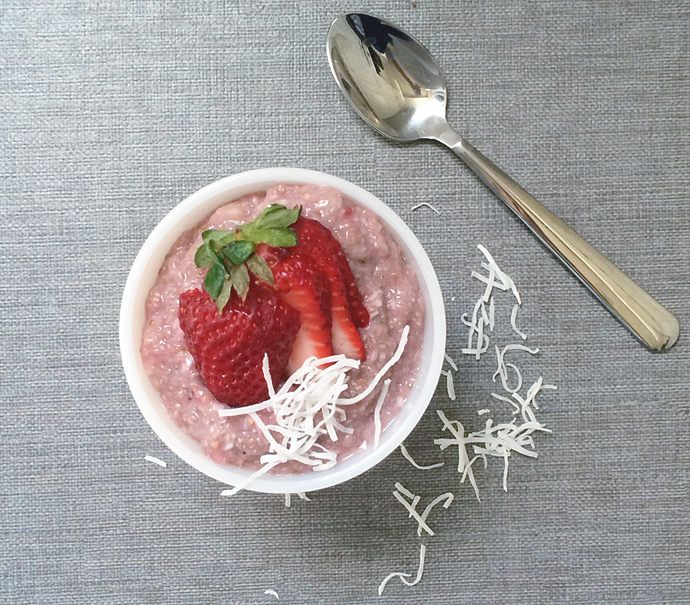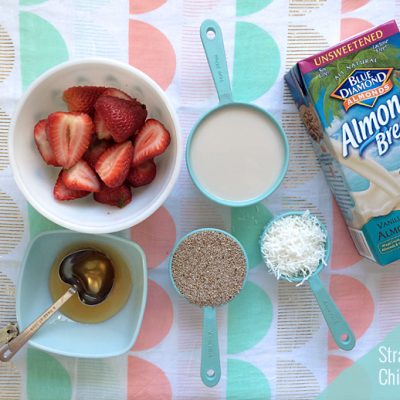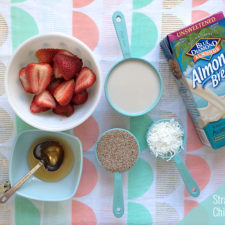 Print Recipe
Strawberry Chia Seed Pudding
Make this quick, easy and healthy chia pudding recipe for quick on the go snacks and breakfasts.
Ingredients
1 1/2

cups

strawberry

1

ripe banana

1 3/4

cups

almond milk

2/3

cup

white or black chia seeds

1

tbsp

honey or maple syrup

1/3

cup

unsweetened coconut flakes
Instructions
Place all ingredients in a blender and blend on medium speed just to combine and gently stir up the seeds. Once combined, place in a large bowl, cover and refrigerate for at least 30 minutes, then enjoy! This makes exactly 30 ounces you can divide up into 6, 5 ounce single size servings.