I rarely go to Trader Joe's anymore for the simple fact that each time I go in, they always steal too much of my money. They're deals on cheese, some produce and various jarred items like honey and coconut oil make it feel like you're going to walk in and save a ton, but they make all their margins on all the snacky packaged items. Veggie chips, all sorts of combinations on pita chips, tortilla chips and so many trail mix combinations it will make your head spin. But why am I going on and on, you know all this already. And let's not even talk about their frozen foods section, because we could write a soliloquy to all the convenient options available.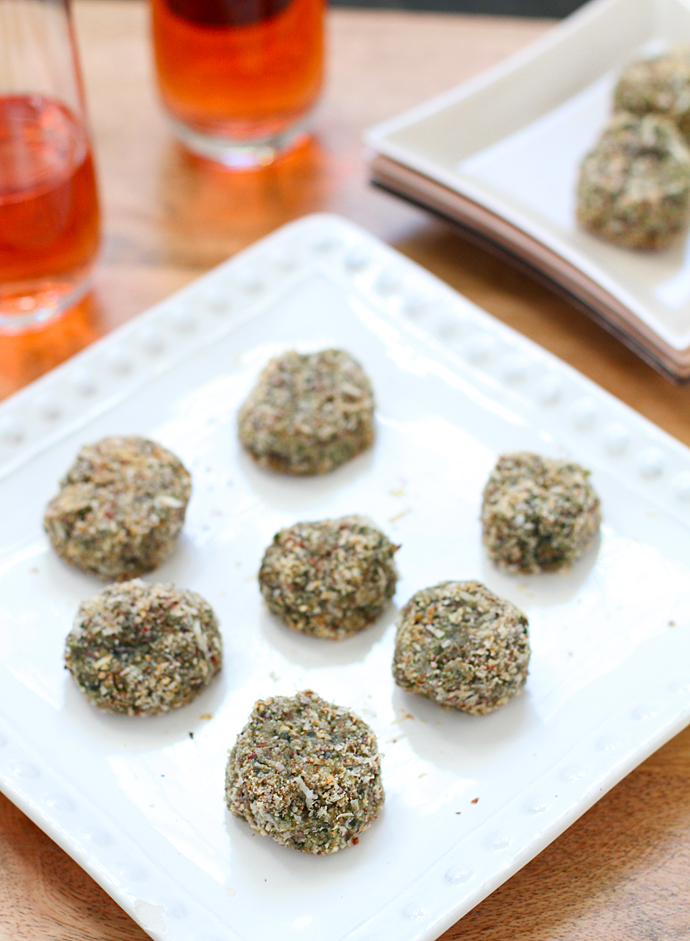 So on my quarterly shopping trip to TJ's last week, I got reacquainted with some of their items thanks to my new commitment to eat gluten free, which is mostly going okay. I  discovered some new to me items, and was happy some of my old favorites were already gluten free, and while browsing the frozen foods section, I discovered these little kale and spinach bites. They looked delicious, only problem was they were pricey for the quantity, and they were made with bread crumbs. All the other ingredients looked and sounded delicious and simple enough, and since I've gotten fairly used to subbing bread crumbs with almond meal, I figured I'd be able to recreate these bad boys to be gluten free. Turns out, I was right! It took a couple of tries to get the texture right and bitterness to go away, and I also got a little help from this Two Sisters recipe, but eventually we arrived at these little morsels of delight, and I'm very excited to serve them up on Thanksgiving.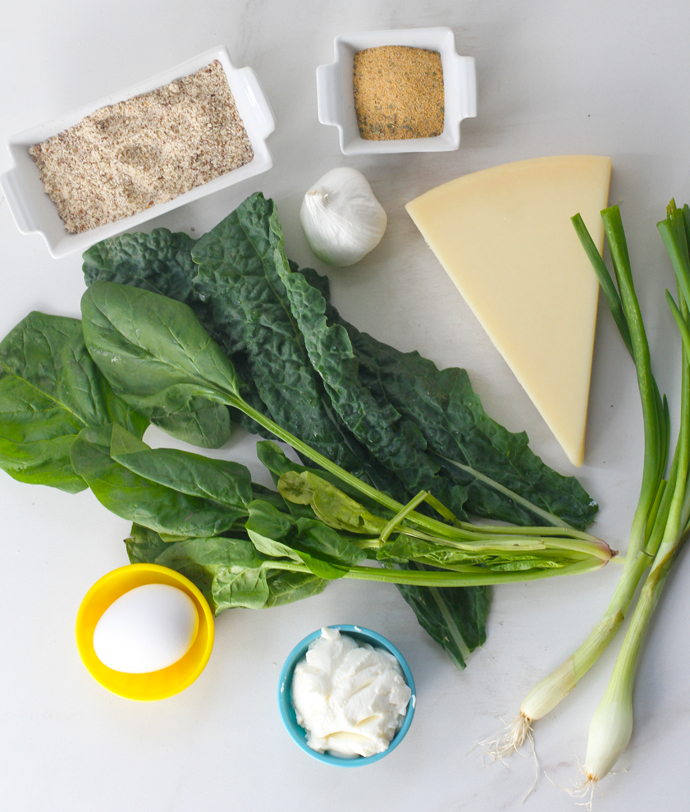 In addition to the ingredients you see above, I also added in half of an onion and some lemon juice to help with the bitterness. So grab your kale, spinach, onion, garlic and green onions, and get cooking. 
Melt some butter or ghee with olive oil on medium high heat, and first saute your onion. Add in your spinach and kale, along with your seasonings, and saute a few more minutes, just until your greens are wilted. For my seasonings I added in about 1/2 tsp each of Flavor God Everything Seasoning and Garlic Lover's Seasoning, but if you don't have those at home, add in 1/8 tsp each of any combination of the following: onion powder, garlic powder, chili pepper, basil, coriander, parsley and thyme. Add in all of them if you have them on hand, or just a few if you're pressed for time or short on seasonings. Finish off with a big pinch of sea salt and a few grinds of black pepper.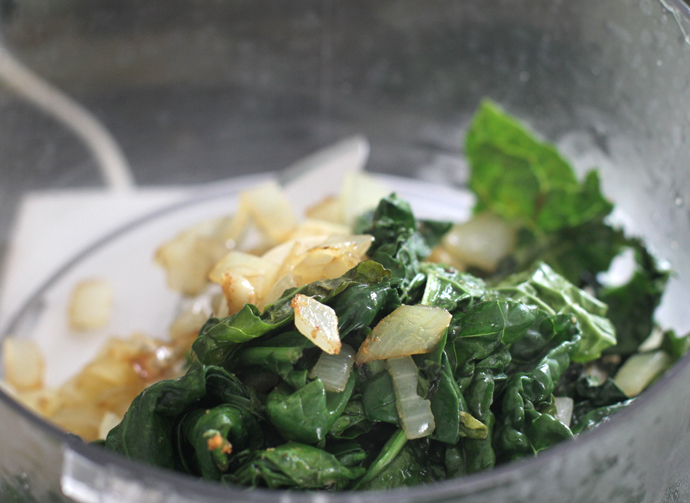 Once your onions and greens are nice and cooked, toss them in the food processor with the chopping blade, along with one roughly chopped green onion, and pulse for several seconds to get a nice creamy texture. I originally just minced my onions and greens, which left for an unpleasant texture. The food processor method is the way to go. If you don't have a food processor, I recommend just chopping the cooked mix as fine as you can over and over again, or even add it to the blender for a few short seconds, scraping the sides to get an even grind.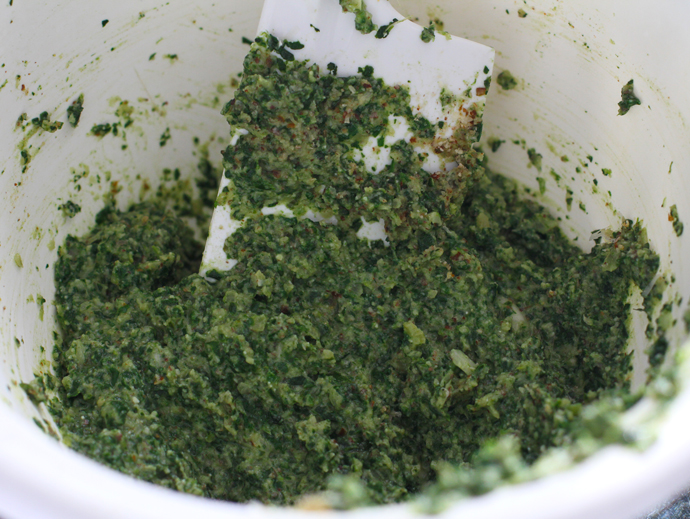 Dump the processed greens and onions into a mixing bowl, and add in your egg, ricotta, almond meal, parmesan cheese, and a good squeeze of lemon juice, which I found helped eliminate any bitterness that may remain from the spinach and kale. I had received adult spinach in my produce box, which tends to be stronger. Had I used baby spinach, the bitterness may have been minimal, but either way, the lemon juice guarantees a balance of flavors.

Take a small spoonful of mixture and roll it into a ball, then roll into your almond flour/Parmesan cheese mixture to evenly coat. Place on a parchment lined baking sheet. You will notice that the mix is very moist and gooey, that's okay. As long as it sticks together and can form into balls, you're fine, but if you can't get them to bind together at all, simply add some more almond meal.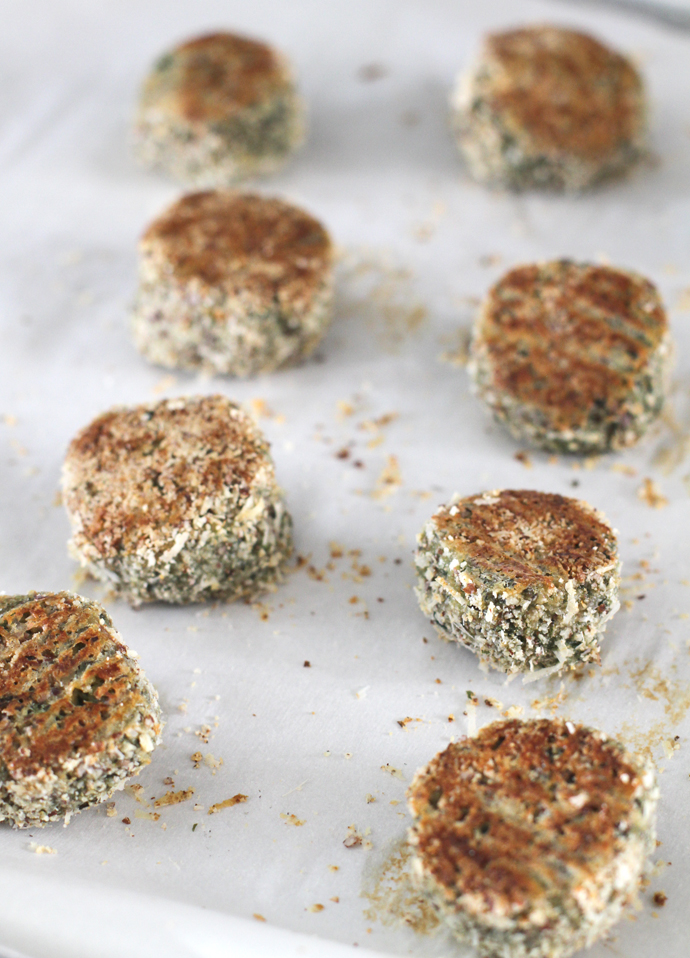 Bake them for about 15 minutes, and set them under the broiler for about 1 minute to increase the browning process. The one side will be really crispy because of the browning process, the other side will be a little less crispy but that's okay.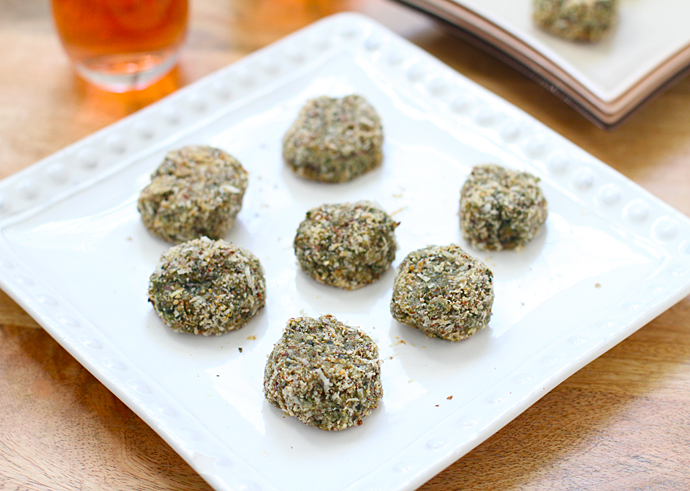 These are rich and creamy and fill a cheesy savory craving without feeling overly indulgent, a perfect treat for the season of celebrating.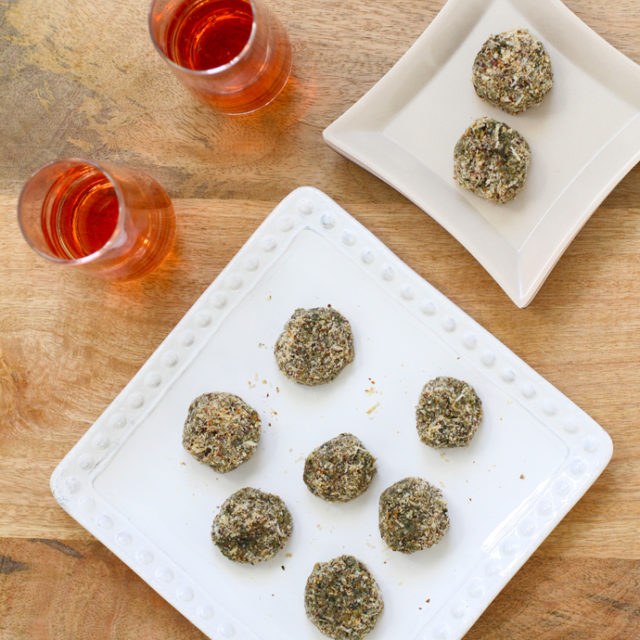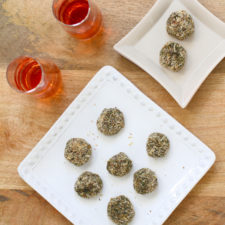 Print Recipe
Savory Parmesan Kale Spinach Bites
A healthy spinach appetizer that is not short on flavor. This recipe makes a great party appetizer!
Ingredients
t

tbsp each olive oil & butter or ghee

5

ounces

of spinach

3

large kale leaves

preferably lacinto kale

1/2

yellow onion

1

green onion

1

garlic clove

1

egg

1

cup

almond meal or hazelnut meal

plus 1 cup more for the coating

1/2

cup

Parmesan cheese

plus 1/2 cup more for the coating

2

tbsp

ricotta cheese

optional

1

teaspoon

of desired seasonings

see note above

Juice of 1/2 lemon

about 1 tbsp

salt and pepper
Instructions
Roughly chop the onion, kale and spinach. Heat the oil and ghee or butter in a large saute pan over medium high heat. Add in the chopped onion and garlic, and cook until softened, stirring occasionally, about 5 minutes. Add in the spinach and kale and seasoning, and cook till wilted, about 2-3 minutes.

When cooked through, transfer kale spinach mix to the food processor, along with the green onion, and using the chopping attachment, pulse until mixed and finely chopped, about 10 seconds.

Transfer contents to a medium bowl and mix in the lemon juice, egg, ricotta cheese if using, 1/2 cup of the Parmesan cheese and 1 cup of the almond meal, along with a big pinch of salt and some pepper. Mix until well combined.

Combine the remaining almond meal and Parmesan cheese in a small bowl, along with a bit more salt and pepper, and set aside. Begin rolling 1 inch balls of the kale spinach mix, and then coat thoroughly in the almond meal/Parmesan mix. Place coated balls onto a parchment lined baking sheet.

Bake at 375 for 15 minutes, and then allow them to cook under the broiler set at high for 1 minute.

Serve immediately
In addition to this party-perfect holiday recipe, I'd like to recommend some other savory and sweet treats that other talented bloggers across all types of cooking, have created. Whether you're looking for the perfect appetizer or something to satisfy a sweet tooth, there are plenty choices below. Take a look and stop on by some of these other great sites:
Savory Treats
Holiday Sweets