I owe you all a few different blog posts, and one in particular that you've been asking about is a rundown on the macros style of eating that we've been doing. While I promise to get you that one really soon, in the mean time I wanted to share with you one of our favorite and compatible meals that we are able to eat and "fit in" with our macros; breakfast sandwiches on a Bays English muffin, and if I'm being honest, when we're in a real hurry, these often are just a very simple breakfast scramble sandwich. We eat a meal like this at least a few times a week, and when we are extremely rushed in the mornings, we drink a protein-packed smoothie instead. Suffice to say, this is the preferred meal.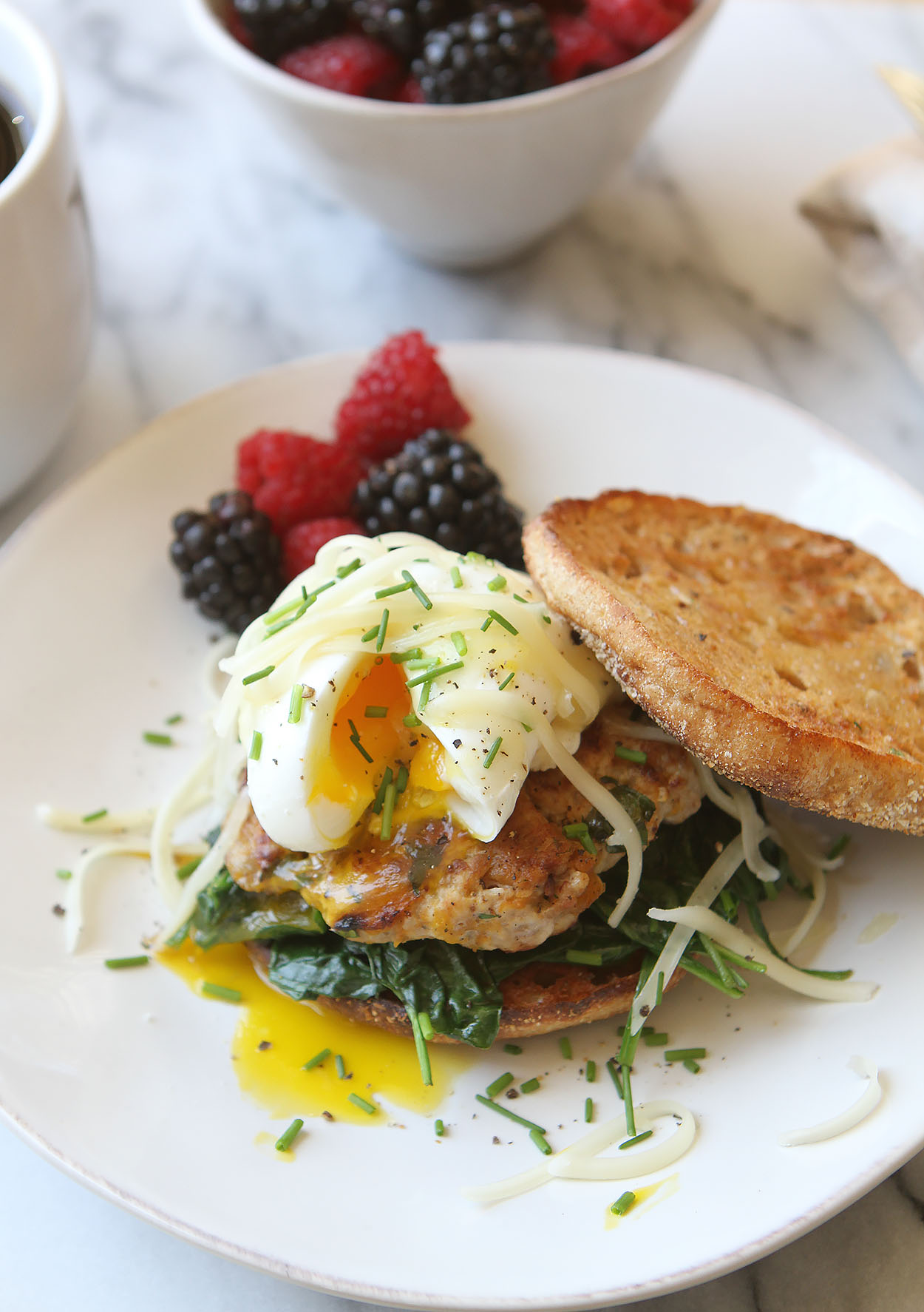 The key to the program we're eating is to accurately eat the correct balance of protein, fat and carbohydrates for optimal muscle building and fat burning. We've continued to eat as clean as possible, but have added in a lot more protein into our diets than usual, and I'm thankful we've continued to eat a good amount of carbs since they are pretty much my favorite. This type of meal has all the needed nutrients in a single, simple and delicious format, and leaves us feeling more than satisfied. The sausage patties have some roasted butternut squash mixed in for some added flavor and texture, and you can find the recipe below since they are something you'll definitely want to make ASAP. The sauteed spinach is cooked in just a smidge of olive oil, and the egg here is poached, but we often do something simple like an egg white scramble, since I find poached eggs to be a bit finicky for rushed weekday mornings. By all means though, don't let them completely intimidate you and give Alton's perfect poached egg directions a whirl.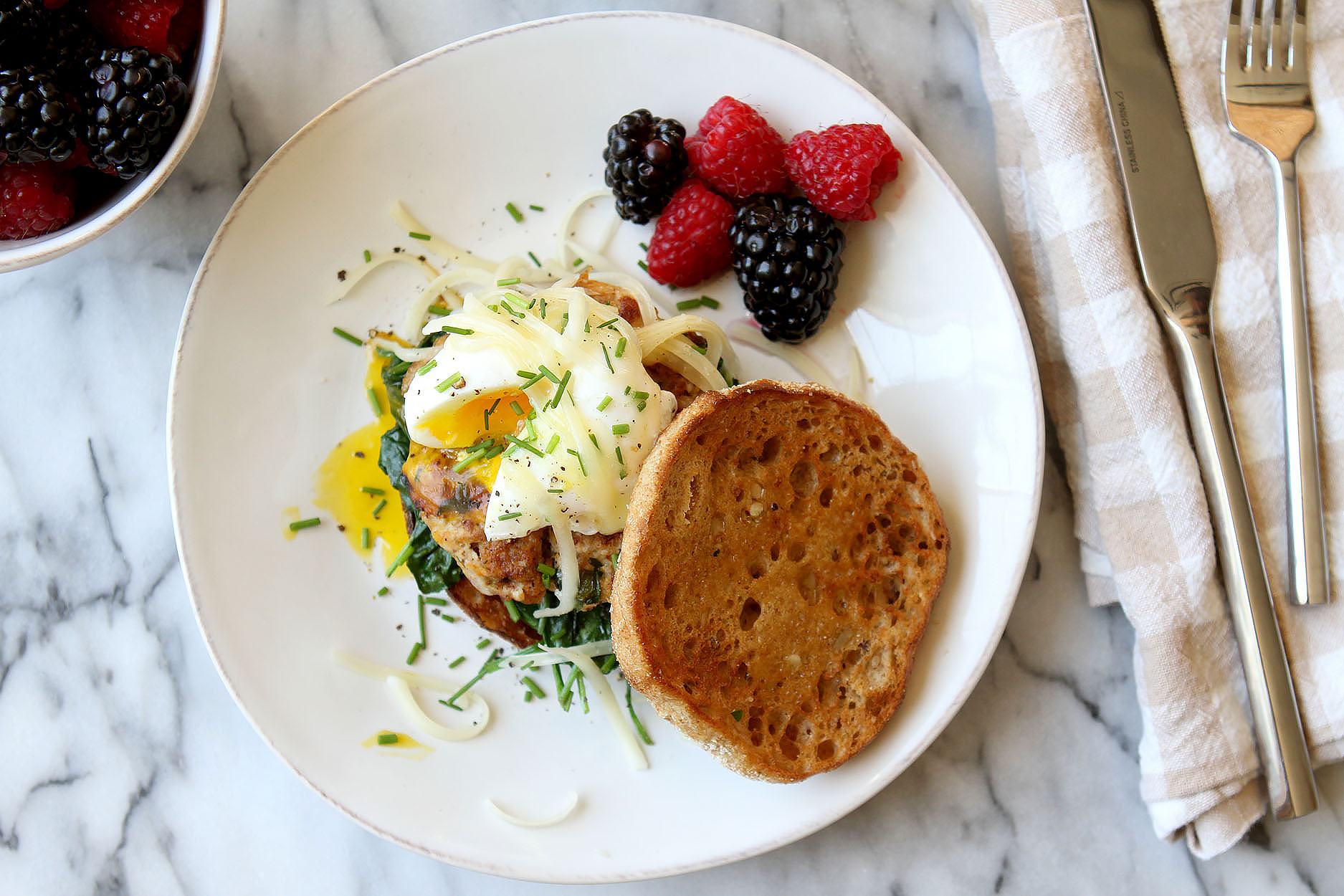 English Muffins are of course the perfect carrier of this type of egg sandwich, because all the flavor gets captured in the nooks and crannies of each muffin, and while satisfying that taste for carbs, don't leave you feeling like you just ate a pound of bread. We love Bays because of their great flavor and minimal ingredients, but keep in mind that because they're shipped within 24 hours of production, they are kept in the refrigerated aisle. My Vons carries them in the egg case.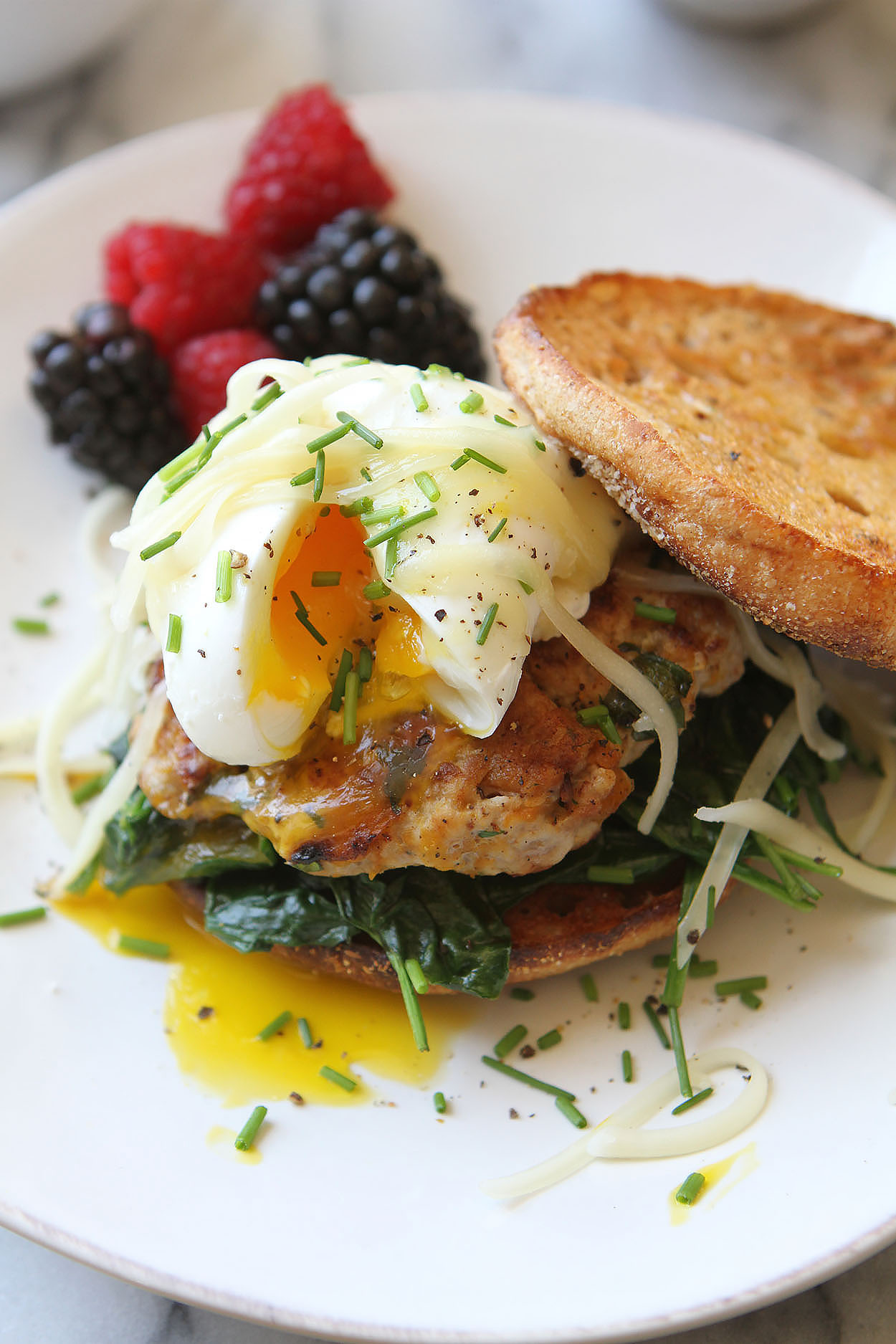 While this is more of a breakfast sandwich, we also love to use these English muffins for simple and quick mini pepperoni pizzas, particularly as an after-school snack. I put a dollop of marinara sauce on each slice, some mozzarella cheese and a piece of pepperoni (the Applegate brand is clean and so large that 1 single piece of pepperoni covers the entire muffin), then place on a baking sheet and cook for a few minutes in a 350 degree oven. You can visit the Bays website though for a few more unique pizza recipes, including this prosciutto and fig pizza, as well as a chance to enter to win a counter top pizza oven in the Bays Super Genius Pizza Sweepstakes.
Grab the recipe for the pork sausages below, and please let me know if you give them a try! Keep in mind that you can also bake these patties in the oven, by placing them in mini-muffin tins and baking for 20 minutes or so, and you can also freeze patties either raw or cooked. If freezing them raw, layer flat between pieces of wax paper, then when ready to cook, simply take out the night before and allow to thaw out in the fridge, then fry up per the instructions below.
"This is a sponsored blog; while the views expressed here were genuinely mine, consideration was paid to me by Bays English Muffins to review this product"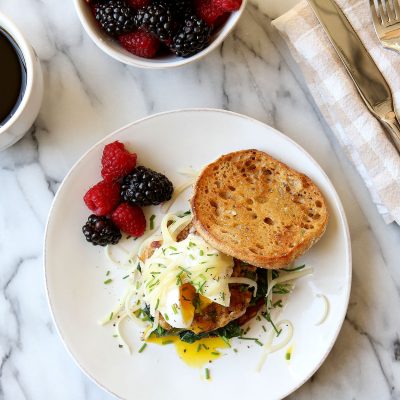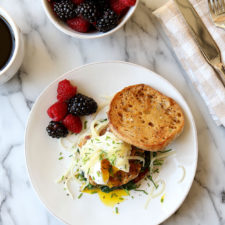 Print Recipe
Sausage & Butternut Squash Breakfast Patties
These sausage patties that everyone will enjoy, are a quick and easy way to pack in the protein at breakfast.
Ingredients
1

lb

lean ground pork

3/4

cup

roasted or steamed butternut squash

may also use sweet potato

1

tsp

dried sage

1

tsp

dried nutmeg

1

tablespoon

fresh chopped parsley

1

teaspoon

each salt & pepper
Instructions
Combine all ingredients in a bowl and mix thoroughly by hand.

In portions of about 4 ounces each, mold pork into patties, making sure to press them flat and somewhat thin so they cook evenly and quickly in the morning.

Heat a large skillet over medium heat and spray with a bit of cooking spray, preferably one without propellants, or you can heat up less than a tablespoon of your favorite cooking oil.

Add each patty to the pan and if pressed thin enough, should cook up within 4-5 minutes per side.

Recipe should make about patties and after cooking should yield patties roughly 2-3 ounces each.