I just received my latest Thrive Market order, and I figured I'd go through my purchases because I got several new things this time around, with a special emphasis on after-school and lunchbox snacks.
If you're not familiar with Thrive Market, it's an online market which focuses solely on health-conscious, natural and sustainable food items, at a discounted price. There is a yearly "membership" fee of $59.95, but your first month is free and your first order is 15% off, so you can order a couple of times and see how much you'll save. For some, it's worth the fee and can easily be recouped in just 1-2 orders, but I'm sure others have found it may not be worth it. Either way, you get a month to try it out, and shipping is fast and free on orders over $50. I usually get my orders within 2 days, and so far I've been really happy with everything I've purchased. Oh, and I love that Thrive gives one free membership for every paid membership, focusing on low-income families, so that everyone may have access to healthier food options.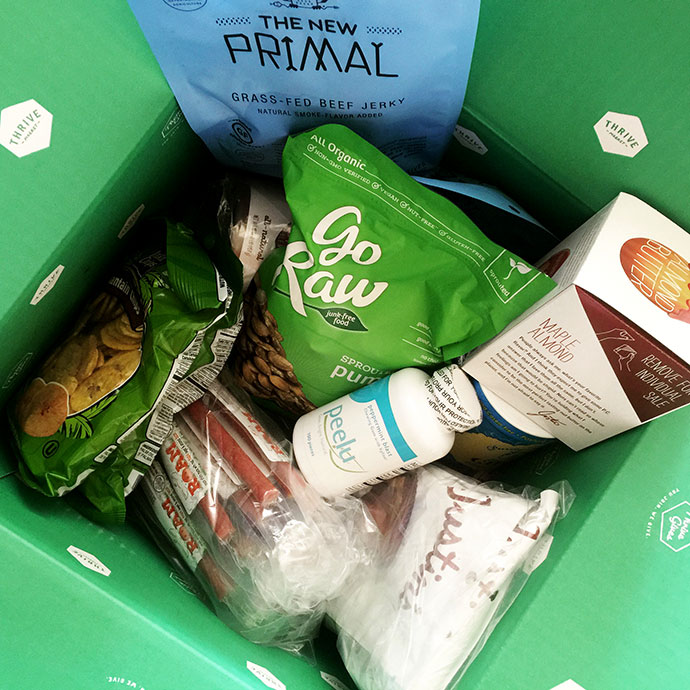 So let's go through my latest order, shall we? Starting at the top and working left to right:
New Primal Grass-Fed Beef Jerky $5.70/bag: I sampled this jerky at Expo West, and was impressed with the flavor and the no-junk ingredient label. The beef comes from grass-fed cows, and the limited ingredients include gluten-free tamari, honey and less than 2% spices and seasonings, so that the flavor really comes through. I put a few small pieces in the kid's lunch boxes and they love it.
Lundberg Brown Rice Cakes $2.35/package: The cheapest I usually find these for are $2.99 so I picked up a couple of packages since I was running low. I eat these quite often, topped with a couple of tbsp of guacamole or almond butter and berries. They make an excellent, low calorie gluten-free snack that fills that salty, crunchy craving I so often get.
Justin's Mini PB Cups (milk & dark chocolate flavors) $4.95/4.7 ounce pouch: These are just delicious and a fun little something something to add to the kid's school lunches for a treat. I got milk chocolate for the kiddos and dark for myself.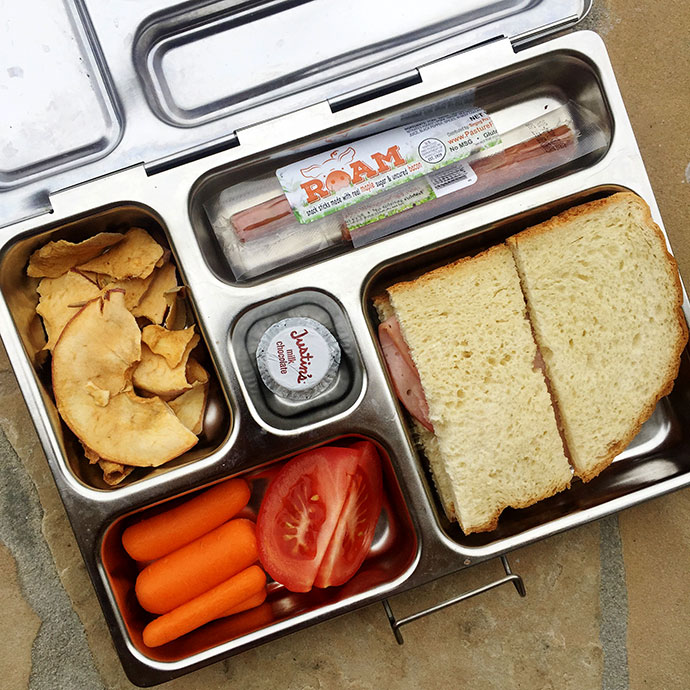 Crofter's Jam $4.45/16 oz jar: We're close to being out of jam, and so I would just order this while I was thinking about it. We've bought this jam before and it's delicious, and pricey at Sprouts, the primary place I shop. I think it's usually $5.99 a jar and rarely goes on sale.
Justin's almond butter packs $11.95/10 packs: These are great for on-the go and I usually pair a pouch with some apple slices or a rice cake. I think my Sprouts usually has them for about the same price, so not a significant savings.
Peelu gum $6.95/100 pieces: This is the best "natural" gum I've tried. Tastes great, lasts a long time and is made with fibers from the Peelu tree, which help to give your teeth a little bit of a cleaning while you chew, and is sweetened with Xylitol, a 0 calorie natural sweetener.
Organic Ghee $10.95/13 oz jar: This is definitely the cheapest I've seen this ghee for. It will be my first time trying it out, and I hope I like it as much as Omghee.
Inka Plantain Chips $3.29/2 4 oz bags: Many stores have their own label of plantain chips including Trader Joe's and Fresh and Easy, but I love the Inka brand the best. This is a great price, better than anywhere I've seen.
Roam Pork Sticks $34.95/24 sticks: These were a definite splurge purchase, but I've been wanting to get these for the kid's lunches since seeing them at Expo West, and it saved me some $$ by purchasing in bulk. They're pastured pork sticks and are sweetened with maple sugar and flavored with a simple list of spices.
Justin's Hazelnut Butter $11.95/16 oz jar: I know that I can get this same jar for $10.95 when on sale at Sprouts, only problem is, it goes on sale intermittently, and we go through a jar of this stuff every few weeks. Still a significant savings off of regular price, and worth the extra $1 I'd normally pay when on sale at Sprouts, just for the convenience of not having to check the sale price at Sprouts. By the way, this spread has 1/3 the amount of sugar as Nutella so that it actually tastes like hazelnuts and not like frosting, and is made with ethically sourced palm oil.
Surf Sweets Jelly Beans $1.95/3 oz pouch: No artificial colors or flavors, these and the gummy bears are really good, and have been used in helping get Hayden potty trained. By the way, I'll write more about potty training for the 3rd time, and we don't do the usual candy for each potty try, but hand out as a casual, nonchalant way of saying "hey, good job on going potty" occasionally after using the toilet.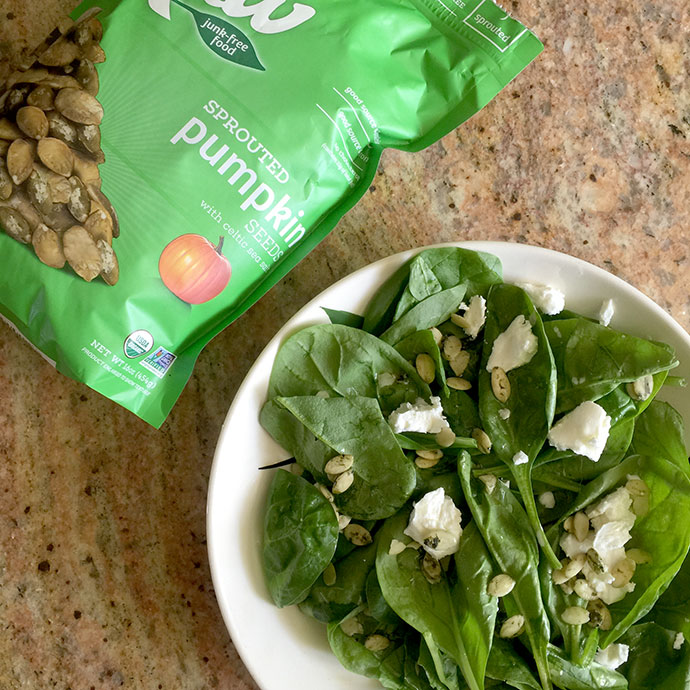 And a special shout-out to the best bag of seeds I've ever had. These Go Raw sprouted pumpkin seeds are slightly salted and truly taste amazing. At $10.95/16 oz bag, they may feel like a major splurge, but the bag is huge and will last you several weeks if not months. They are tasty on their own, mixed with a trail mix, or topped on salads. Truly delicious and Thrive has them for a great price!
So is Thrive really that much cheaper than stores like Whole Foods and Sprouts? Well, it depends. I'd say all things considered, and when not comparing to grocery store sale items, they absolutely are, but when on sale, I've noticed that on many things, the prices are comparable. Considering this, Thrive is great for really busy people, or those who don't have the interest or experience with seeking out sale items, reading grocery store circulars and maybe even clipping store coupons. They also carry many items that are really, really hard to find at most stores. The jerky, pork sticks, gum, pumpkin seeds and even the Inka brand of plantain chips aren't even carried at my local Sprouts. I'd have to go to Whole Foods on the other side of town, and even then they may not carry everything.
Bottom line, I don't use Thrive to do all my grocery shopping, but I do use it to stock up on hard-to-find items, buy items in bulk, or buy items I know for a fact are cheaper than what my store carries them for (the rice cakes for instance). You have to do what works for you and based off of prices in your area, but for Southern California, I'm finding that the membership is definitely worth it.
Let me know if you have any questions at all! I hope this post helps though. You can get 15% off your first order and a free 30 day trial membership by visiting this link here.