2017 was such a weird year for me. I struggled quite a bit with lack of motivation to do the things I usually enjoy, like meal planning & cooking, and being organized. The year started off with all of my kids continually being sick one right after the other for the entire month of January, and I just never seemed to get my footing as weeks and months went by and our schedule was continuously in flux.  All this to say, I let several things slide and one of those was inspired cooking. I don't think I bought a single new cookbook all year (highly unusual for me), and so when my mother in law gifted me the Instant Pot Miracle cookbook for Christmas, I was especially thankful to have a reason to try some new Instant Pot recipes beyond the typical side dishes I usually make.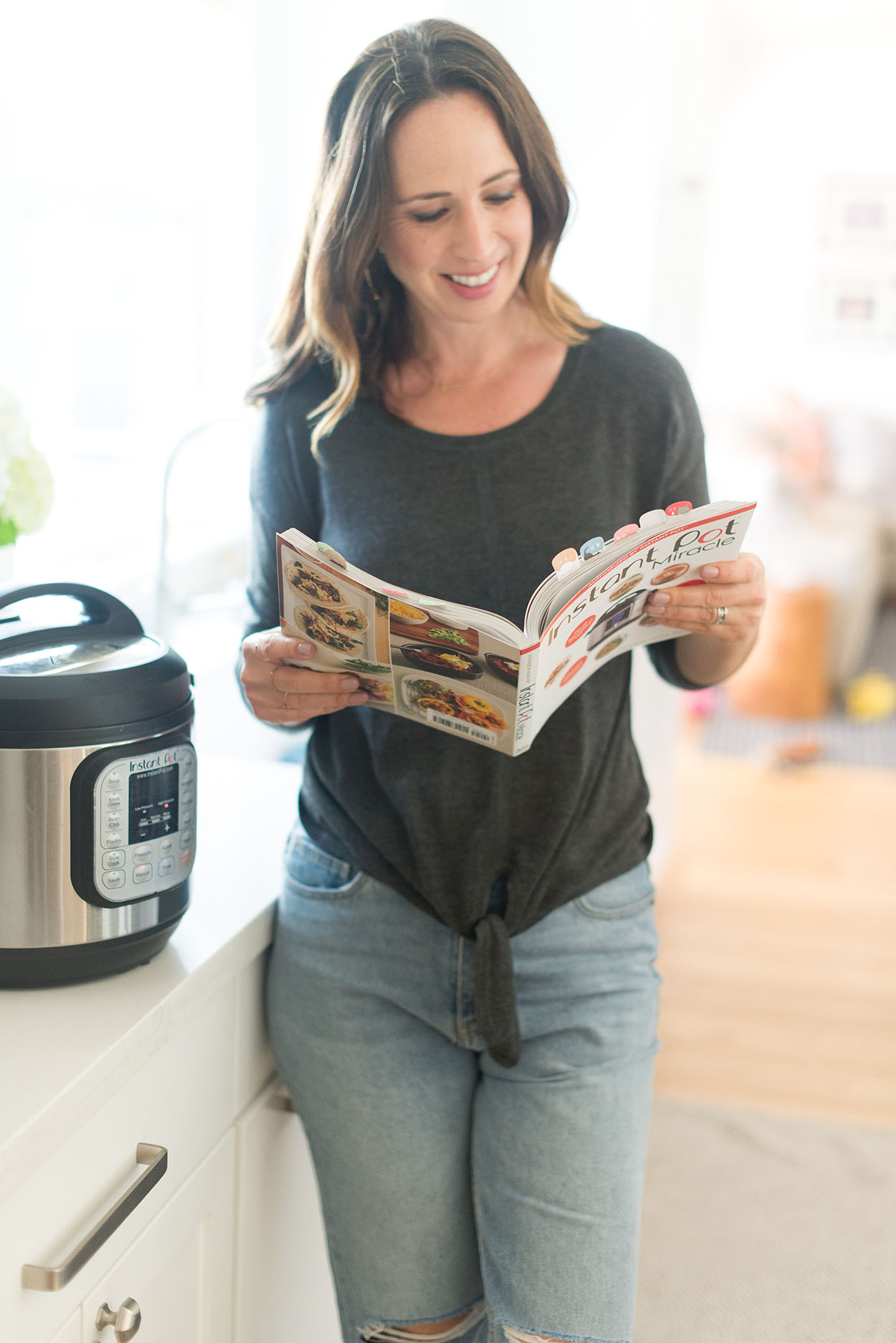 As we head into the final week of January, I've already tried more new recipes this month than I did in all of 2017, so I'm excited to have found my kitchen mojo again. I wanted to share a few of the reasons I love this new cookbook so much, as well as a couple of the peculiarities I've discovered that you should be aware of as you crack it open.
The first thing I love about this book is it includes a "closed pot time" which is the true indication of how long the recipe is actually going to take to cook. Pressure cookers take time to build up their pressure, and depending on the volume of the contents, it could take anywhere from 5-20 minutes to build up enough pressure to actually get cooking. Then, on top of that, the pressure needs to be released, either naturally, where the pressure is released very slowly on its own, or via "quick release" where you manually release the pressure by turning the valve. The contents are still cooking during this depressurizing cycle, so it's key to get that right. A recipe may call for a 10 minute cook time, but then uses a quick release, so your cook time will actually be 10 minutes (plus the time allotted to build up pressure). But, if the recipe calls for a natural release, your contents may then cook for another 15-20 minutes, so your true cooking time is closer to 30 minutes versus 10.
The kicker is, most IP recipes found online only indicate the pressure cooking time you set the IP for, and doesn't include the time the unit takes to build up pressure, as well as release pressure. So often I've been caught off guard a bit because I think a recipe will take 20 minutes where it actually takes closer to 45 minutes. Being prepared ahead of time is always a good thing when cooking a family dinner, so I very much love this feature of the book.
I also love that the book contains a wide variety of foods and cuisines. From Indian, Mexican, American, Italian and varying Asian fusion recipes, the book covers a broad range of foods to keep things interesting. There is also a great mix of vegetarian, seafood, poultry and meat recipes, and the book even includes separate sections for breakfast recipes, desserts, sauces & jams, and soups & stews. It's pretty ambitious in what it attempts to tackle, and from the various recipes I've tried, they're simple but are adventurous in their use of ingredients and flavors. In other words, it's not some old fashioned Crock Pot style recipe book, which I was worried it would be.
Now, I thought it important I share a couple of flaws I discovered in the cookbook. First, the editing overall seems a bit rushed, as I have found a couple of mistakes. For example, the recipe for Chicken Toscana with White Beans found on page 93, doesn't actually contain any white beans, or any beans for that matter. I even had my mom, dad and both older kids all read through the recipe to make sure I didn't miss the beans somewhere, but we all agreed that there were definitely no beans! The accompanying photo doesn't even have beans in the dish, so I'm not sure how that recipe passed through edits with such a glaring flaw.
Another issue I've found with many of the recipes is that they don't include a set cook time. So it will instruct you to add your ingredients, close the pot, and select poultry or stew or whatever, but then not include the time to set it at. The IP comes with factory set cook times for each setting, but once you've adjusted them, when you turn it back on, the last time you set it on is what pops up on the unit, not the factory setting. So if the factory setting is 10 minutes for poultry, but you then adjust it to 18 for a recipe, the next time you go to cook in poultry mode again, the time will automatically set to 18 minutes, and you have to adjust accordingly. You can revert to the original settings by pressing the Adjust button for 3 seconds, until you hear a beep. For an Instant Pot aficionado, this is an easy issue to figure out, but for a novice, or someone who just never took the time to read *ALL* their IP directions ;), this would surely be confusing. Not the end of the world, but I do think it would have been super helpful to include a cook time when recipes called for a preset button, especially since many of the recipes do include a cook time.
Overall the recipes are healthy in that they call for all real food ingredients, but make no mistake that there is plenty of dairy, sugar and gluten called for in many recipes. In other words, this isn't the cookbook for someone with a lot of dietary restrictions who is not also proficient in swapping out ingredients; for instance swapping brown sugar for coconut sugar or cornstarch for arrowroot powder. But if you are confident with making swaps, then you can easily adjust each recipe to your needs.
I'm thrilled to finally have a book in my hands that helps me venture out of my very basic and simple Instant Pot routine, and encourages me to try some pretty tasty and well-rounded dishes. I still think poultry is the trickiest thing to master in the IP, but chicken overall is hit and miss no matter how you cook it. You can think you've found a "full-proof" method for cooking juicy chicken breasts, but if your breasts vary slightly in density, they could come out under-cooked one day or overcooked another. I think you'll encounter the same issue with the IP, but in general you can definitely manage to make a meal that is delicious and will be gobbled up by your family, even if it's not absolutely perfect. During the week, who the heck is striving for perfection anyhow?! I just want to get my family fed. Soups and red meat as well as pork have all came out beautifully in the Instant Pot, and I'm super psyched to finally have a simple ribs recipe to make for my dudes, since it is their favorite meal and I rarely cook them because they're kinda intimidating; smoke em, grill em, bake em, baste em, there's a lot to learn and involved with ribs haha. With the recipe found in this book, you just add them in the pot with some sauce, and then when cooking is complete, you pop them under the broiler for a few minutes.
Overall, despite a few quirks and mistakes, I would definitely recommend the Instant Pot Miracle cookbook and hope it brings you as much week night meal success as it has me.