It occurred to me the other day that my recent experiment with breaking up with my phone had just as much to do with my concern over the addictive and distracting affects of technology, as it did with how I spend my time.
I've been thinking a lot about time lately; how I use it and how I waste it. I'm sure subliminally it has something to do with approaching midlife, but in reality, in the last year I have stumbled across different books, articles and podcasts on the subject, and found it intriguing enough to delve more deeply into the study of managing my time more effectively.
A quote in a book I recently read caught my attention: "How was it there in corporate America, that anyone looking through [this man's] schedule could see daylight?" It's an interesting phenomenon that many of us today, whether we hold down full time jobs outside of the home or consider raising a family their full time job, so rarely sees that daylight in their schedule. The barrenness of a busy life has long been warned against (think Socrates), so I'm sure this phenomenon is not new, just more publicized. At any rate, many of the authors I've been reading in regards to time, all advocate for a more open, less frenetic schedule for business people, creatives, and especially families.
There are many other common time management themes these authors all cover and many of them end up offering up similar versions of the same advice: 
*Don't over-schedule your life
*Schedule your day in time blocks
*Do the hardest thing first
*Work in 3's, focusing on tackling the 3 most important things first, and then tackling the rest
*Multi-tasking is a myth when it comes to getting concentrated work done and should be avoided
While I'm not yet where I want to be in terms of how I spend my time, all this thinking about time has made me more cognizant of my habits and how I could tweak things to get better results. For instance, I've begun leaving work that needs to get done and takes time but takes less focus, not for the parts of the day where the kids are at school or with a sitter, but when they are home and around but don't necessarily need me. This doesn't mean I live in a constant distracted state with my kids. On the contrary, I may answer emails or write thank you notes or do the dishes when the kids need are around and busy but don't necessarily "need me" need me. I am in the season of life now where the kids are older and don't constantly need me to stay safe or interact with their play. Does this make sense?
I've also begun rethinking how we spend our date nights, which could probably use its own post. Can we use our time together on date nights to spend $75 at a nice dinner, or would our future lives be better if we used that time to instead meet with our financial planner, or organizing our family photos? Of course our present selves would enjoy the experience of a fancy dinner, but would our future selves be better knowing our finances were in order, or our family memories were organized and secure so they could easily be found and not easily lost?
And with regards to my phone usage, which has leveled out at a 3 hour or so a day habit, I have managed to make that time serve my needs better. Instead of wasting time mindlessly scrolling twitter or IG, I now ask myself when found with spare time and attracted to my phone, "How can I best use this time?" Sometimes the answer is to catch up on texts & connect with friends and family, do some work or intentionally veg out for a bit. Either way, I'm now a lot more consciously aware of what I'm doing with my time on my phone.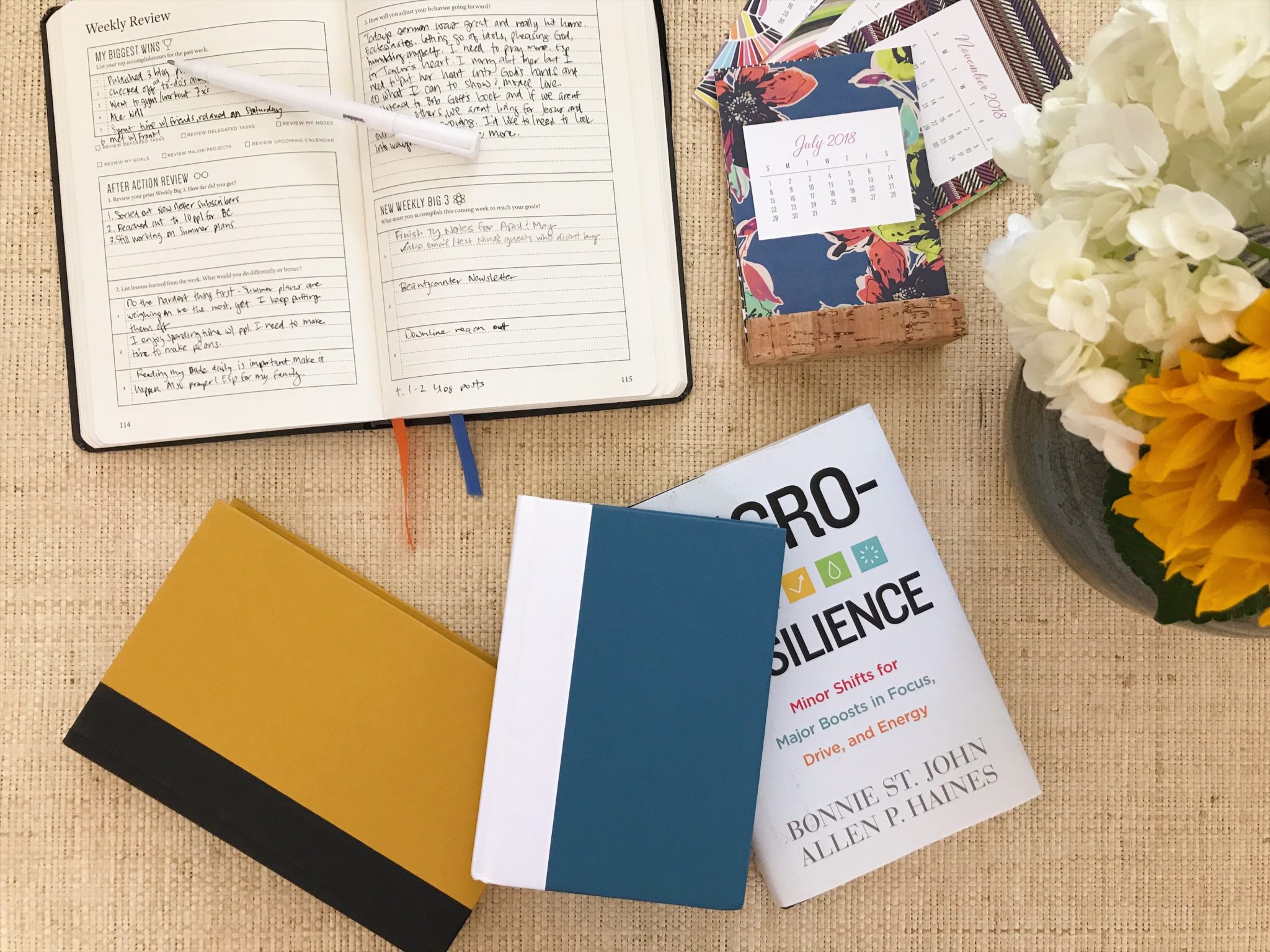 A few books and podcasts on the subject of time that I have appreciated and would recommend include:
Off the Clock: Feel Less Busy While Getting More Done by Laura Vanderkam
Deep Work: Rules for Focused Success In a Distracted World by Cal Newport (read my book review of Deep Work in this post)
Essentialism: The Disciplined Pursuit of Less by Greg McKeown (read my book review of Essentialism in this post and keep in mind that despite my misgivings on his work strategy advice, he does offer a good big picture case for doing less to get better results in life)
Micro-Resilience: Minor Shifts for Major Boosts in Focus, Drive, and Energy by Bonnie St. John and Allen P. Haines
While all these books (and the concentrated brain work of reading) is in fact a worthwhile way to spend some time, if you do find yourself pressed for time, the Building a StoryBrand Podcast with Bonnie St. John was excellent, as was the Give and Take episode with Laura Vanderkam.
And if you want to take a deep dive into the study of and planning of your days, weeks and years, I recommend the Michael Hyatt Full Focus Planner. I began using it on May 1st and it has been very helpful, although I will warn you that it is intense and comes with an hours worth of tutorial videos on how to use and get the most out of your planner. It's definitely not for everyone.
I'll continue to share my thoughts on time-hacking if you find them interesting or helpful, so let me know in the comments any other thoughts you may have on the subject, or what you would be interested in reading more about. And in the sake of time, I'll say goodbye for now and let you go about your day! 🙂