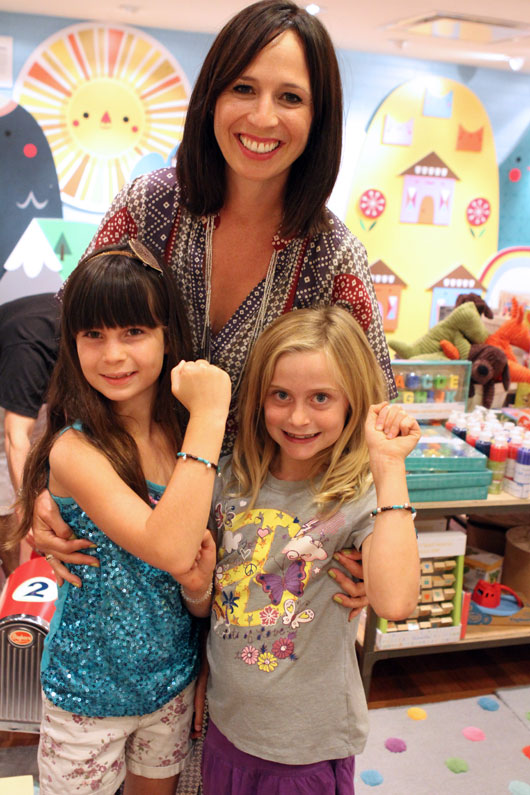 So as it happens to be, really good, awesome things can be stressful too. This past weekend, I led a workshop at the Land Of Nod South Coast Plaza store, and taught kids and their parents how to make friendship bracelets. An amazingly awesome opportunity, but one which had me stressed out quite a bit.  I tend to worry a bit too much, and when I should have been enjoying the build up of this great event, I was thinking of how it could go wrong.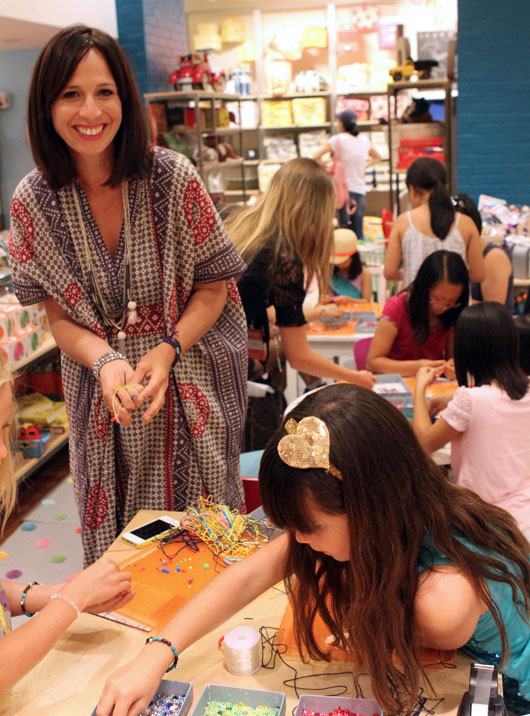 No one was going to show up. Beads would be dumped everywhere and kids would cut themselves on scissors (for this I made sure to keep all scissors close by my side). Parents would complain that the class was too simple, or too hard and demand their money back. Wait, it was free. Basically, I am Chicken Little and imagined the worse case scenario in this situation.
It turns out though, that everything turned out just perfect.
People showed up, both boys and girls, moms and dads.  No beads were flung, no one choked or cut themselves or complained.  In fact, people were a downright pleasure to be around, and lovely and gracious and accepted help but at the same time did much of the crafting on their own.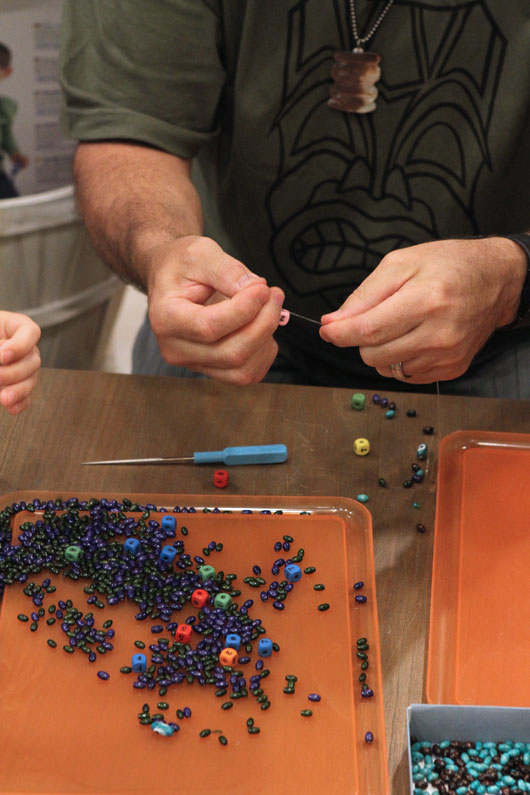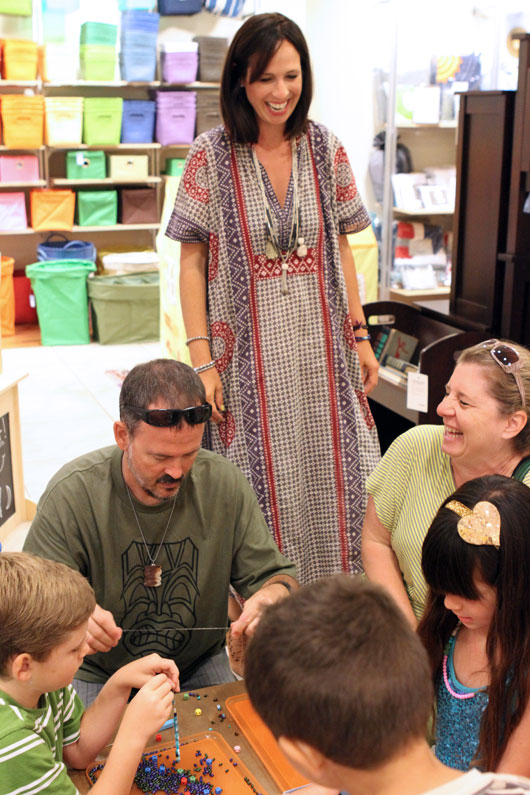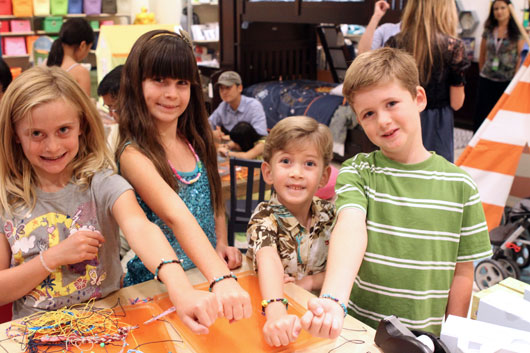 Art brought Taylor and one of her best friends Skylar, to make bracelets together, and they thoroughly enjoyed themselves and I realized just how grown up they've become.  Working all by themselves, making the most amazingly beautiful designs.  Our other good friends Anne and her husband came, along with their cute little boys, and Jules' whole family came too.  It was fun meeting new faces, some who knew me and some who had no idea who I was.  But once some familiar faces came in, I felt great.  Thanks Anne and Jules for making the effort.  I hope you all had fun.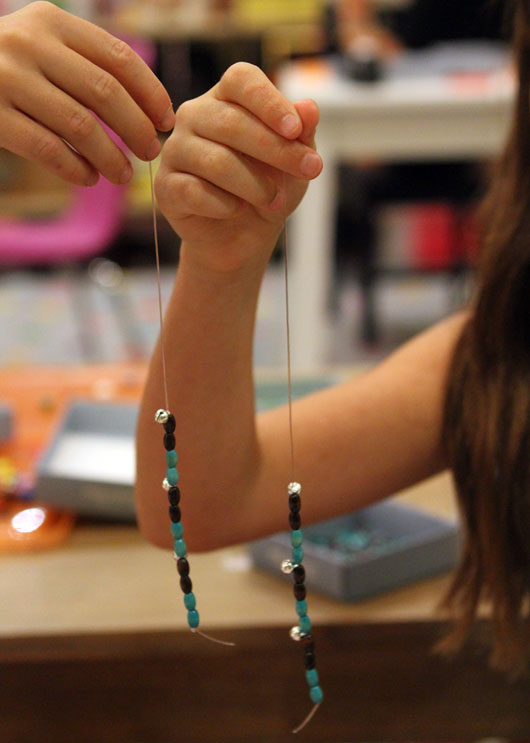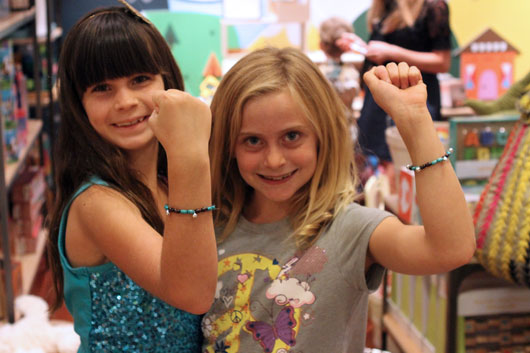 Not only did no beads get turned upside down from rambunctious toddlers, but the creations these kids made, both on their own and with the help of their parents, were seriously impressive.  One little 7 year old girl arrived at 10:55 am, eager to craft, and stayed for almost 2 hours, stringing all those tiny sequins one by one by herself.  She refused to let her mom help.  Her bracelet design was gorgeous.  It may sound ridiculous, but seeing young kids have so much patience and focus to complete something so creative and artistic, it seriously gives me goose bumps, and I'll even admit, when it occurs with my own kids, it brings tears to my eyes.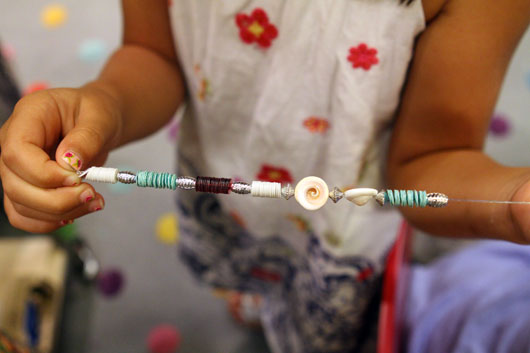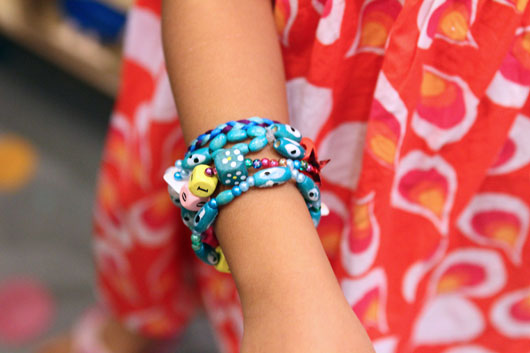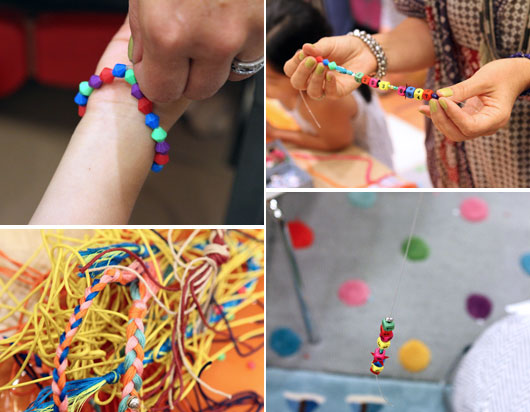 It may seem so simplistic and ordinary, but these little moments of encouraging kids to be creative, teaches them so much in terms of confidence, independence, design, creativity, not to mention the sheer amount of fine motor skill dexterity practice they get when stringing bead after bead after bead.  Real life teaching moments in action, for sure.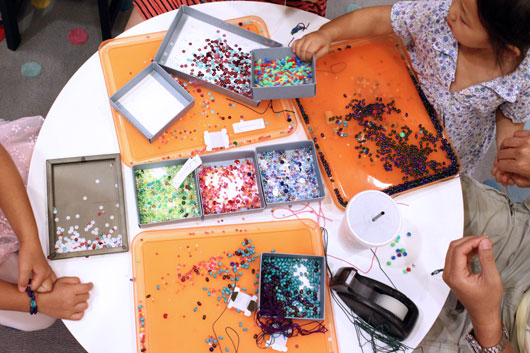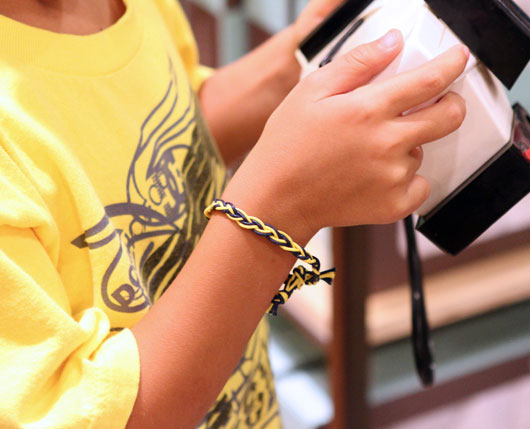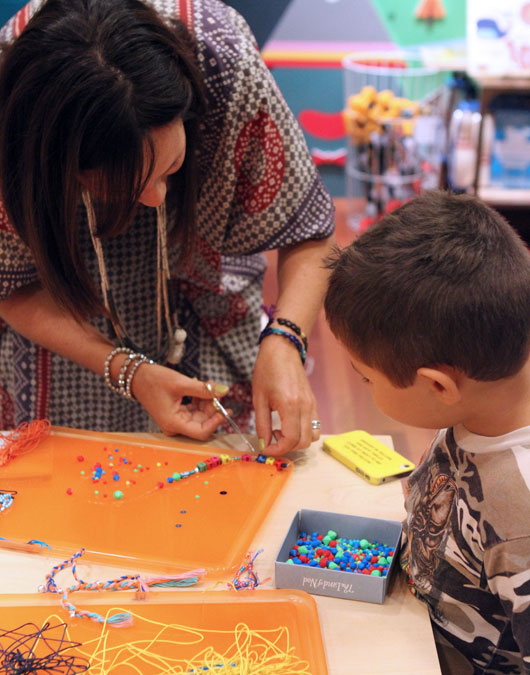 I have a hard time sitting down and playing battle droids with my kids.  But give me some craft supplies and we'll sit there for hours.  Or at least I will.  I love this stuff.  It almost made me think I could possible be a teacher of sorts.  It was a really, really good day and afterwards, I took Taylor and her friend for lunch in the mall, and I may have celebrated such a good day with a small glass of chardonnay.  I saw a reader who attended the workshop, in the cafe where we ate and I forewarned her not to judge me, cause I was celebrating.
I've been asked lots of times over the years, how I put up with the messes kids make when they craft, how I keep my patience, how I hold their attention.  My only advice is to try and start from a young age, and only do one thing at a time.  Kids will want to bring out the contents of the entire craft cabinet in the course of a day.  But we've always had a rule that we put one project away before we start another.
Other than that, kids are kids and messes are inevitable.  You can either direct them to produce a controlled mess, like a craft project, or let them make messes on their own by giving them free play.  Either way, a mess will be made.  Personally, I would rather have a mess from a creative project than a mess they've cooked up because they were left undirected in their room for an hour.  And p.s., I'm not mother of the year here.  My kids make plenty of both messes because our life is not one constant, ongoing arts and crafts project.  I just much more prefer craft project messes over say, Lego messes.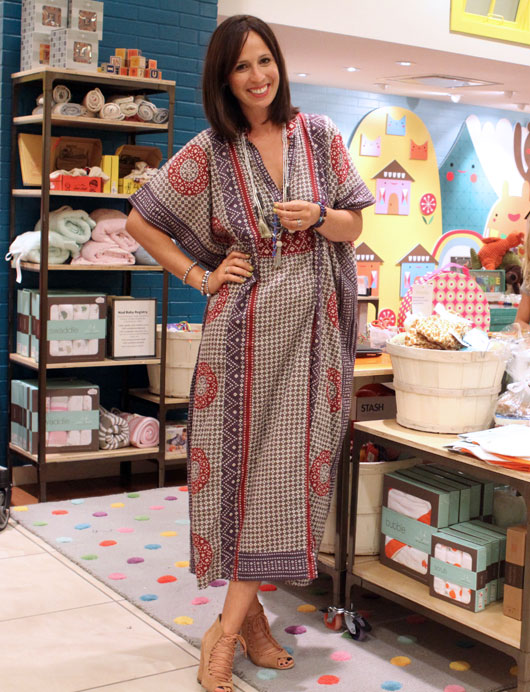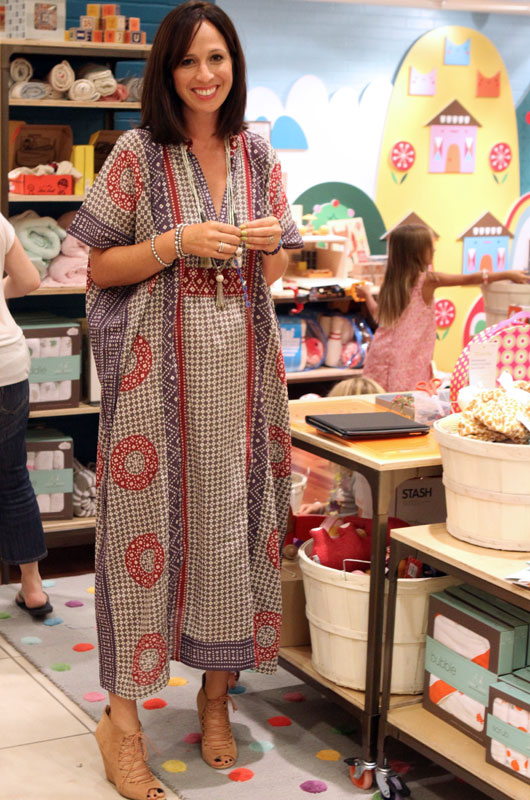 And can we take a moment for this caftan?  I have coveted Emerson Fry for quite some time.  I pin from their site all the time, but have never actually coughed up the money to buy a piece.  Last week, their entire Spring collection went on sale and I added this caftan in my cart 7 times over the course of a week.  Every day I'd go in and say, if it's still available, it's meant to be and days went by without me actually buying it.  Finally, after one night where I went berserk over crazy rude comments 500+ people had left on one of my Babble pieces, I bit the bullet and bought it.  Not one single regret.  I wore it 5 days straight and not that it matters, but it most certainly helps, I've gotten a ton of compliments on it.  I'm in love, I'm in love, I'm in love, and I don't care who knows it!  Name that movie!  FYI, it's one size fits all and it has an internal cinch tie to bring in the waist a bit so it doesn't look so mumu'ish.
*Caftan – Emerson Fry; Necklace – Ann Taylor Loft; Wedges – ShoeMint Jordane now on sale