Okay, so obviously this table isn't simple in the sense of throwing out some plastic utensils and paper plates and calling it a day, but for a holiday table, it's not completely over the top. I mean, there is actually a whole over-the-top thanksgiving table category, and I don't think this quite fits in. With that being said, it does take a bit of an effort, but not so much that it will leave you exhausted for the actual celebration that is turkey day.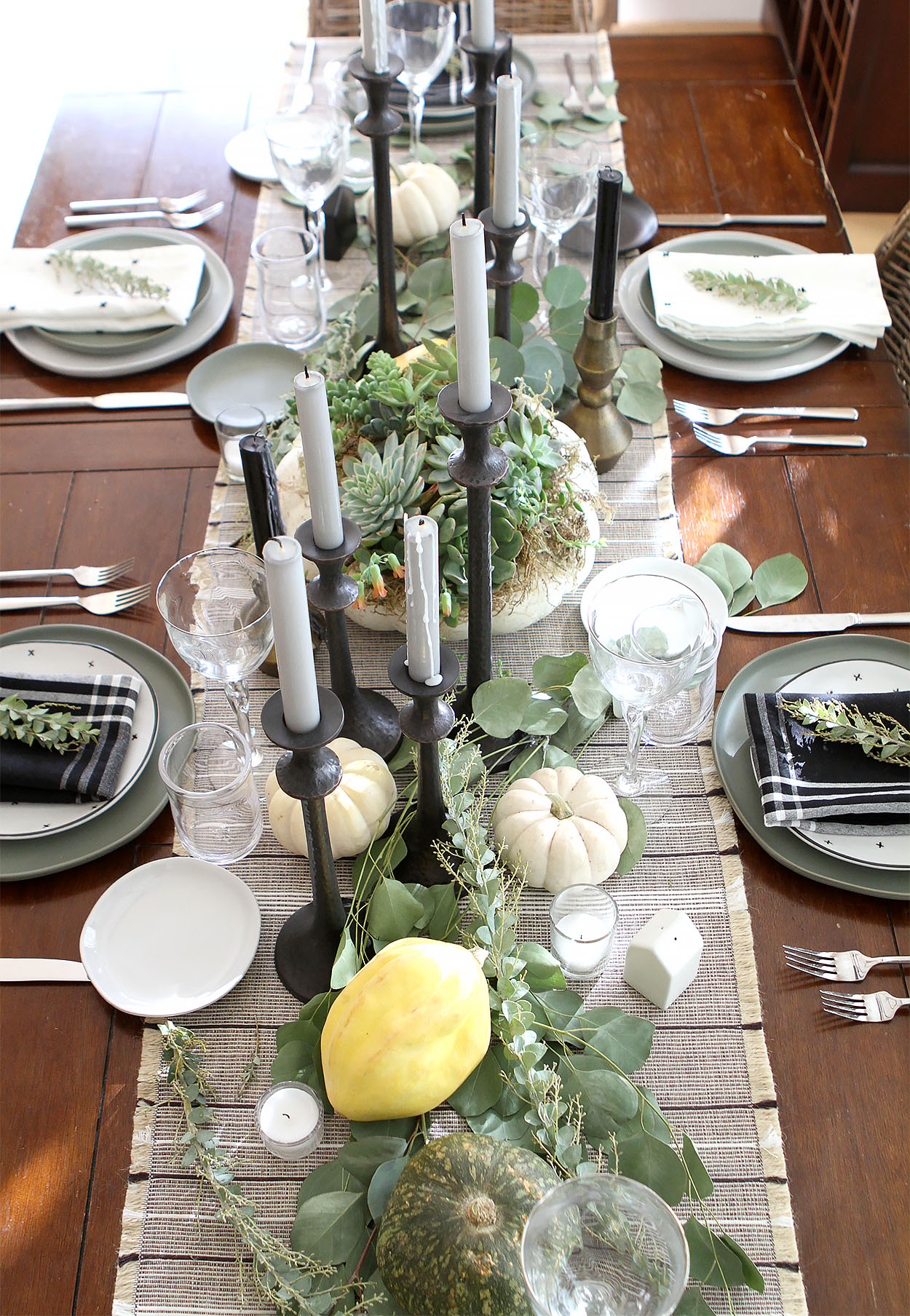 Earlier in the month I had tossed around the idea of getting together with a few friends for a Thanksgiving dinner, and someone had a conflict each possible weekend, so I dismissed the idea since it felt like too much effort to rally the troops. Then, a few days ago, I texted them again to say I knew the upcoming weekend didn't work for everyone, but whoever could make it was welcome. We ended up gathering a small but mighty group and managed to put together quite a spread.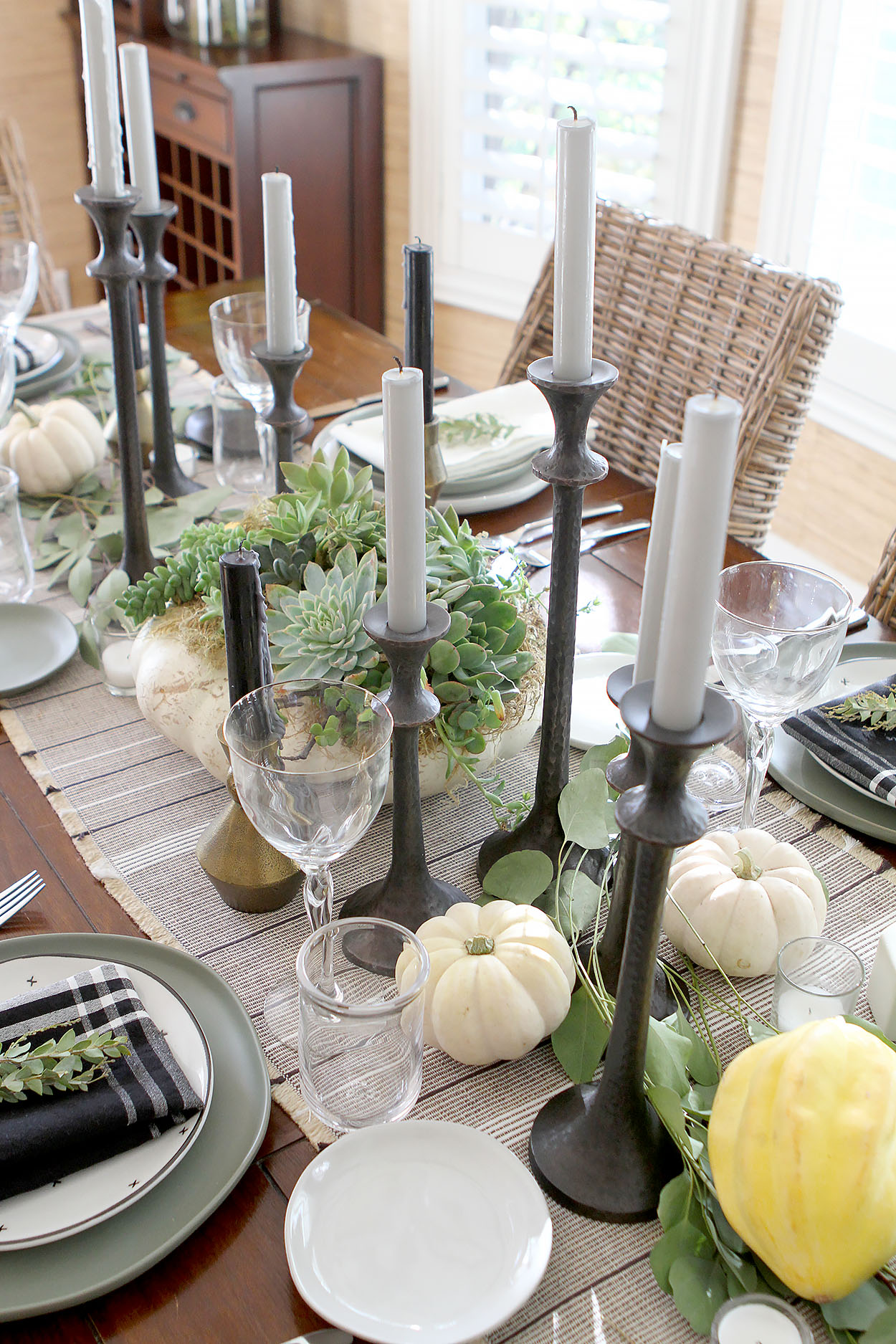 Art and I committed to making the ham and turkey, which came out dry, oh well! And we also did two different types of stuffing, both from Tyler Florence, and Taylor made Julia Turshen's amazing creamed corn, which for the record is way better than the canned creamed corn my mom used to serve. I had plenty of roasted vegetables left over from the recipe shoot earlier in the week, so I reheated those and I put together a pretty yummy cheese board. Now that I'm writing it all down, I guess it actually was a lot, but I swear I get caught up in the moment, and it didn't feel particularly overwhelming haha! Friends brought the mashed potatoes and gravy, rolls, sweet potatoes, salad, fruit, green beans and dessert. And of course wine.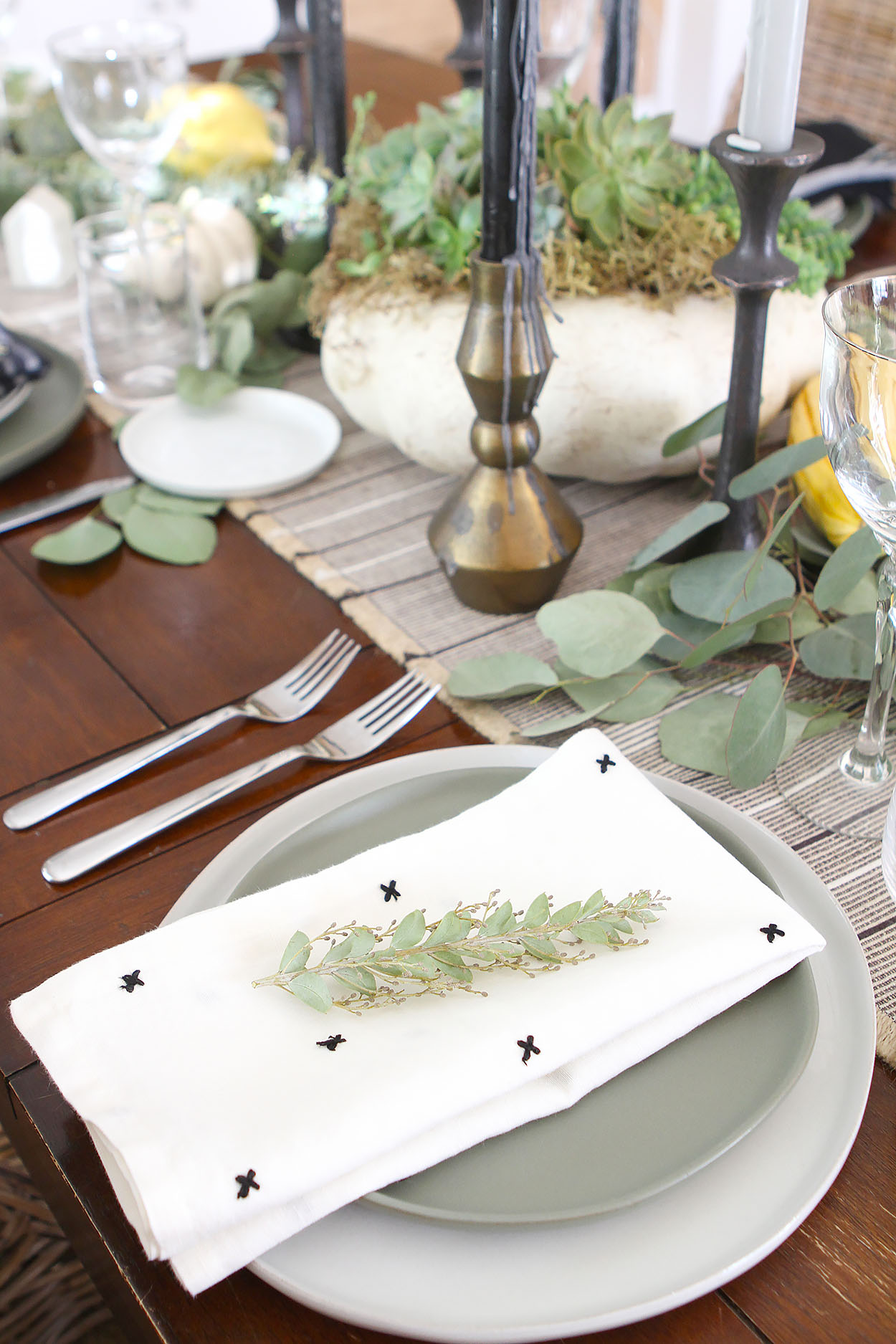 We had 11 adults, which happened to work out perfectly because we can seat 5 at the kitchen island at 6 at the dining room table, and we sat the kids outside on the patio. For the table, I used the black and bronze candlesticks, as well as the table runner I always have in place, and added the succulent pumpkin centerpiece I had made earlier in the month. At the market I picked up plain eucalyptus leaves and a couple of white mini pumpkins as well as a couple of pretty, yet edible, winter squashes and just spread them out along the runner.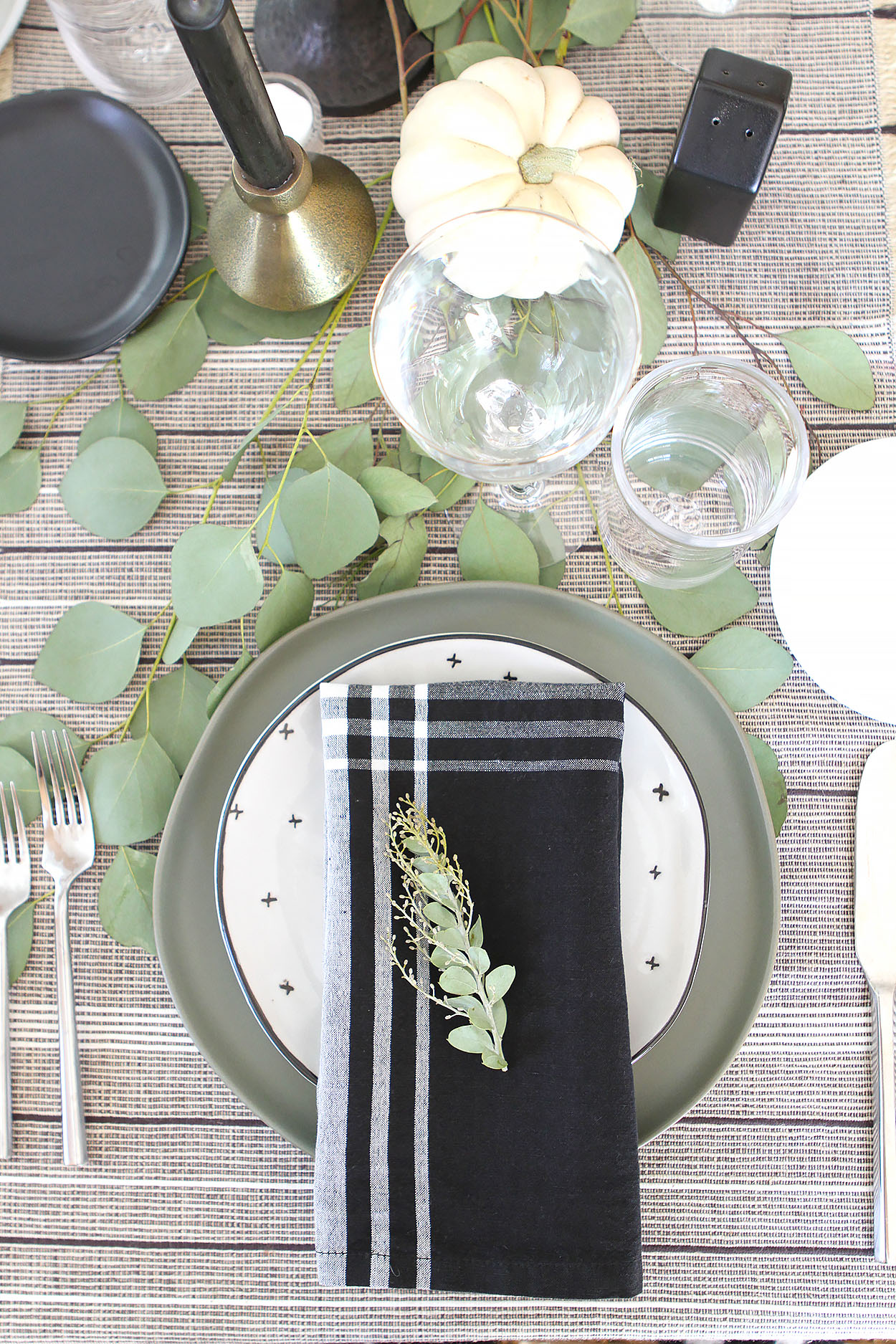 I treated myself to a 6 piece set of the Hearth & Home dining set from Target, so layered and mixed up the green and white plates, and alternated the napkins between the plaid and x pattern. I snipped off a fresh eucalyptus clipping and placed it on each napkin. I added in a water and wine glass, and that was pretty much it. I loved using the every-day dishes that could be thrown in the dishwasher as opposed to my china which requires hand washing, and I think everyone felt a bit more comfortable since these plates are so sturdy and also hold quite a lot of food at a time 😉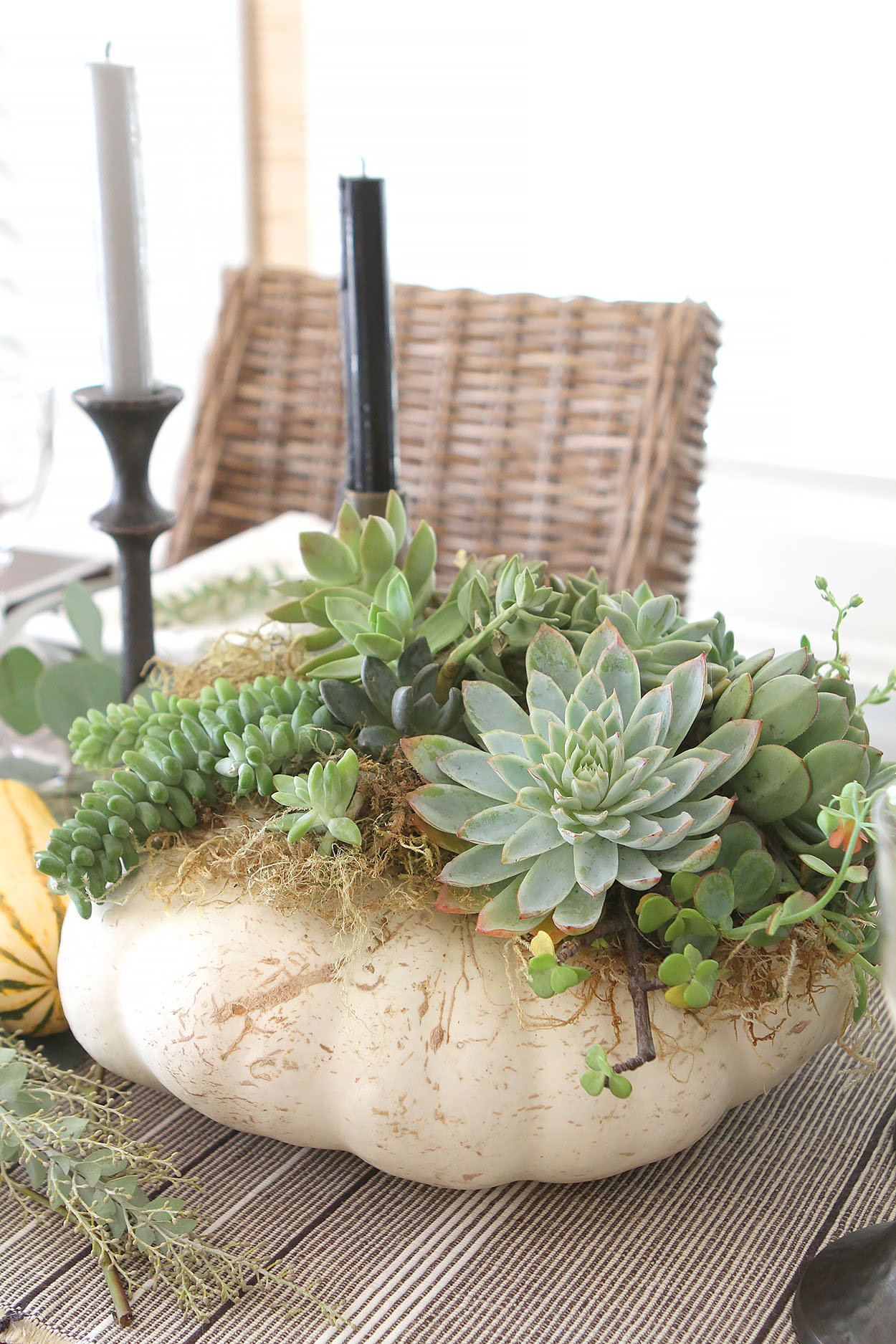 This centerpiece by the way was incredibly easy to make. Our PTA actually held a fundraising event at a member's house where we got t assemble them. We could either make a centerpiece for the PTA to sell at the school, or pay $40 to keep the one you make. A few members gathered all the pumpkins and succulents, moss and glue and then instructed us how to make them. I couldn't believe how simple they were, and they are still hanging on strong almost a month later! Friends have told me they'll last for months like this, and that the pumpkin will probably rot before the succulents die. I just love that about succulents; totally the honey badger of the plant kingdom. Douse their roots in hot glue and they say "I don't give a $hit!" If you're interested for next year, this is exactly how we made them, which required ZERO scooping of pumpkin guts.
So that's it folks, hope you enjoy and maybe snag an idea or two! All in all this table took me about 20 minutes to put together and with all the candles lit at night, it sure looked purty. Happy Thanksgiving, everyone!!