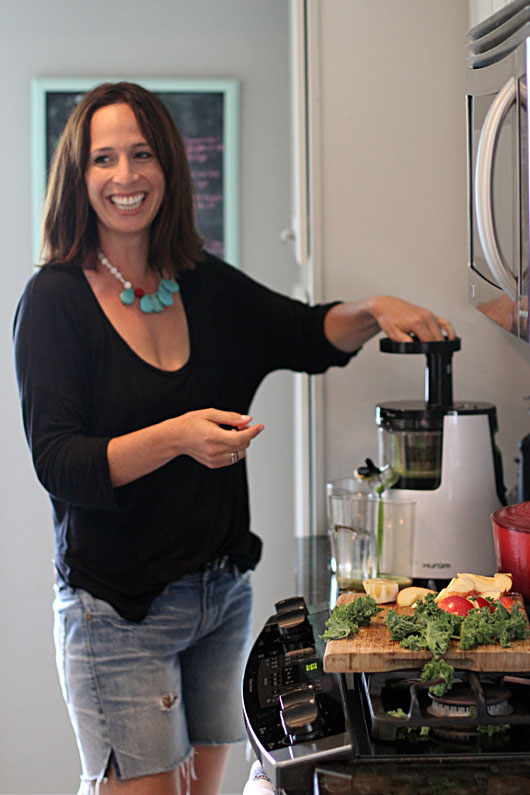 If you had told me 6 months ago that I'd be hosting a juicing party, I would've told you, you were nuts. Not that I didn't love green juices and all, but I saw myself much more likely to host a wine party, or a cheese party, or a wine and cheese party together with shopping and crafts.
While I still love wine and cheese and crafts, I have somehow managed to make enough room in my wide array of tastes, to give a good amount of space to juicing. I juice nearly every single day and it has been one of the biggest things that has made this switch to a different way of eating more manageable.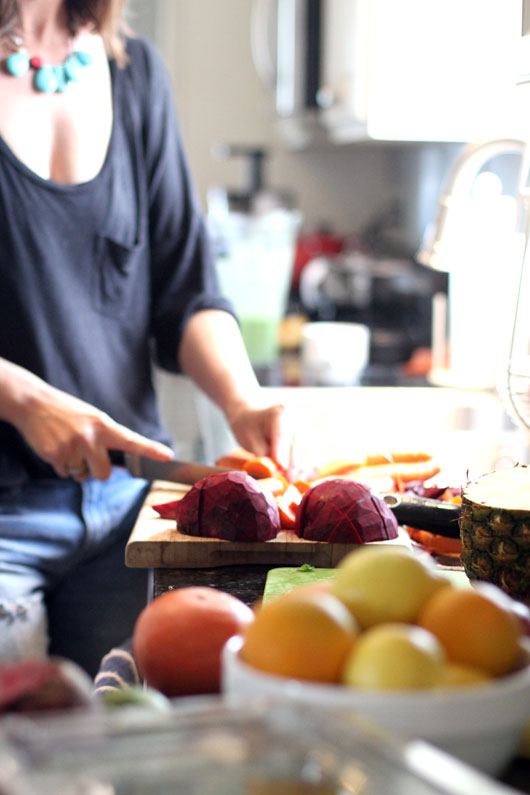 Juicing for a Healthier Life
I happen to really, really love the taste of veggie + fruit juices, and I've grown to love the process of making my own juices and love even more, the way they make me feel. Benefits include, but are not limited to;
better digestion and overall regularity (TMI I know, but if you've been plagued by digestion problems like I have for years, you'll understand why I list this one first and foremost)
more energy
less coffee intake
more veggie and fruit intake
more consistent routines in the morning (gotta make time to juice)
Critics will say you lose nutrients in the juicing process and blah blah blah. To the naysayers, I say stop being so myopic. I ingest more fruits and veggies through juicing than I would on my own by just eating them.
How many of you are gonna sit down and eat 2 carrots, 5 kale leaves and a beet at lunch time?
Okay then.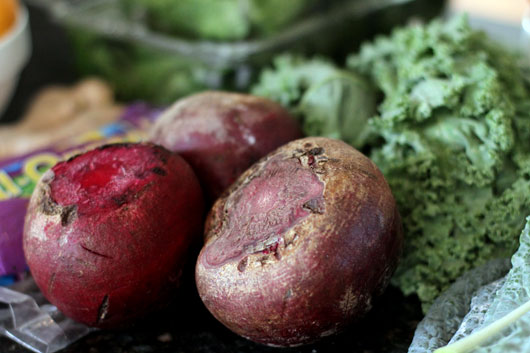 What Do You Need for a Juicing Party?
So I have some friends who either already love to juice, and some who were interested in it. So, I invited them over for a morning of breakfast and juicing.
All you need to get started is a good mix of fruit (apple, pineapple, blueberries,and grapes for example), and veggies (kale, beets, carrots, and cucumbers), including plenty of citrus fruits (oranges & lemons) and some fresh herbs (mint and fresh ginger).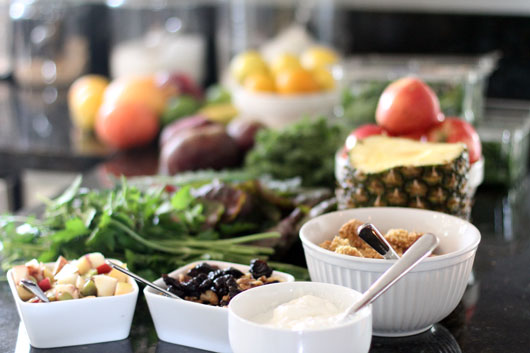 A plan for breakfast is a good idea as well, and I had quinoa granola + yogurt to munch on while we were taste testing, and then we sat down to a heartier breakfast of pastured eggs, perfectly cooked quinoa and sauteed swiss chard. Two of my guests had never had an over-easy egg. I was more than happy to introduce it to them for the first time.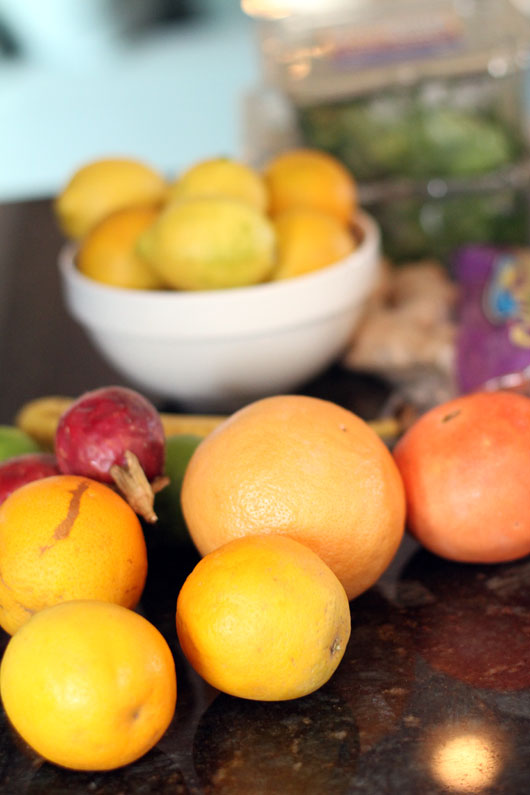 What Juices to Make at a Juicing Party
I'm usually not so structured when I'm making my own juice each morning, preferring to just throw whatever is handy and available in, within reason of course, but because some of my pals had only ever tried juice from a bar, I decided to make 2 totally different juices so they could see how good each could be.
I made a beet, apple and carrot concoction, as well as my favorite green juice.  You can get both recipes here in My 5 Favorite Juices & Smoothies post.
Tips on Juicing with Kale
Also, some of you ask how to get more juice out of your kale, when juicing.  A good juicer helps, but beyond that, you must juice your kale and follow it up with a high water content fruit or veggie, like an apple, a citrus fruit or cucumber and celery.  This will help to push the water out of the kale leaves through.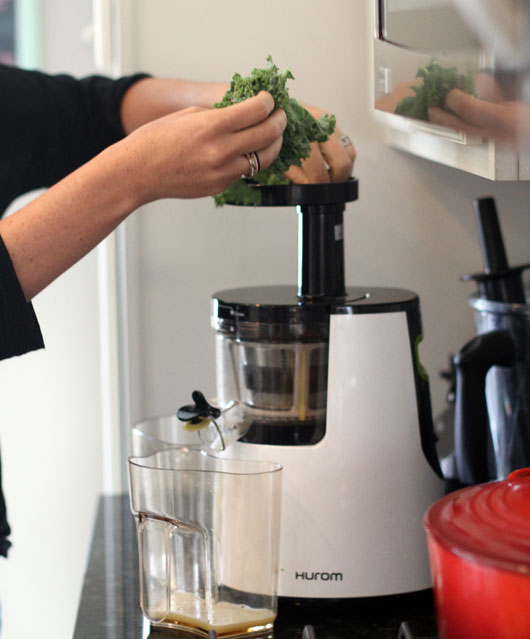 The Hurom Juicer
The nice people at Hurom sent me this new Slow Juicer plus Smoothie Maker model (updated to Classic Slow Juicer)to try out, and I couldn't be more in love with it, and I can say with 100% conviction it is the best thing I've ever received as a blog perk.  Taylor disagrees and says tickets to Knott's is the best thing, but we can agree to disagree.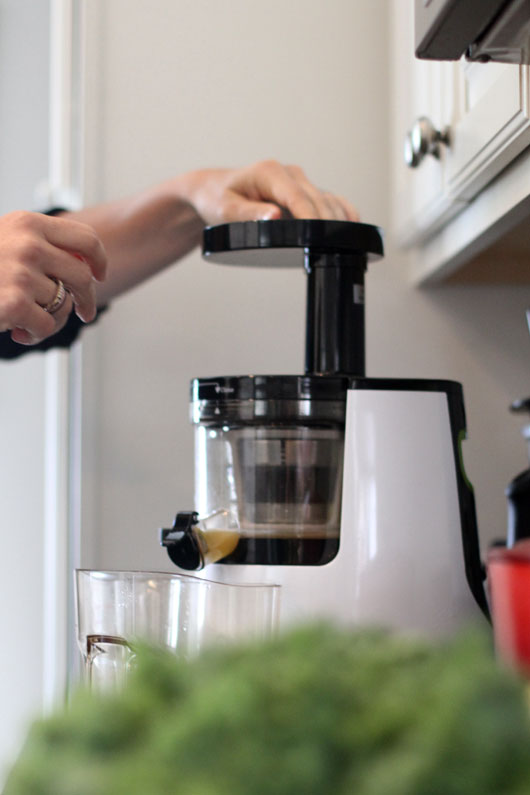 After my friend Wendy made me a juice with her Hurom, I literally couldn't drink juice from my Jack LaLanne anymore (dramatic, I know).
The difference with this type of "slow juicer" is that it extracts the juice instead of grinds it, allowing you to get up to 50% more juice with up to 6 times more vitamins and minerals.  You can see how much less waste there is in the pulp container, and how much juice you actually get.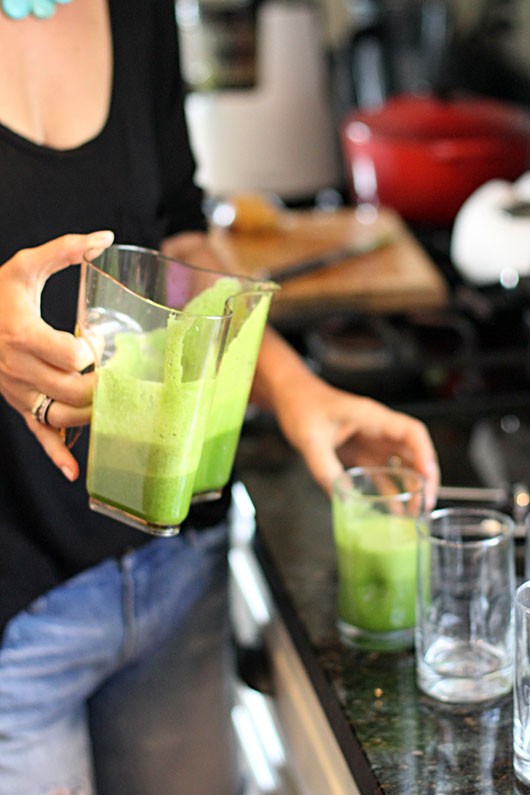 The taste is exceptional as well.  This model allows for you to control how much pulp you get (important to those who are concerned with loss of nutrients and/or who want to stay feeling fuller longer), and the ability to make smoothies and purees by way of the additional coarse mesh strainer.  This strainer allows you to now juice soft fruits and veggies like avocados and bananas, even nuts.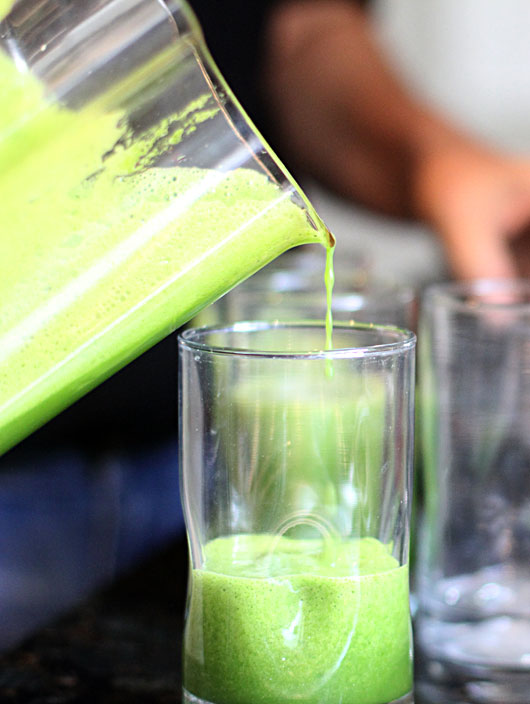 There's tons of cool features it has as well, like a plug to stop the flow of juice until you're ready to pour, and if you're making different juices, like I was, you can pour water through the machine to give it a quick clean out.
Overall it's pretty easy to clean, no sharp blades, and comes with a few specialty brushes so you can get in to all the nooks and crannies.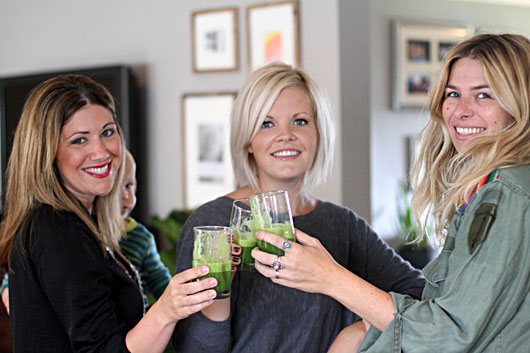 I think I've gotten used to the very earthy flavor you get out of juicing, especially beet juice, because I just drink them straight down. Most of the girls had to add a bit of ice to theirs to make it a bit more palatable, which is totally fine by me!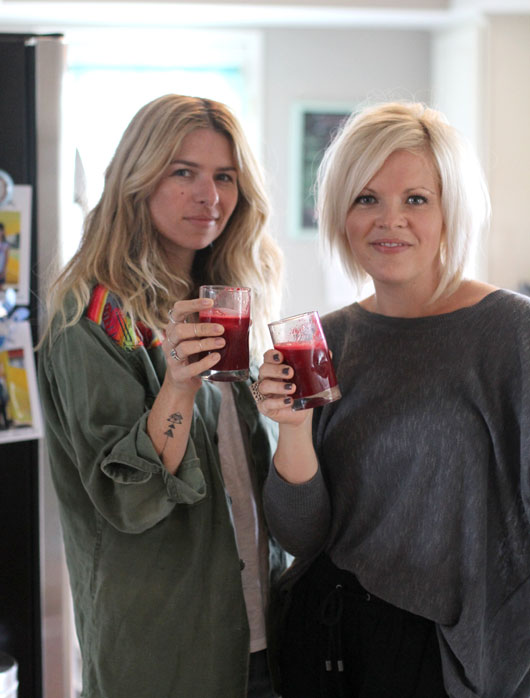 As much fun as we had getting together, trying new things together, we all agreed that the next time we make a juicing date, it will be at happy hour time and will include cocktails. Or we can just spike the juice.
It's all about balance, right?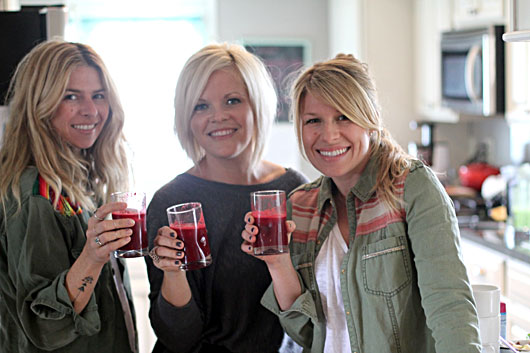 Thank you Hurom for my amazing juicer. I was already a fan, and now this just seals the deal!
Let me know if you have any questions about juicing and making smoothies, or if you want to throw your own juicing party! I had quite a few people show interest in learning more about juicing after attending my party.