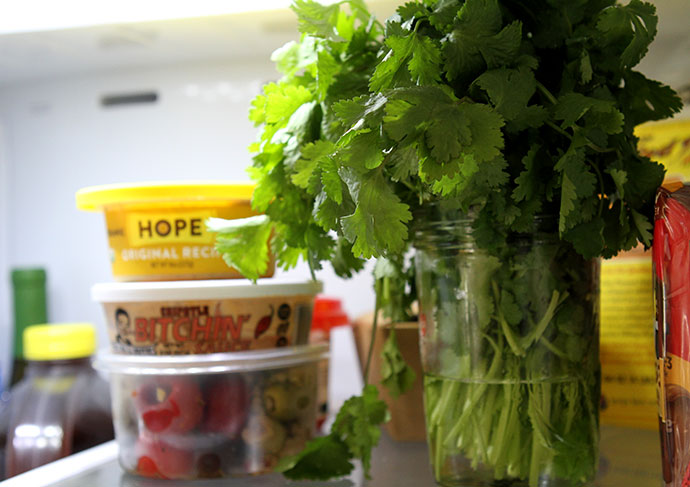 Hey there dear blog readers. Apologies for the silence over here the last couple of weeks, I feel like there's so much to catch you up on I don't even know where to begin. Biggest news though is that we ARE HOME!!! We moved back home almost 2 weeks ago, and so the last several days have been filled with packing and unpacking. There is still so much left to be done, from cleaning up the backyard that we let go to hell, to unloading the huge shipping container sitting in our driveway, but for now we are so thrilled to be back home. We love our house and the renovations we've done, and I'm enjoying spending time in the kitchen, deciding where everything is going to go in its new space.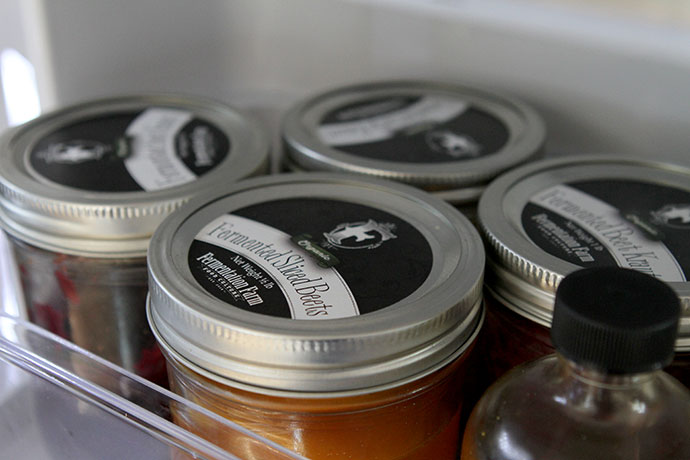 The first week we spent at home, our kitchen cabinets were not complete so we were unable to really do major unpacking. I cooked with my cast iron skillet and a spatula I borrowed from my mother in law. Other gadgets, like can openers and such were intermittently borrowed from neighbors on an as needed basis. We ate off paper plates and recycled utensils. Last week though, they completed the cabinets so we were really able to get settled in and I took a much needed trip to the grocery store and spent double what our normal budget was getting our fridge and cupboards all restocked. So since our fridge looks as clean and organized as its ever going to look, I thought I'd take you on a little fridge tour so you can get an idea of the foods we usually keep stocked at home. Our current fridge contents are pretty much as ideal as things get around here, and sometimes you'll definitely find more junky foods in there, and many times it's half empty, or half filled with leftovers. But for now, I'd like to just take a moment to marvel at its pristine beautifulness 🙂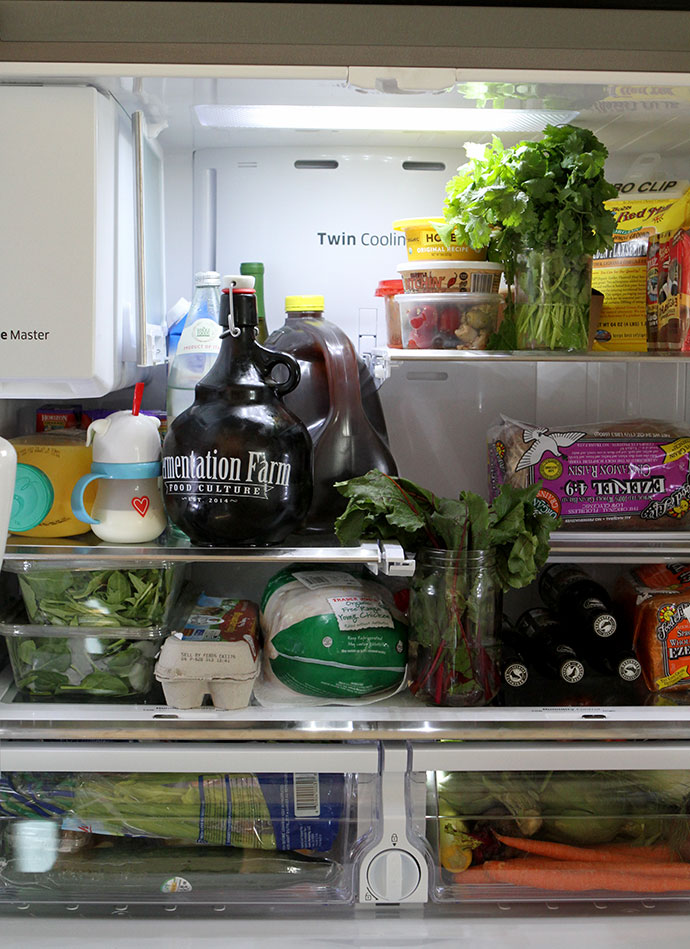 We went with a Samsung counter-depth fridge that has French doors and a secondary refrigerator drawer above the freezer. It's where we're keeping our deli meats and cheeses. The Samsung offered the most cubic feet for a counter-depth fridge, and so far I haven't missed the extra couple of feet, although we're only a week in so we'll see. I'm definitely going to have to be more on top of keeping this clean and organized. Above is an overview of what we've got in our fridge this week. Lots of veggies, a roasting chicken, and several drink options including kombucha from Fermentation Farm, sparking water, orange juice, iced tea, wine and beer. We have a couple of dips on hand including hummus and Bitchin' Sauce (like hummus but made with almonds instead of garbanzo beans), eggs, greens for salads, sauteeing and juicing, and a couple of kinds of Ezekiel sprouted grain bread. Beet greens and cilantro are stored in a bit of water in mason jars to prolong freshness. Speaking of freshness, I've got to stock back up on Fresh Paper because it did help my produce last longer.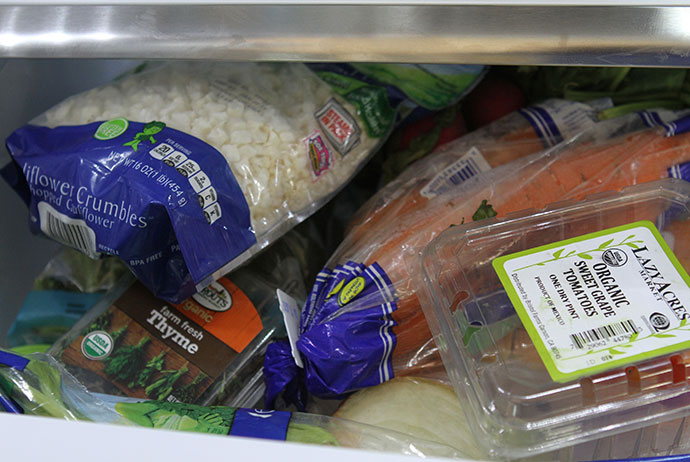 Produce crisper contents change, but I usually always have whole and baby carrots on hand, fresh herbs, celery and snap peas for the kid's lunches, beets for juicing and roasting, cauliflower for cauli rice, and something to make life interesting. This week I'll steam some artichokes and put out a cured meat and cheese tray for an easy Friday night dinner, and the fennel will be used in Ina's roasted chicken recipe.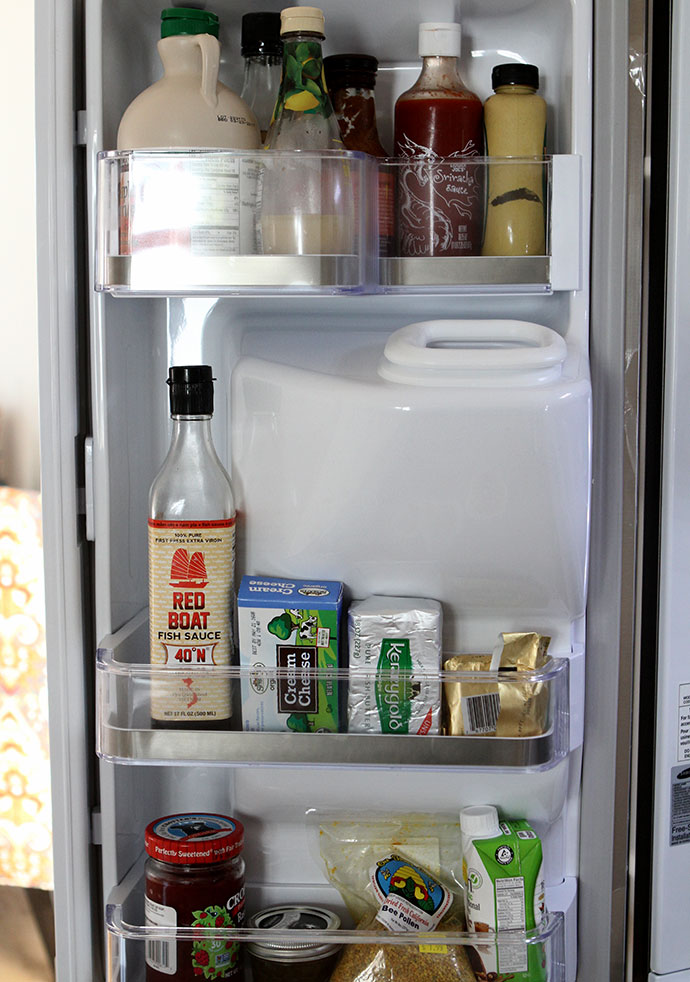 This fridge doesn't have a ton of door space for condiments, so I'm going to have to be choosy with what I bring home or else risk a lot of clutter. Must haves include maple syrup and Kerrygold butter, which I usually get at Costco, jam, Red Boat fish sauce (the best!), mayo and ketchup and a couple of varieties of mustard for dressings and sauces, and yogurt & creamer for coffee. I also have several fermented foods and fermented chimichurri this week, and I also try to keep a couple of these Orgain protein shakes on hand for days I'm in a real hurry and need something after a workout.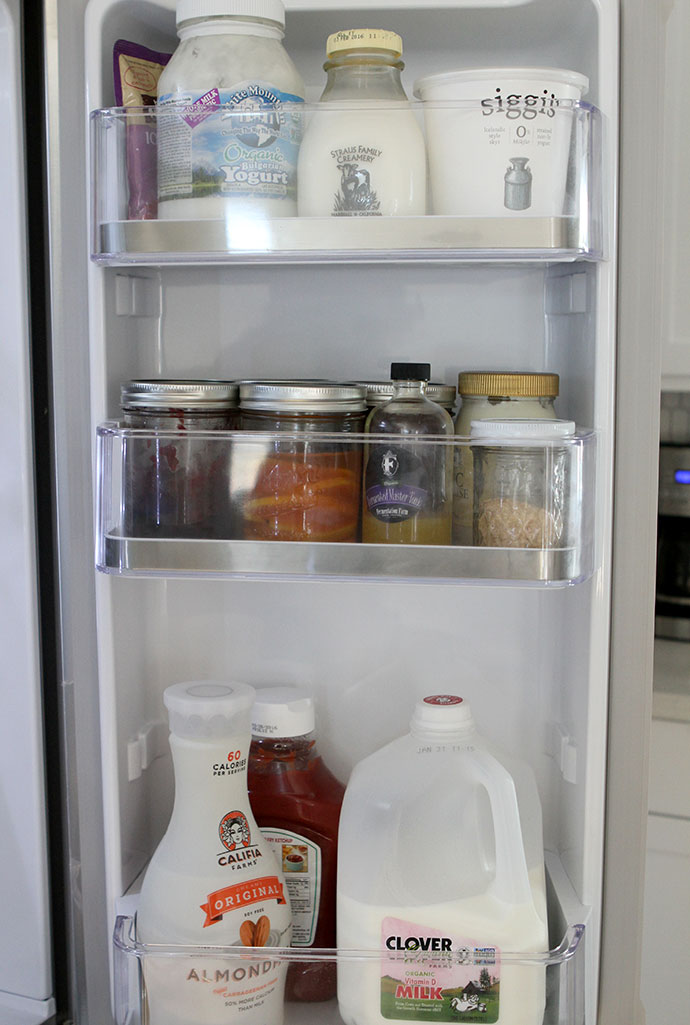 The deli drawer contains more yogurt (kids like Fage, I love siggi's for its tartness and low sugar content) for on-the-go, deli meats and cheeses, Niman Ranch bacon and sausages, and Tortilla Land flour and corn tortillas. These tortillas are the best tasting store-bought tortillas I've ever had, and although they need to be cooked for 60 seconds before eating, they are worth every second of time "wasted" and I love their simple ingredient list.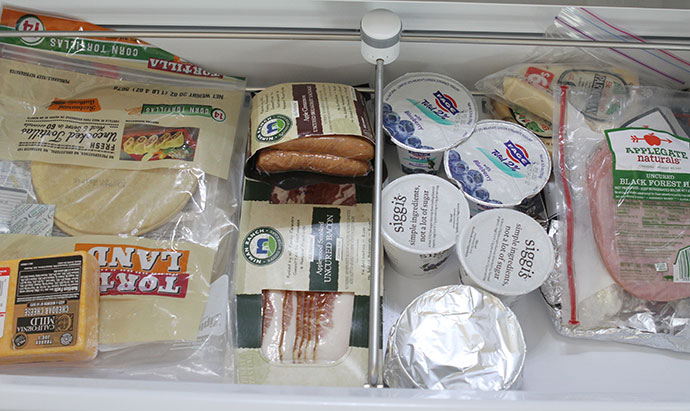 Typically our freezer is a lot more full than this, but for now it's got the necessities, and I hope I can continue to keep things pared down instead of hording, like I typically do 😉 Frozen fruit for smoothies, frozen veggies for some recipes and quick dinner sides, and a few kinds of frozen protein, including wild caught salmon and grass fed and grass finished beef.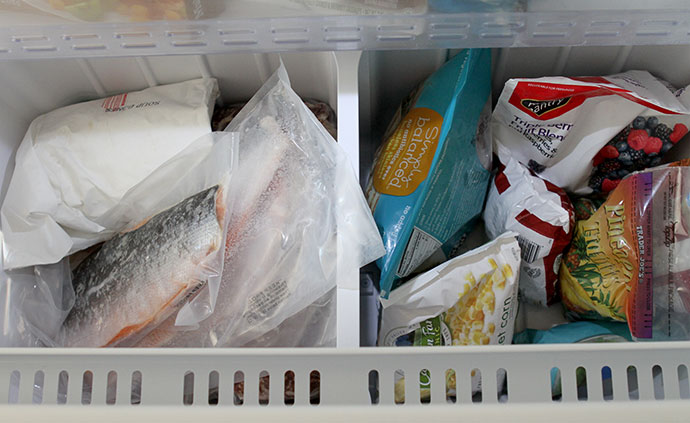 In the other freezer drawer, we've got a couple of kinds of ice cream, frozen bananas for smoothies, ice packs and some frozen veggie patties. Also, Art wants to start making himself better breakfasts on the go, so we bought some frozen sausage for him. Haven't tried them yet though so can't say how they are.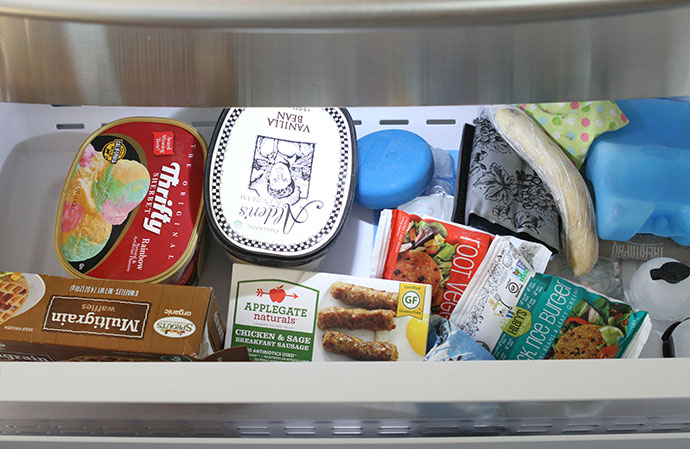 And there you have it folks. Having a well-stocked fridge and freezer definitely makes it easier to eat healthier, since if you bring good food into your home, you're going to eat good food 😉 The hardest part is truly just making the time to cook the food and set aside time to eat proper meals instead of running through and getting take-out. Having had our lives sort of in upheaval the past few months, I know this is easier said than done, but going forward I'm really excited to get back into blogging here on a regular basis, and that includes publishing easy recipes that will hopefully make your lives easier. Now taking requests 😉
And more house photos coming up soon, as we finalize each room.