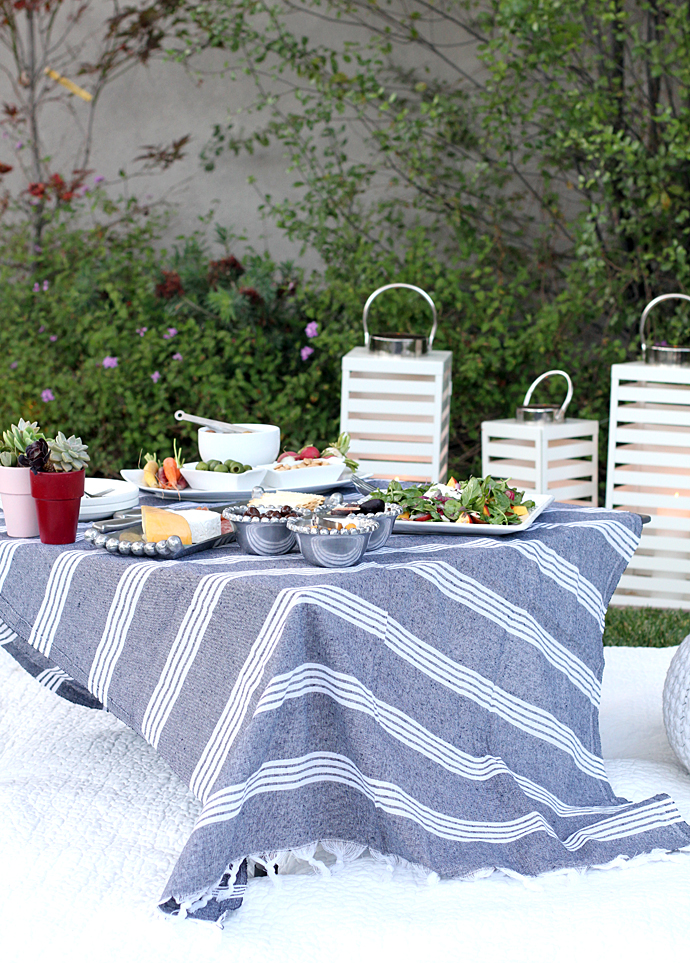 A few posts pack, I shared with you an appetizer as dinner spread I pull together, on the nights where I don't really feel like cooking. Spreads that appear quite impressive and complicate, but are really just the result of fridge rummaging, and making sure to have can't-live-without items always on hand; salami & cheese, some favorite seasonal fruits and veggies, olives, and simple crackers and little sweet treats.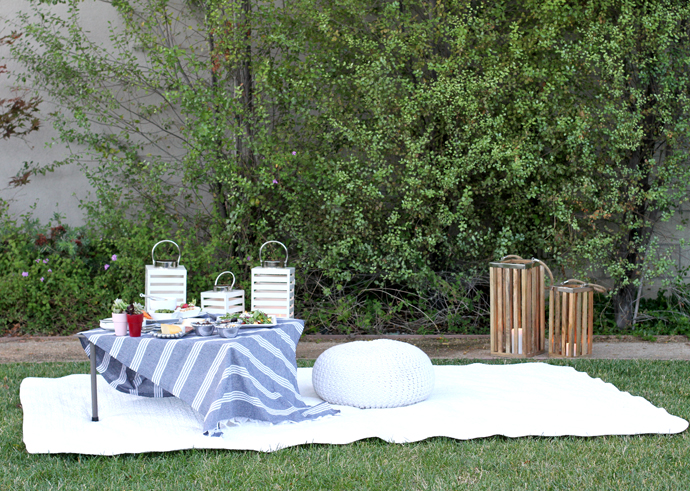 One of the first parts of the house that we worked on when we moved in almost five years ago was our backyard. Because we live in Southern California, outdoor living is a big part of our life anyhow, but when we purchased a home with an expansive backyard, by SoCal standards, and an almost 40 foot Chinese Elm tree, we knew that the backyard is where we would spend a lot of our time.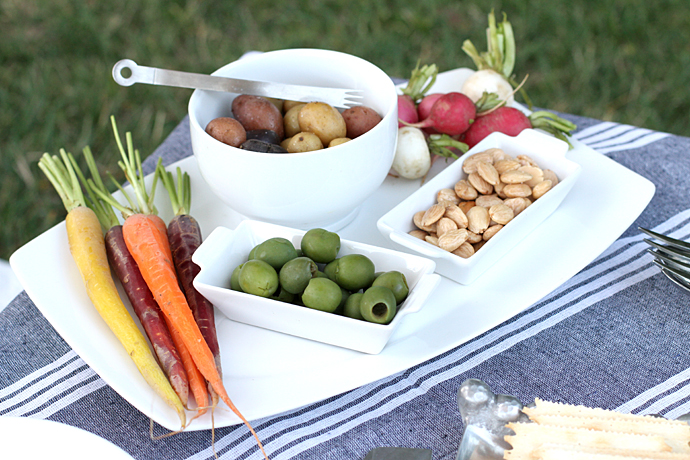 The kids and I often throw out some beach towels and eat back there during the summer or after school snacks, or we sit around the fire pit, with it's thick border serving as a natural table ledge. We also entertain outside under the elm tree and twinkly lights quite often. Our backyard is our favorite part of the house, for all of us, and so it's not unusual for me to put together a spread like this one, and eat out here in between the kids taking dips in the pool. Although, I usually don't bring out Hayden's knit poof from his room, that admittedly was for styling purposes only.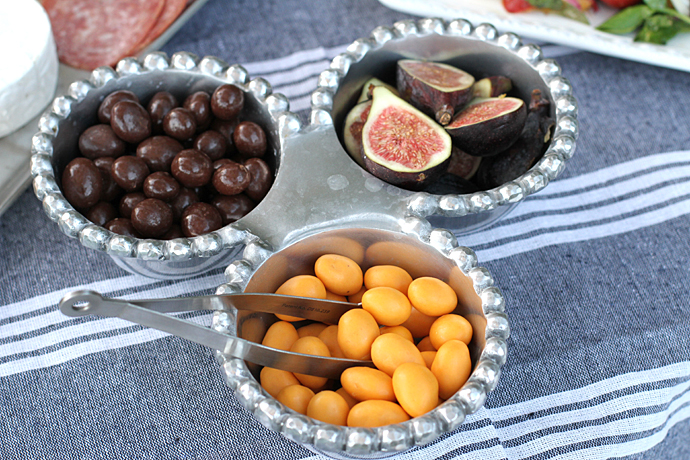 The way this meal differed a bit from the one I showcased a few weeks back, is that the grounding dish is a burrata and peach salad, versus the steamed artichokes.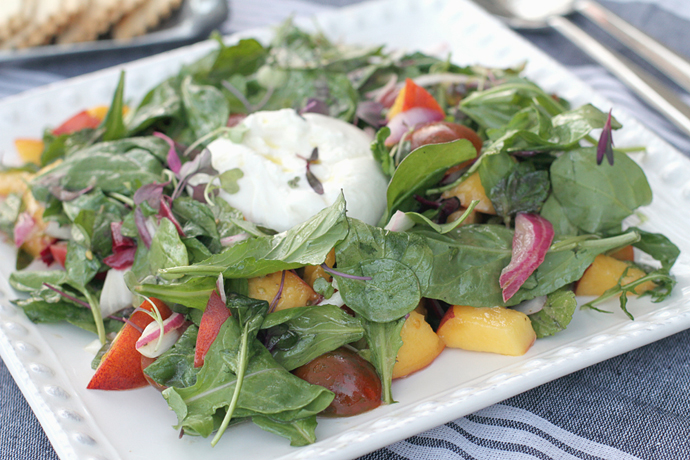 Because it's summer, and boiling/steaming artichokes for 30-45 minutes at a time can unnecessarily heat up a hot kitchen to its boiling point, I focused on a light and refreshing salad, mimicking a similar one I had eaten at Bestia LA, and cut back a bit on the meats and cheeses, although some were still included. I filled in the blanks with a lightly seasoned, non-oily olive, some fresh seasonal veggies and fruits, and a couple of little treats to serve as dessert, including mango yogurt covered almonds and chocolate covered raisins.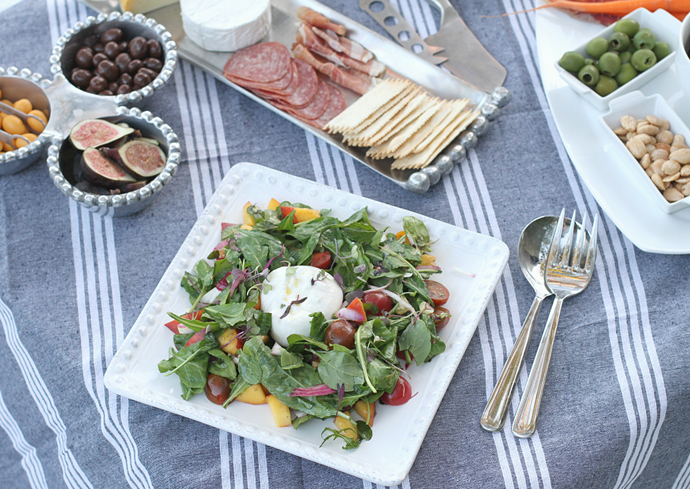 The recipe for the Burrata & Peach Salad can be found over on Wayfair's website, where I serve as a quarterly contributor. Please go check it out, you'll find it's quite easy to throw together, and if you're new to burrata, this is the perfect introductory recipe to try it out.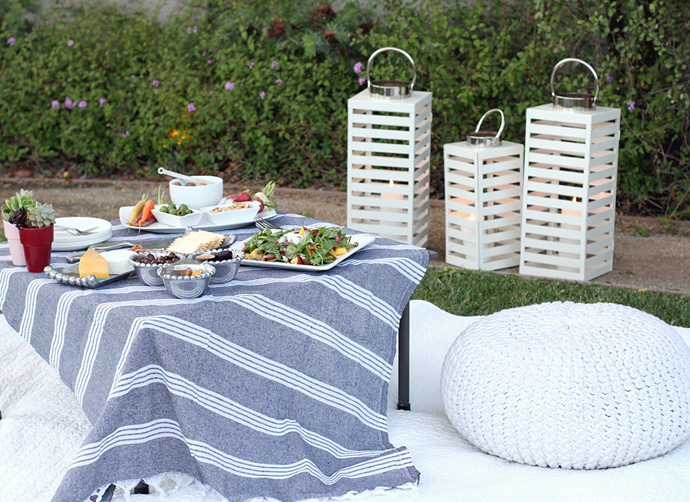 Visit my last post to see the full appetizer for dinner how-to guide, but note a few of the key principles I replicated here: Something savory (prosciutto & salami), something crunchy (carrots & radishes), something mild (cold boiled potatoes), cheese with accompanying sweets (figs & chocolates); something dense (the burrata salad gives the table substance and rounds out the entire meal).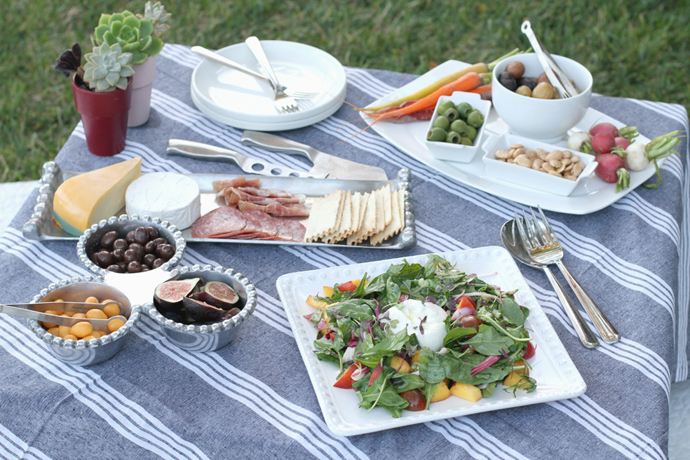 So what are some favorite rustic spreads you pull together on the nights you don't want to cook? Please share, as I'm always looking for new ideas that don't equal a lot of work.