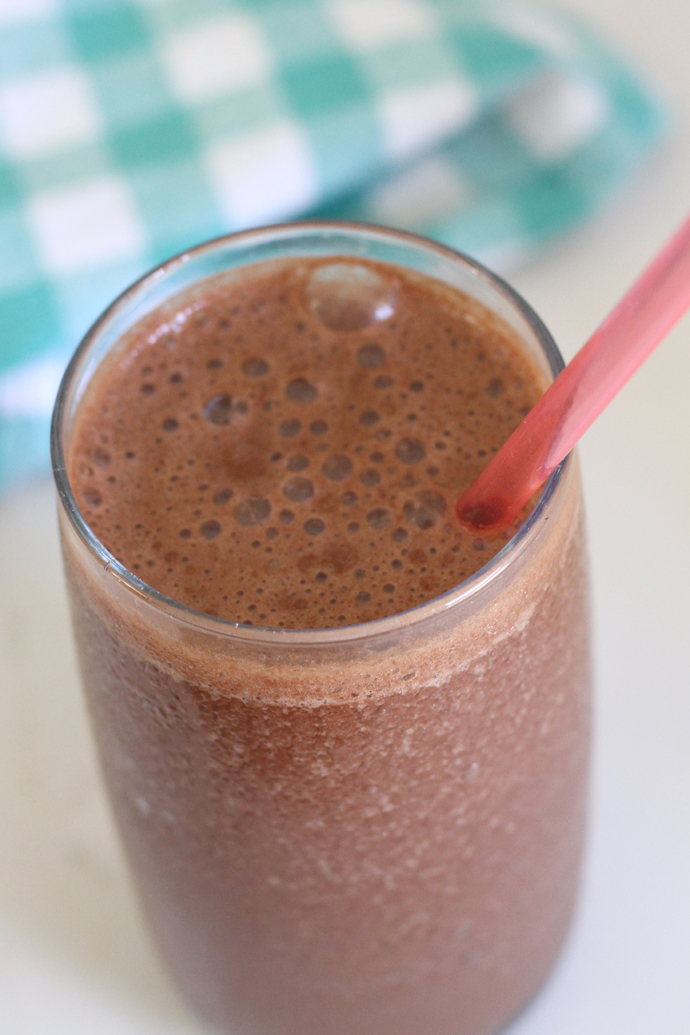 I've never been the type to order a mocha frappucinno from Starbucks, because I've always found them to be way too sweet. My husband likes them enough and so I've curiously tasted a few sips every now and then, each time hoping I would enjoy it and then understand people's fascination with them. But each time I've tasted one, my taste buds clench in protest from the sugar rush and I just continue to not get it. I do however, like the idea of a chocolaty coffee drink, because chocolate in and of itself is pretty darn good, and then add coffee and well, it should ideally be a match made in heaven. So when I started getting more adept at subbing out traditional super sweet sugars with more natural sugar flavors like dates, honey and maple syrup, I decided to try and make my own mocha frapp at home. Plus, since I now use raw cacao powder on the regular, which is much less sweet than regular chocolate sauce, I figured I would be able to come up with something that wouldn't leave me with an intense sugar high. Mission accomplished with this beauty.
I made my first pass, pictured here, without avocado, and you'll notice it takes on sort of an icy appearance. I love it this way, and it is almost a bit lighter in texture, making it perfect for an afternoon pick me up. But when I added an avocado to it, the consistency and texture completely change, transforming into more of a smooth shake. Either way, with or without the avocado, this is a fantastic and easy smoothie to whip up, plus it's free of artificial ingredients or refined sugars. But adding the avocado does add a healthy dose of good fats and some extra calories, so it's a nice addition, especially for the morning when you need a full belly to keep you going into lunch time.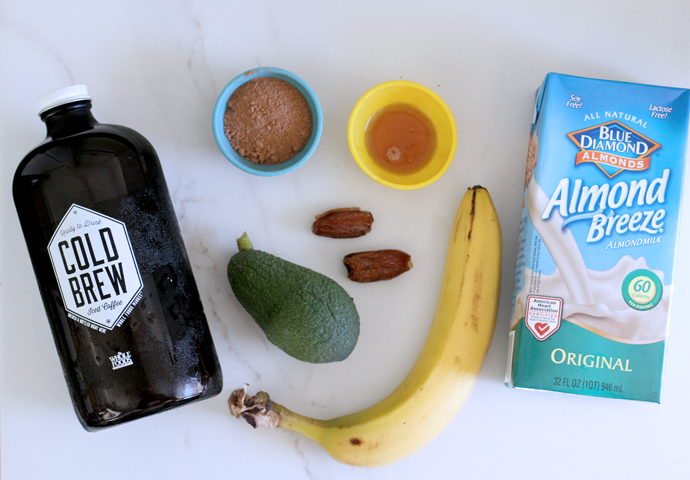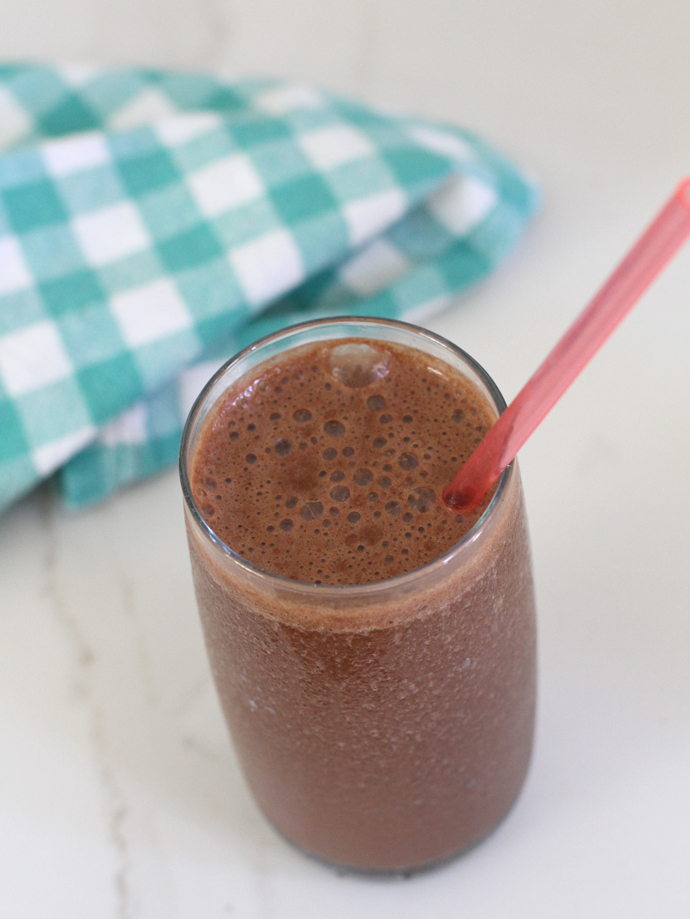 On top of being free of refined sugars, it's also dairy free and vegan. I continue to make a variety of foods and drinks which are both dairy free and include dairy, as we're fortunate to not have any lactose intolerance issues in our home, but if I can easily swap out milk for almond milk, I do so readily, as it saves a good bit of money, because in case you haven't noticed, organic milk is spendy, and just keeps climbing in price.
Some of the other recipes I made last month using almond milk include a dessert, and another dessert. I guess with summer in full force, I have sweets on the brain.
I made a light and refreshing dairy-free vegan peach ice cream with just a few simple ingredients.
And I made a favorite dessert from my childhood, rice pudding, using leftover rice.
Print
Chocolate Coffee Smoothie

A delicious and nutritious dairy free, vegan smoothie.
Author:
Prep Time:

5 mins

Cook Time:

1 min

Total Time:

6 mins

Yield:

2

1

x
Category:

Smoothie
Scale
Ingredients
1

frozen banana

1/2

avocado, optional

1/2 cup

of coffee

2 tbsp

raw cacao

1 tbsp

maple syrup

2

dates

3/4 cup

Almond Breeze Unsweetened Almond Milk

1 cup

of ice
Instructions
Combine all ingredients in a powerful blender and blend until smooth.
These posts, as you know, are kindly sponsored by Almond Breeze USA, and I appreciate their support! Thanks to all of you for supporting the brands who help me do my thing!