"This shop is part of a social shopper marketing insight campaign with Pollinate Media Group® and Aloha, but all my opinions are my own. #pmedia #MyAloha #AlohaMoment http://my-disclosur.es/OBsstV"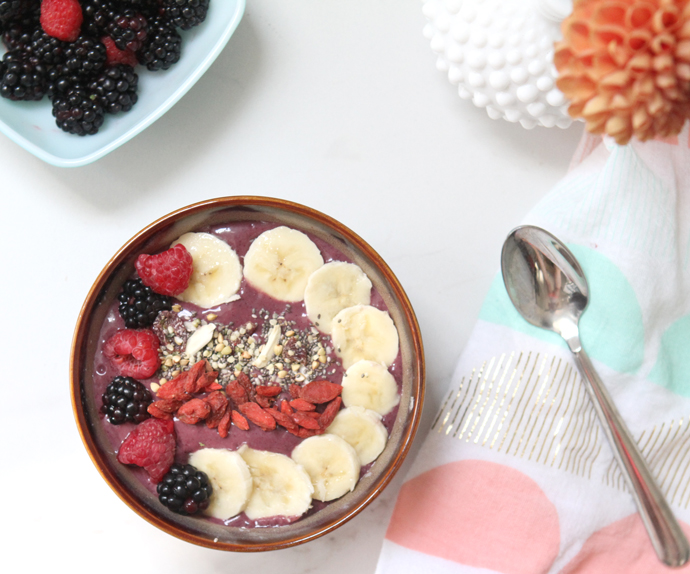 I hate to wish time away, but I'm ready for summer to be over. While we still have a couple of weeks before the last day of summer officially hits us, the Labor Day weekend is a great place to say sayonara, and welcome in the season with a fresh start. I know many people associate the upcoming months with excess and over-indulgence, but I like to look at is a way to hunker down and get back to a simpler routine that centers around the home. Summer is all about gallivanting all over town, while Fall represents longer nights spent indoors, with more opportunities to cook nourishing meals, and less time to hang pool side most of the day chowing down on chips and guacamole, alongside a cold beer.
A certain someone did a lot of the latter this summer, and a certain someone lacked a lot of motivation to cook well-rounded, healthy meals on a daily basis. I'm not naming names, but this certain someone is definitely ready to get back on track. This past week, I've been getting a little kick-start back into my formerly healthier ways, with the Aloha Daily Good Greens blend box. While I will never abandon my love for fresh fruits and veggies, some times it's nice to have a bit of convenience on hand to help us along.
The blend box offers several packets in 3 flavors, of the world's first 100% natural, vegan, whole-food powder, in convenient individual serving pouches. These packets are seriously magical, and I've been enjoying them blended in smoothies and my smoothie bowls, and have even drank it straight with a tall glass of cold water. They're the most perfectly pure powder supplement I've ever come across out there, with all ingredients organically grown and wild-harvested, manufactured in the US, non-GMO, gluten-free and vegan, and with absolutely nothing artificial whatsoever. It's seriously the "cleanest" supplement I've ever seen. And each packet contains 2 daily servings of fruits and veggies, not to mention other "super-food" supplements like spirulina, moringa and cacao.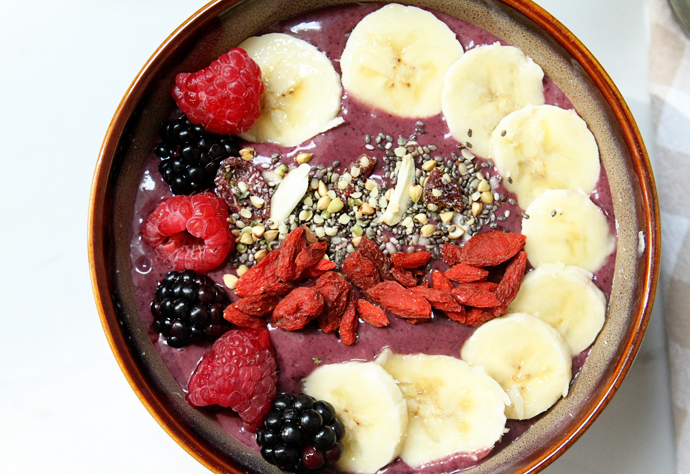 Beyond how naturally pure this product is, I have to get back to the convenience factor. To make a typical green juice or smoothie, I would have to wash and prep up to 10 different fruits and veggies, plus my supplements like spirulina and cacao. This is all ready to go for me, in one pouch. No clean up of my juicer, no chopping and peeling, nothing. Just add to water, your smoothie or even a bowl of oatmeal, and you're good to go.
The daily good packs have seriously been a life-saver this past week as I slowly try to get back to my old self. The past several months have been particularly hard on me, something I haven't opened up about here, but I've had several bouts of strep which have left me feeling weak and chronically fatigued, with little to no motivation to cook, let alone juice, a habit that was ingrained in my daily routine just a short time ago. I've tried to push through it instead of acknowledging my need for help, but finally sought out an ENT to help me kick these chronic infections I've been dealing with for the past year. Just meeting with her last week was the jump start I needed to get back on track, and prioritize my healing. These packets have been a great way to ease back in, and recapture some of my previously vital healthy habits.
Smoothie bowls are a favorite breakfast around here, and this one features the Aloha Berry Blend, and is topped with a qia mix, primarily made up of chia seeds and nuts, goji berries and fresh fruit. Bananas give the bowl some density, almond milk makes it creamy, and the almond butter adds protein and healthy fats. The berry blend includes spirulina, spinach, sustainably sourced moringa, peas, wheatgrass juice, wild blueberries, king trumpet mushrooms and Hawaiian red alaea salt, just to name a few. Each ingredient has been thoughtfully sourced and selected to combine for a powerful, nutrient dense packet of whole-food powder that can help boost energy and immunity, as well as hydrate.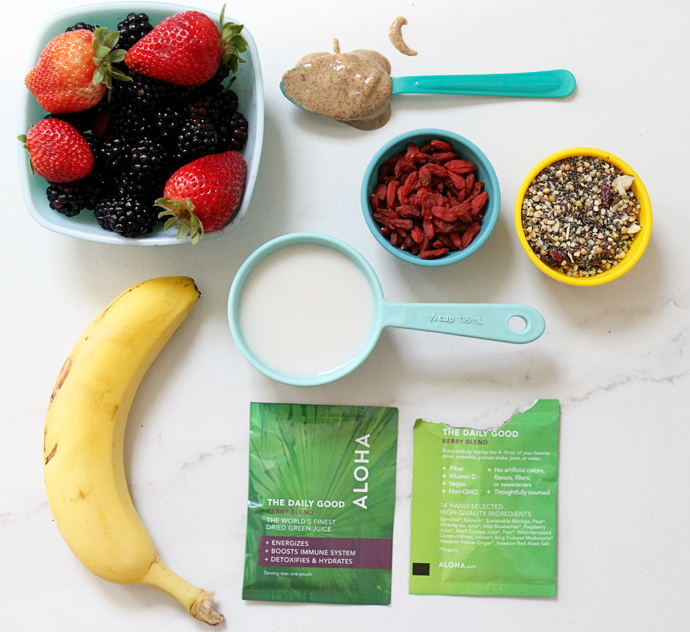 I've added the simple daily good green juice packet to cold water and had no problem guzzling it down, and neither did Hayden, although he loves just about any type of green juice so perhaps he's not the best gauge. If you're at all nervous about the taste though, simply add to a smoothie. This morning after an intense heated yoga flow class, I came home hungry but also severely dehydrated, having failed to properly hydrate before class. I wasn't ready to eat, but primarily wanted to focus on hydration, so I dug through the fridge and found a few leftover organic figs that were a little past their prime to eat fresh, but made for excellent smoothie material.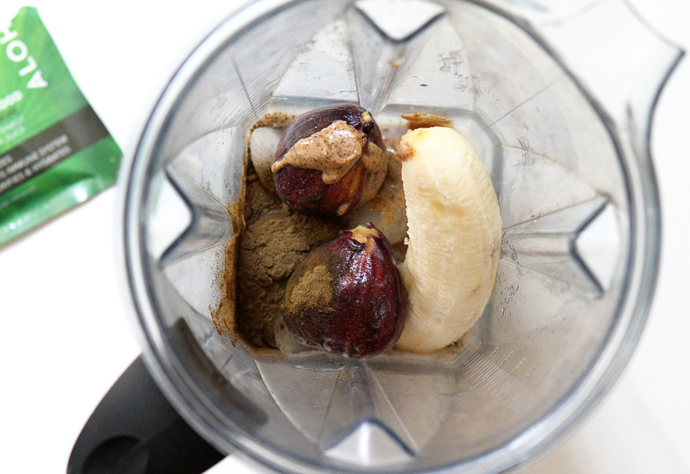 Along with the 4 figs, I added a fresh banana, about 1 cup of almond milk, a heaping tablespoon full of almond butter, and the daily good chocolate cacao pouch.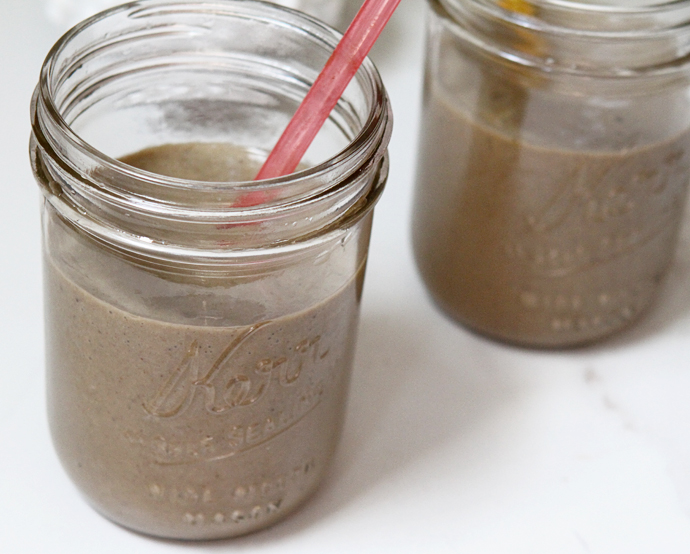 What I got was a fantastic tasting, rich smoothie with the subtle hint of chocolate; sweet but not overpowering, with the added benefits of the added nutrients from wild-harvested coconut water, an excellent source of electrolytes for rehydration, red alaea salt, known for drawing out and eliminating toxins, and the yummy taste of both cacao, coconut and maple sugar.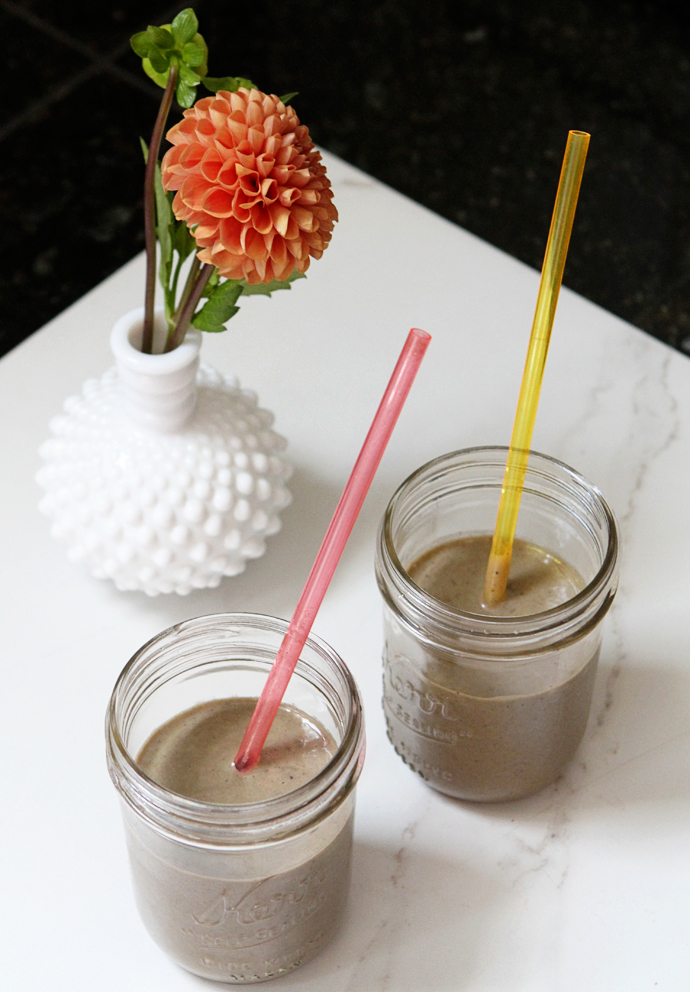 I've loved my trial of Aloha products so much that I've signed up to continue to receive the monthly service for at least the time being. While I do have a juicer at home, as well as some of these supplement powders, I could really use the continued convenience, which for now, ensures that I get the nutrients I need, to help me get back on track with my health and my daily habits. Perhaps in another month or two when I've kicked these chronic infections I'll take a break from the service, but for now, I'm thoroughly excited to have these pouches at my disposal.
You can sign up for a free trial of the Daily Good Greens powder on the Aloha site, and continue with an automated monthly enrollment service if you love the added benefits. Either way, I sincerely love this product and hope you give it a try, even for just a few days. If you do give it a try, please let me know what you think!