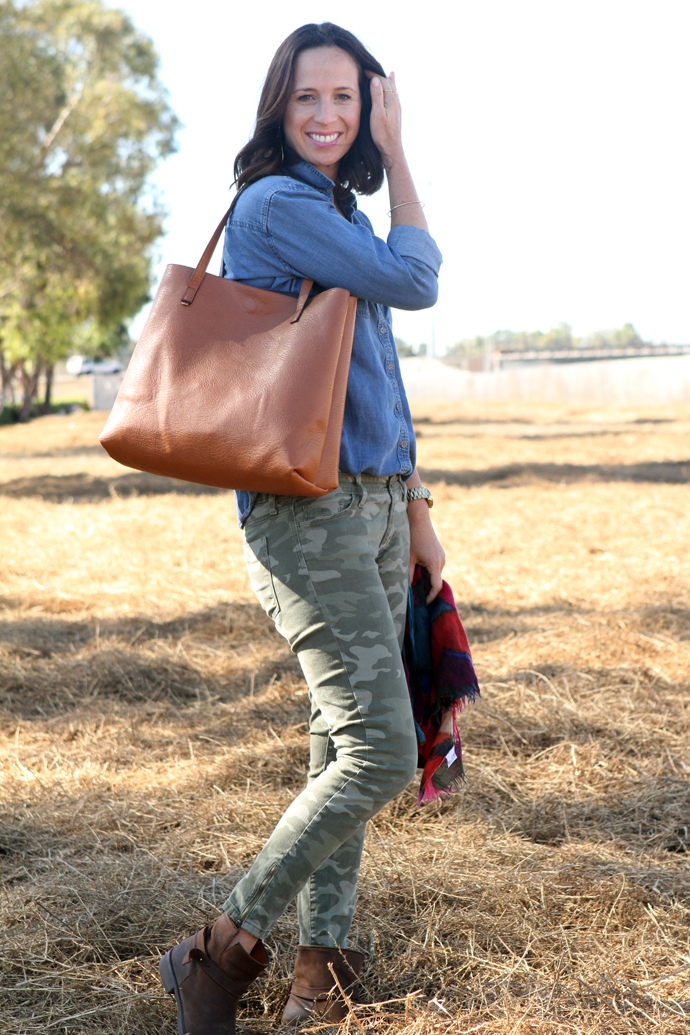 Camo skinnies – old Banana Republic but similar from Loft, Chambray shirt – Loft, Biker boots – Madewell, Reversible Faux Leather Tote – Nordstrom
Let me begin by stating, if you love leather and all it entails; the smell, the texture, the way it wears over time, this bag may not be for you. But if you could go either way on leather, then let's have a serious talk about it. Because this tote is pretty much the perfect answer to all those pining after the Madewell one, but aren't interested or aren't able to spend $168 on their own. From Nordstrom, it's under $50 and comes in a bunch of great colors.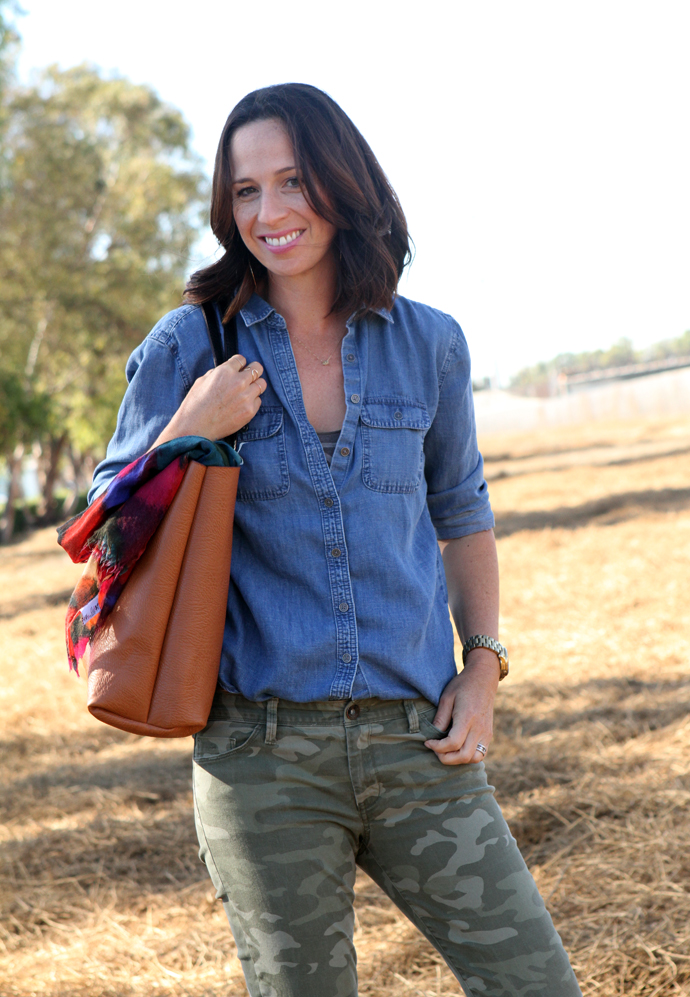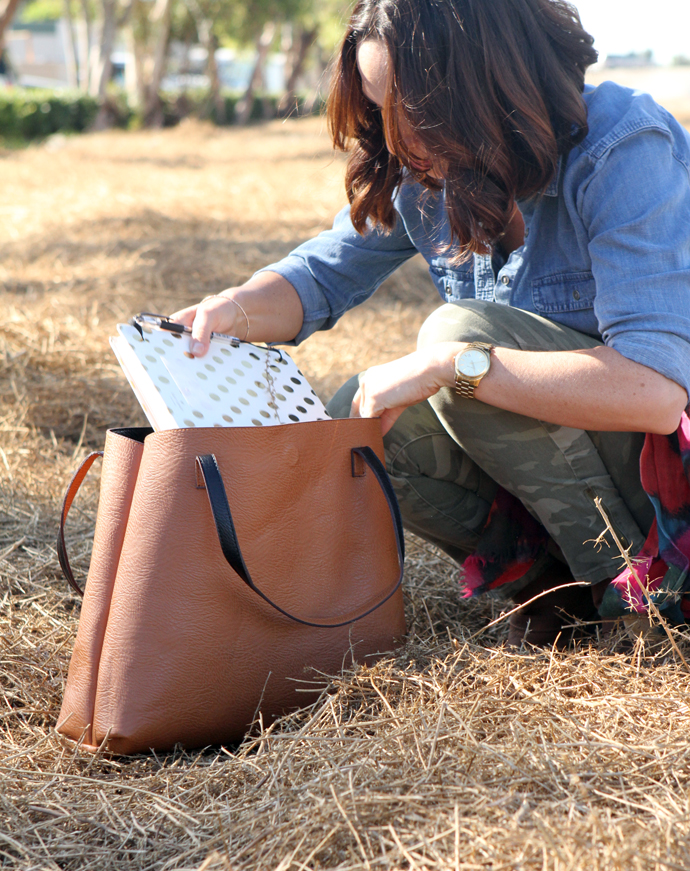 While the shape of this Madewell doppelganger is slightly different, more of a rectangle than a box shaped, it does have a couple of other features worth mentioning. Starting with, it is reversible y'all! That's right, this is like getting two bags in one. It also comes with a detachable little zipper pouch, which is great on its own as a little wristlet, or would be well suited to swapping in between all sorts of bags. This tote also has a magnetic closure, which isn't going to prevent its contents from completely falling out of the bag when your car comes to a screeching halt, but it does provide an extra level of protection against pick-pockets I suppose.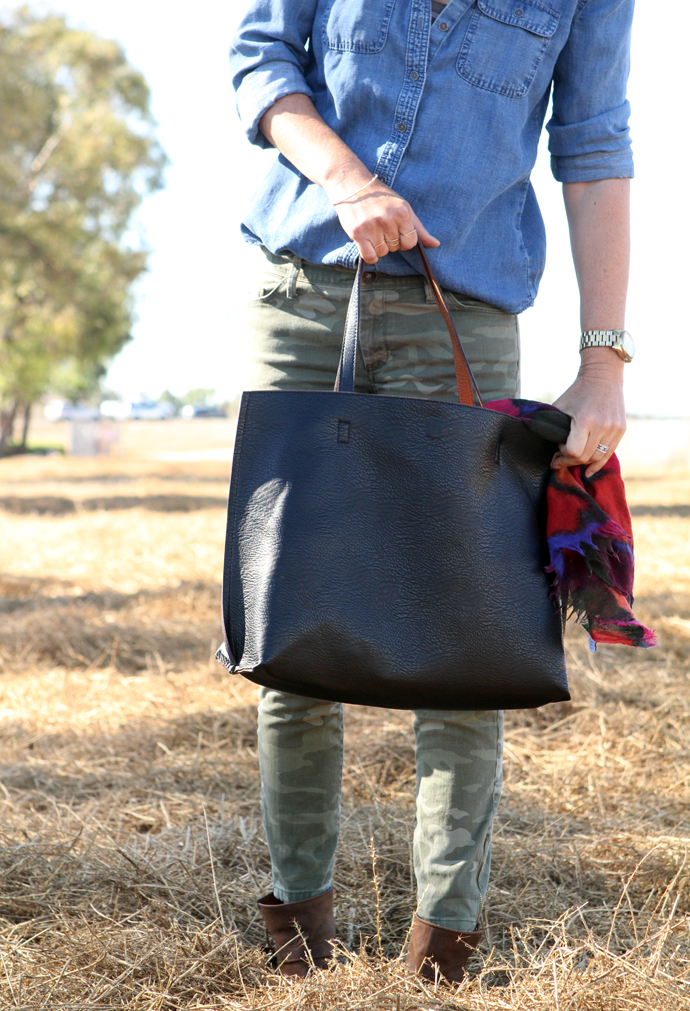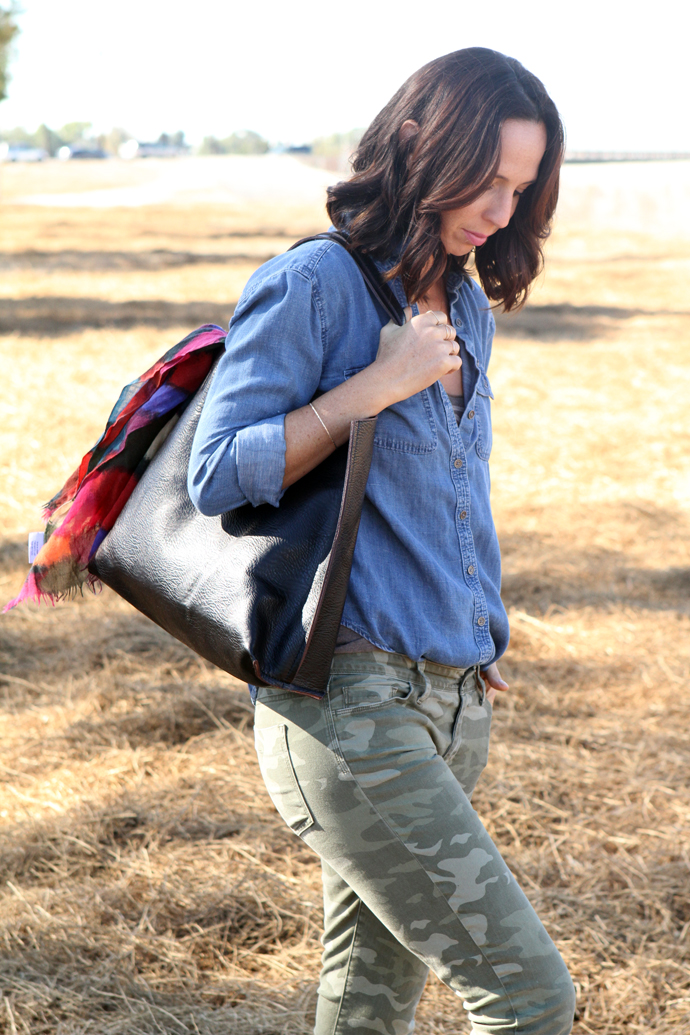 The thing that I should mention about the reversible aspect of this bag, is that on one color side, you will see seams. It's not the end of the world, I know, and really, for the most part as I was carrying this bag around yesterday I didn't even notice. But as you can see in the pictures, the seams are there. The handles are also reversible, which you can see from both color sides, however I sort of like the look this gives the bag.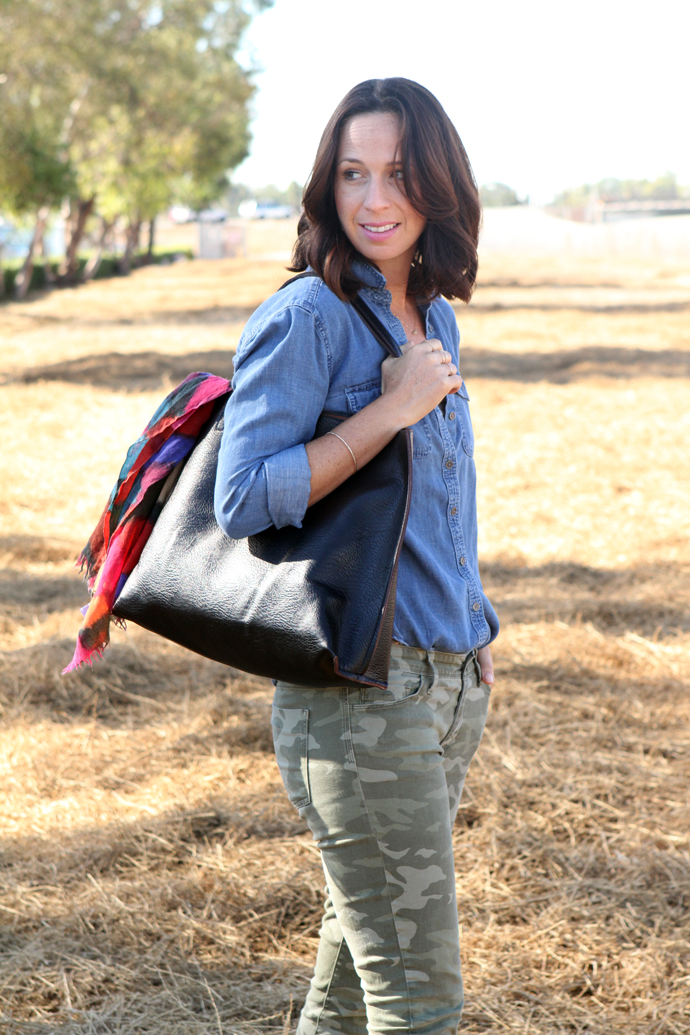 While leather die-hards may not be able to get past the fact that this bag doesn't smell like leather, at least there's the upside of this bag wearing extremely well, and as a mom, I don't have to worry each time my babes grubby hands get all over it. My current Lily Jade bag has water stains on it that will be hard to get out, if impossible. This bag can easily just be wiped clean with a damp cloth.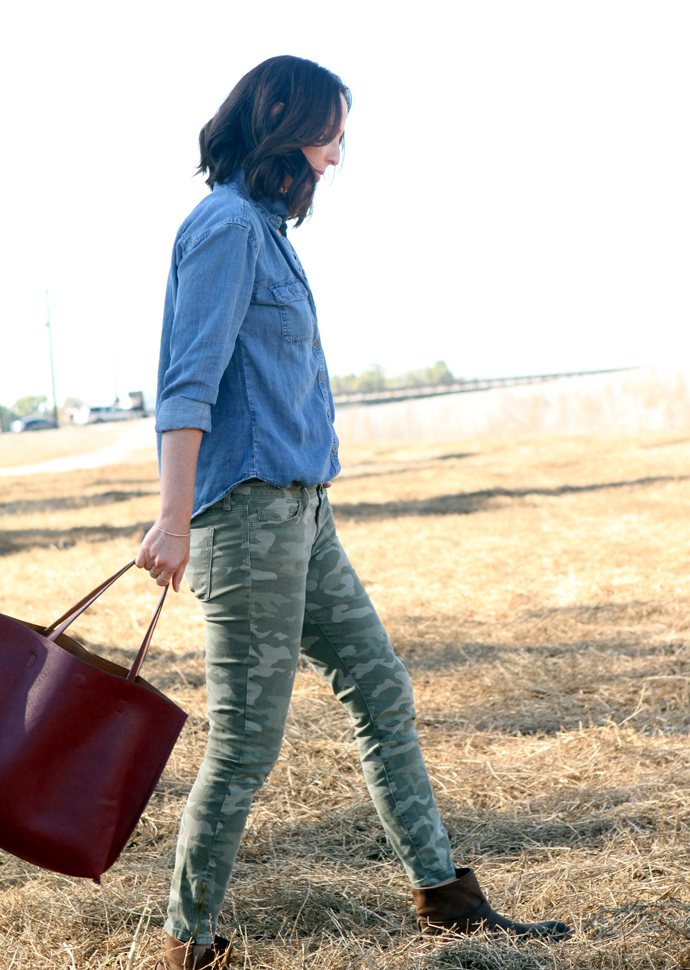 I ordered two colorways in the bag, the black/cognac and the oxblood/tan. I expected the cognac and tan to be different shades of brown but they are identical, in fact I'm sure you can't tell which one is which in some of these photos.  On both colorways, the black and oxblood are the sides with the seams, so the cognac/tan colors are seam-side in. I wasn't sure which colorway I would stick with, but since my old black tote bag is literally falling apart, I think I'll be boring and just stick with black/tan. the gold/tan color way looks cute too. There's quite a few other color options as well.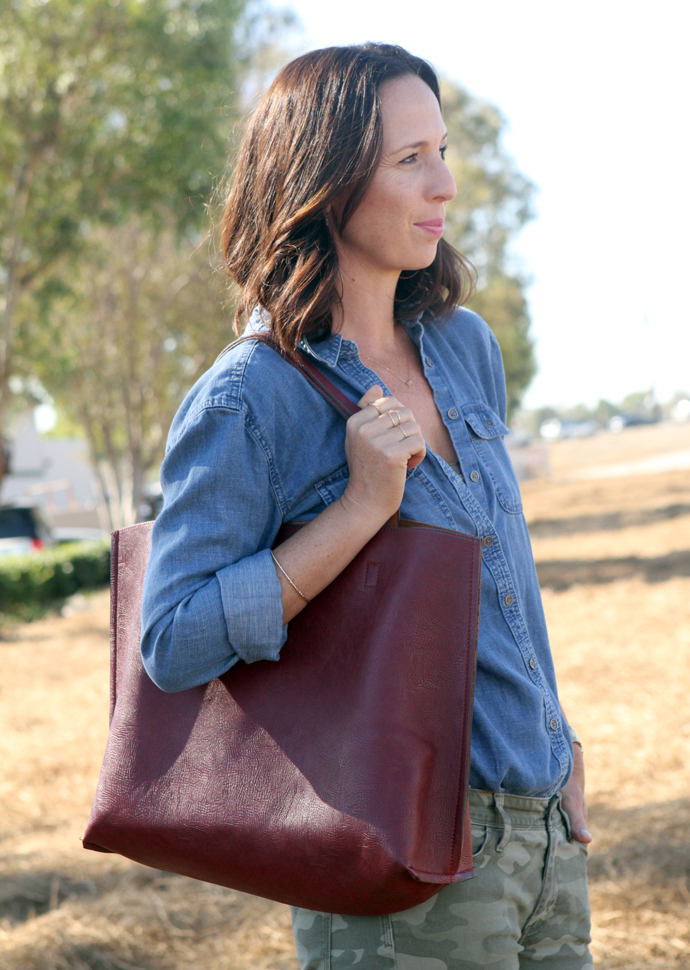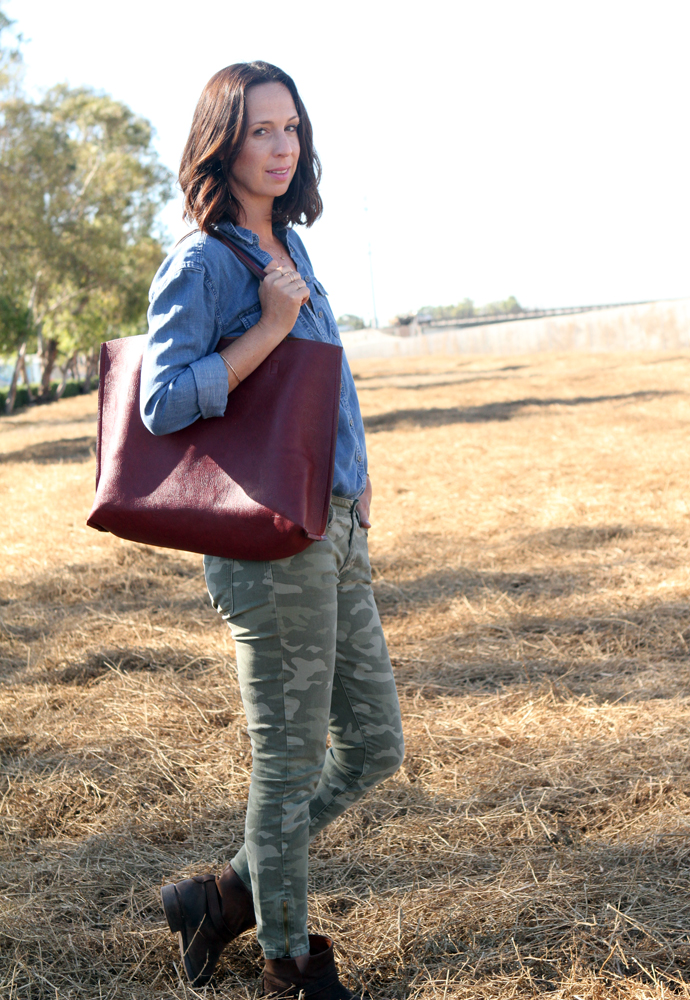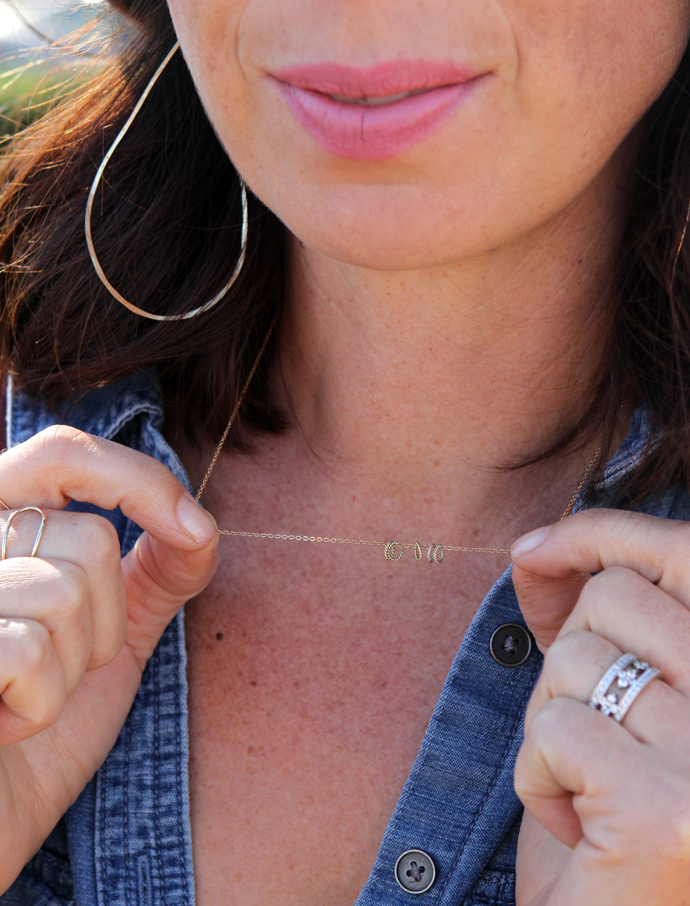 The other accessories worth mentioning here are my earrings, gold rings, which are slightly twisted in these photos, and my little rings necklace, containing 5 rings for our family of 5. I wear these pieces everyday and continue to get so many compliments on their daintiness. The earrings especially, despite them being so delicate, have lasted me a year now with no problems at all. The earrings are from a local boutique called Tullemoss, and I know they still have them there, and the necklace and rings are from another local boutique called Twig & Willow. All are from local artists, and are in stock, and both stores will ship. I've pretty much traded all other accessories in for these versatile pieces.