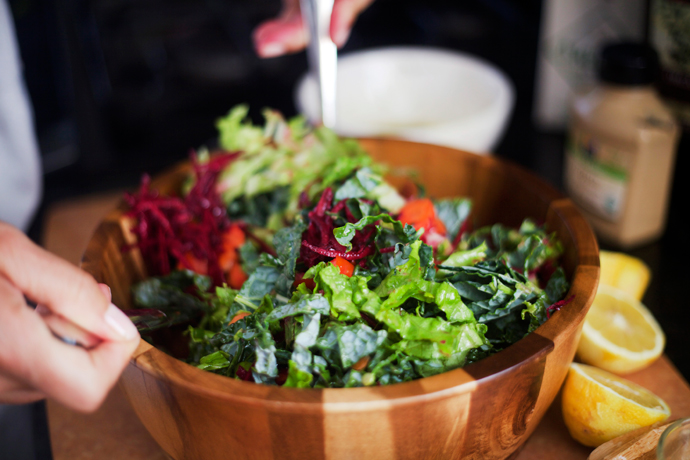 During my knife skills class, we made some simple roasted chicken thighs to use for a taco filling, we made 3 different kinds of salsas and guacamole, and we made a surprising side dish; a farmer's market salad, using only ingredients that had come in our chef's weekly CSA box. Having grown up a beans and rice with tacos gal, a side salad, one so far removed from Mexican fare, was quite the departure for me, but a good one nonetheless to offset all the fried chips & dip, and stuffed to the brim corn tortillas.
How to make a salad with the available produce at the Farmer's Market
This type of salad is not necessarily some new invention, and exists only on the premise that you use what you have and what is in season, not what you go out and buy. Thus, your ingredients for this salad are forever in rotation and changing, especially with the seasons. Since we shot this salad 2 months ago when tomatoes were still ripe and juicy, I'd probably now skip the tomatoes and use avocados or roasted squash of some sort. Your types of lettuce may change as well. The idea is flexibility here, but you get the idea I'm sure.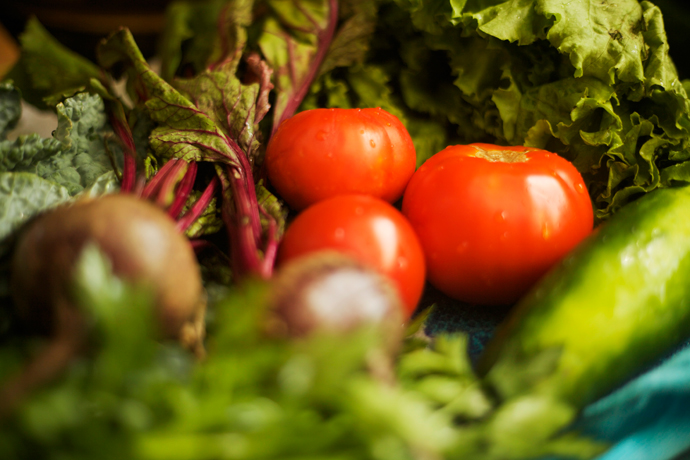 Gather all your vegetables and start chopping away, even taking liberties and using the food processor to shred up some veggies for an even more festive display; think beets, zucchini or finely diced onions.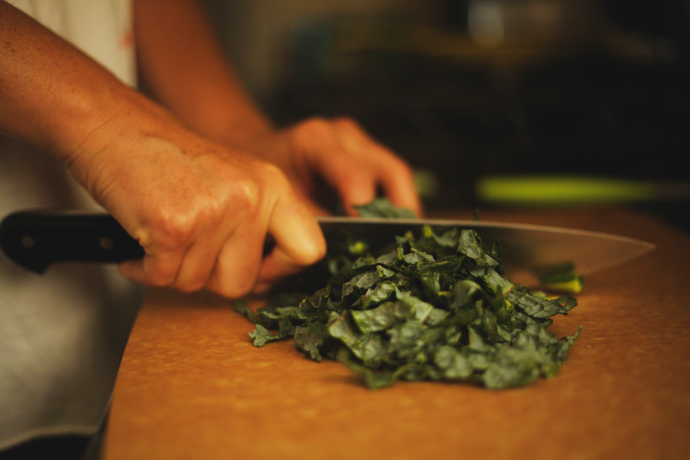 If possible, use two types of lettuce, as this really gives the salad dimension and depth. Here I used a romaine and kale finely chopped.
Others greens to consider for your salad:

bib lettuce
green leaf lettuce
spinach
frisee
endive or curled endive
radicchio
arugula
watercress
escarole

Another nice addition to this salad was fresh herbs, whatever you have on hand. Some popular salad herbs are:
mint, basil, rosemary, chives, thyme, dill, or parsley (but, again, use what you have)
At the time of the class, our instructor had received a beautiful fennel bulb, with the ends still in tact. I had never eaten raw fennel, and when thinly sliced, it added a great bit of zing. She used the bulb and the wispy ends, and the feathery flowers made the salad so pretty. I didn't have any here, but if you ever come across fennel and you don't know what to do with it, remember that you can always add it to a salad (and you can make this amazing slow cooker fish & fennel stew with any leftover).
The dressing is a go-to vinaigrette I've been making for years, which an old friend taught me how to make. All you need is:
olive oil
lemon juice
dijon
honey, if you want it on the sweeter side
Then toss in some fresh herbs and salt and pepper, whisk it together, and you're done. I know some people enjoy making their own dressings, so if you do, this is a great one. But if you can't get around to whipping up your own batch each time, I love Tessamae's bottled dressing.
Once you've mixed your dressing ingredients together, toss with the salad and let sit for a couple of minutes before serving.
Top with marcona almonds, some goat or feta cheese, or nothing at all. Add in a protein for a full meal, or leave it as is and serve as a side dish. This is the perfect salad for any season, especially since it makes good use of what you have on hand already.Read below for the full printable recipe, but really, once you get the portions for the salad dressing right, this recipe really needs no print-out at all. Enjoy!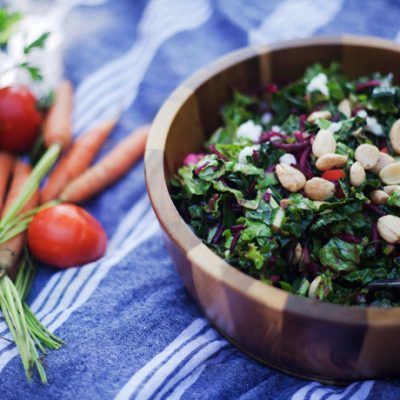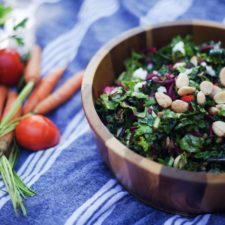 Farmer's Market Salad
A Farmer's Market Salad is a hearty side dish or a main entree, using fresh in-season ingredients you may already have on hand.
Print
Pin
Rate
Ingredients
1

head of Romaine or other leafy lettuce

1

head of Kale

1

red beet

1

cucumber

1-2

seasonal vegetables

small bunch of fresh herbs like parsley

dill or chives

1

small fennel bulb with flowered ends in tact

2

lemons

1

tsp

Dijon mustard

1/4

cup

extra virgin olive oil

salt and pepper

optional marcona almonds or other nuts

soft cheese like goat or feta
Instructions
Chop all vegetables and lettuces and combine in bowl. Mix in finely chopped fresh herbs.

To make the dressing, combine the juice of 2 lemons, 1/4 cup olive oil, 1 tbsp of fresh chopped herbs, 1 tsp of Dijon mustard and whisk together. Season with salt and pepper to taste.

Gently mix dressing with salad, and top with optional nuts and cheese. Serve immediately.