This easy honeycomb spider craft is a perfect cake topper for a Halloween cake or just a really fun Halloween decoration to decourate the house with!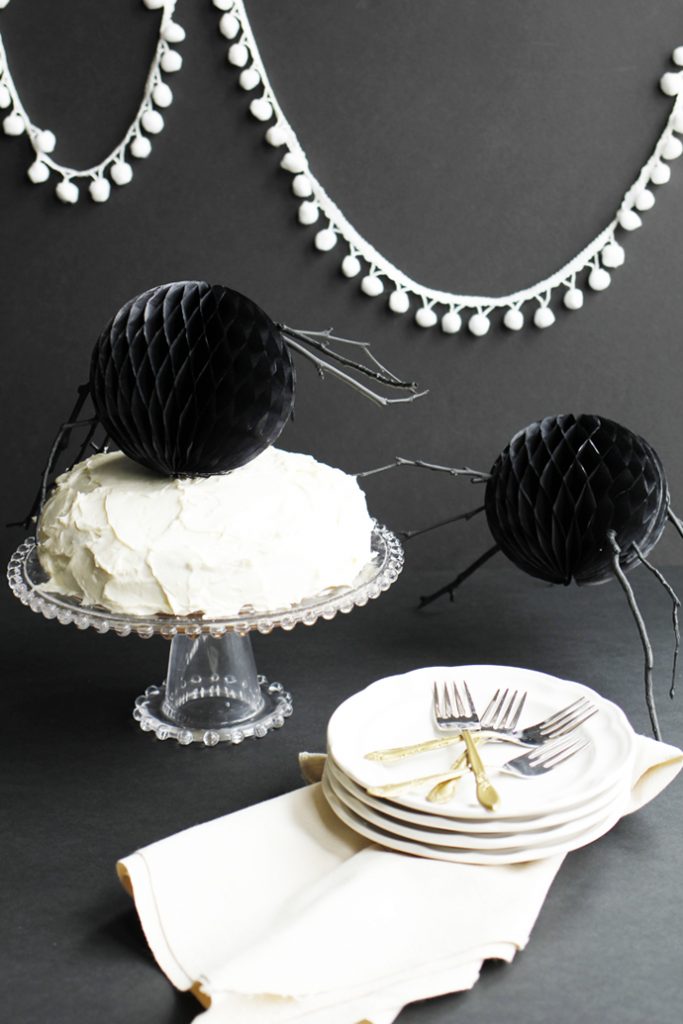 Halloween is my favorite holiday and I have good reason for it. Besides the facts that it is at the loveliest time of year (weather wise), that it is just two days after my birthday, and that sneaking some candy into your diet is basically required, Halloween also evokes a lot of imagination.
I mean, at no other time of year is it considered completely appropriate for a grown man to wear a jumbo diaper and carry a rattle. I can support a holiday that encourages humorous cross-dressing and face painting for all ages.
One thing about Halloween I love is that people decorate with things that on any other day of the year would normally terrify them. Bats are creepy…let's turn them into a garland for the fireplace! Spiders scare the crap out of you? A cute fluffy spider wreath for the front door it is! Three-inch mummies equal cake toppers and zombies are not just shooting target, but also lovely porch decor. It's madness on Halloween, and I love it.
So I get really into the spirit of spooking every year, put aside my arachnophobia, and come up with some creepy crawling crafts. This year I made a honeycomb spider decoration that I can't wait to stick on the top of the cake for my birthday! You should make one too!
Items you will need to make these Halloween honeycomb spiders
Sticks or twigs. This last year we trimmed up some trees and I saved a bunch of branches for crafts just like this. My husband thinks I'm crazy; I prefer resourceful.
5″ black honeycomb balls. I bought mine from this website. You can choose to make spiders any size you want…just order the right honeycomb ball size. I think some giant honeycomb spiders might be my next craft!
Black paint and a paintbrush.
A hot glue gun and glue sticks.
Pliers to cut twigs from the branches.
Step 1: To begin this craft you are going to need to use your imagination a bit. What I mean is you are going to have to trim "spider legs" off of your branches. For my spider legs I tried to trim the creepiest of twigs that looked like they could just crawl away. Once all your legs are cut, paint them in a thick coat of black craft paint and allow the paint 15 minutes to dry.
Step 2: While those creepy crawling legs are drying I assembled my honeycomb balls. Each honeycomb comes in the shape of a half circle and folds open into a little 3D honeycomb ball–the perfect little spider body.
Step 3: For the final step it's time to add the legs. Begin by applying a generous amount of hot glue to the end of a spider leg twig. Then stick the leg into an opening in the honeycomb ball. I held each leg in place while the glue dried, that way none of the legs fell out or shifted positions. After gluing all 8 legs in, the little honeycomb spider should stand up on its own.
And that's it! A perfect little spider for Halloween decor or a spooky cake topper!

LOOKING FOR MORE HALLOWEEN INSPIRATION? CHECK OUT THESE POSTS!
LET'S CONNECT!
Follow along with me on Instagram! And if you make this recipe be sure to tag me @howe.we.live so I can see! I love seeing what you're making!