As I've spent a good deal of the time detoxing a lot of our food choices over the last year, it seemed only fitting that I eventually tackle the personal care and beauty areas. When I initially asked for advice in finding a decent, cruelty-free body lotion a couple of months back, I was overwhelmed with over 150 responses on my Instagram in just a little over an hour. I ended up settling on the Alaffia Everyday Coconut Body Lotion, and while the body lotion works well and the scent is nice, the other products I also purchased on a whim from Alaffia, including shampoo and conditioner, did not work so great. So I decided to back up and start from scratch, trying out individual beauty items as I needed them, and taking some time to really read reviews, learn a bit more about the ingredients I truly wanted to stay away from, and go from there. Some items were so reasonably priced, I also just tried a few on a whim. The results have been great, and below, are the items I've been personally using over the past few weeks and moths, and have really grown to love.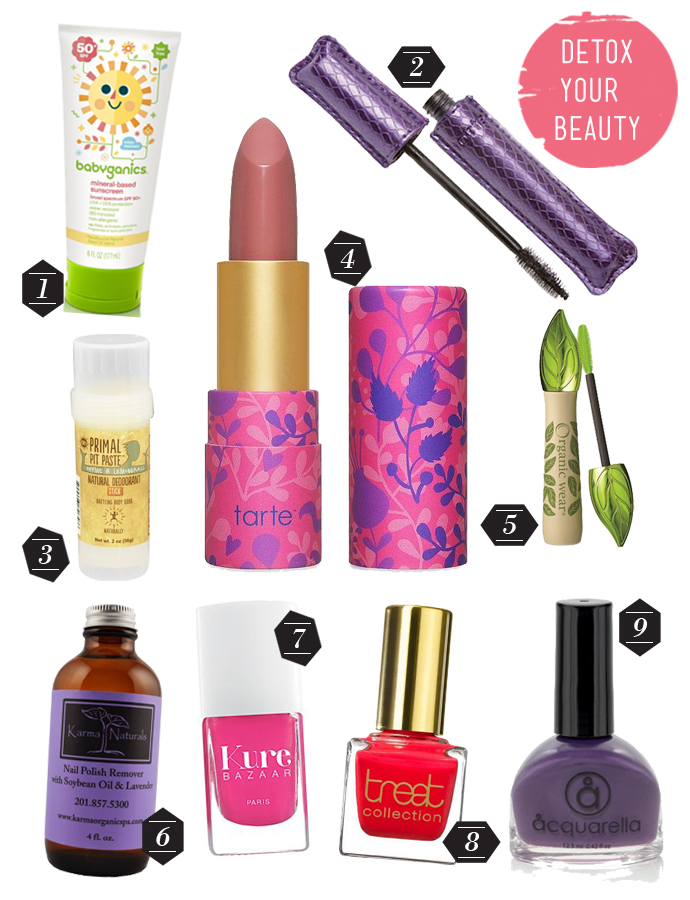 1.Babyganics Mineral-Based Sunscreen SPF 50
 I originally found this line at Target, and while they no longer carry the sunscreen at my Target, perhaps more of a seasonal item, I was happy to find it on Amazon. We all used this sunscreen all summer long, and we never once got burned, it went on easily, and lasted full days in the pool, and did its job well while we were in Maui. It's mineral based, and contains no PABA, pthlates, parabens, fragrances or nano-particles. You can purchase a standard squeeze tube, or buy the spray, which works just as well. And Amazon also has a good little bundle which I picked up for Maui, containing the spray sunscreen & deet free bug spray.
2. Tarte Lights, Camera, Lashes! Mascara
 This came very highly recommended to me by several readers after I originally posted about finding the Physicians Formula mascara, which I talk about below. This mascara is vegan & of course cruelty-free, and is powered by olive esters, and works just as well as any conventional mascara product out there. It's about twice as much as the Physicians Formula, so if you want a more budget friendly option, shop below, but I do find that this holds up to heat and humidity better than the PF mascara, and it makes the lashes look a bit fuller.
3. Primal Pit Paste Stick Natural Deodorant
 While "further testing" is still needed to confirm if antiperspirants with aluminum and parabens are truly unsafe, mimicking estrogen like hormonal side effects, I figure why chance it when there are some great natural deodorant products out there now. I found out about PPP from a Facebook ad of all places, and learned it is truly one of the most natural and safe deodorants you can get. You can read about their ingredients and the possibilities of a pit "detox", under their FAQ section, but the bottom line, this stuff works great. Both my husband and I use it, he the strong and myself, the regular, and we have noticed that we actually smell better. Recent studies show that all those antiperspirants may actually make you smell worse, and we both notice feeling and smelling more fresh, throughout the day. If you're unsure, try out a trial size sample and give it at least a few days before you make a decision. I'm not a heavy sweater, but reviews and feedback I've received confirms that even those who sweat a lot, don't have a problem with this stuff. I do find that the stick works a wee bit better than the rub-on.
4. Tarte Amazonian Butter Lipstick in Plummy Rose
 This lipstick has a great depth of color to it, and goes on, literally, like butter. Tarte, while recently acquired by a parent company which is not cruelty-free, remains committed to providing safe, natural and most especially, cruelty-free products.
5. Physicians Formula Organic Wear 100% Natural Origin Mascara
 This ranked high in Crazy Sexy Kris' mascara smackdown a few months ago, and while some complain that it runs in really hot weather (it does), overall, it's a great, 100% natural and organic mascara option, which performs well under normal circumstances. Plus, it's affordable, and widely available everywhere, including Target.
6. Organic Lavender Nail Polish Remover
 I've been thinking I need to change out my nail polish remover for quite some time, since the nauseous fumes and the way it dries out my cuticles, can't be good for me. This stuff rates high and gets great reviews online; my bottle is on its way and I'll keep you posted on how it performs.
7. Nail Lacquer Fabulous 10 ml by Kure Bazaar All three of the following nail polishes are rated high in terms of safe ingredients, application and color saturation. I've tried the Acqurella and love it, and have ordered the other two, so I'll keep you posted.

8. treat collection Natural Nail Polish

9. Acquarella Nail Polish
Navigating your way through the health and beauty market, in terms of figuring out what's safe and what's potentially toxic, is extremely overwhelming, to say the least. Especially because some of the safe and benign ingredients have as strange sounded, hard-to-pronounce names, as the toxic ones, so using the old food rule of "if you can't pronounce it, don't consume it", doesn't necessarily apply here. To get a rundown of safe and unsafe ingredients by category, you can visit the EWG site, and they also have an app called Skin Deep that you can use to scan products while shopping, but be forewarned, their database is limited and many products are not listed.
The Detox Market has taken the guesswork and research out of the shopping experience by doing the legwork for you. They guarantee to only carry products that are truly safe, cruelty-free and natural. I hope to visit one of their LA stores soon!
The Beauty Counter also only makes completely safe beauty products, and while their line isn't all encompassing, this page on their site gives an interesting rundown of the beauty industry, and why it's important to head towards more natural products, and take a peek at their "Never List."
I love fashion and beauty, and in many ways I was worried to start going down this path, not knowing where it would end and begin. But there really are so many great products out there, that with a little time and research, I've found that there's really a great, healthy alternative for all my conventional products I'm currently using. While this is just a start, at least it's a start in the right direction and I can't wait to keep going. Please share any other lines or products you love and can't live without!