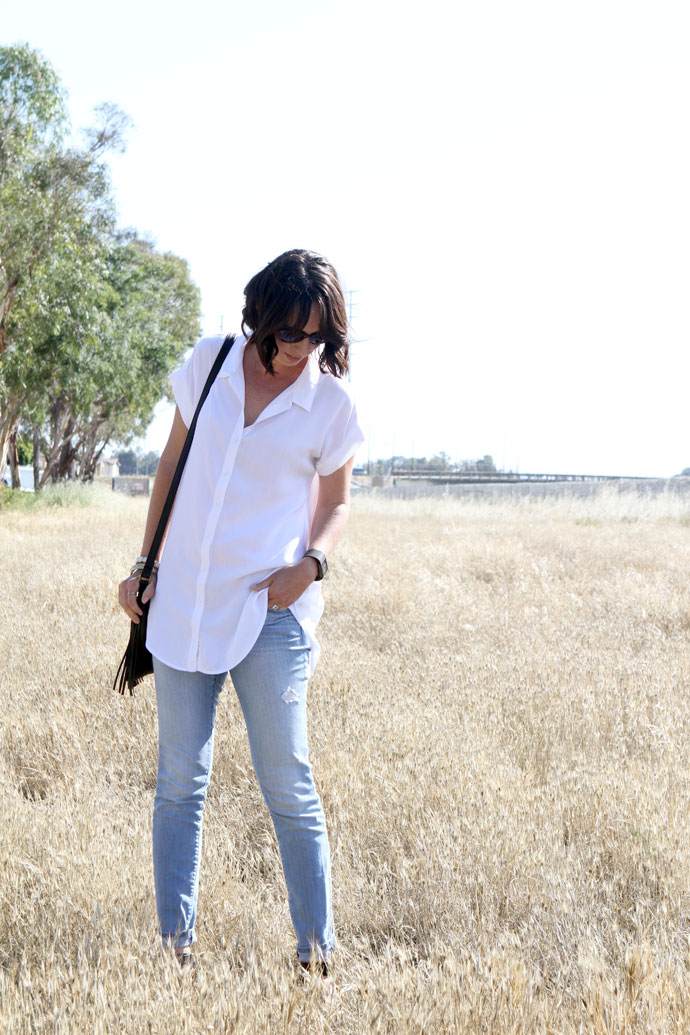 Blouse – Anthropologie, Distressed Jeans – Ann Taylor Loft (now 40% off!); Heels – old ShoeMint but similar here; Fringe Crossbody – Nordstrom Brass Plum dept
During my little birthday shopping trip to anthro last month, I bought the fish pants and that darling peplum top, but I also took home two other white tops. I don't own a lot of pattern in my wardrobe, not because I don't love patterns and prints, I just always seem to inevitably gravitate towards solids, especially the crispness of a fresh white top. So I took home 2 button-ups, and this long sleeved pullover that I've worn over and over the last few weeks, especially because it's been unseasonably cold around here. I was actually freezing in this short sleeved top yesterday, come 5 o'clock.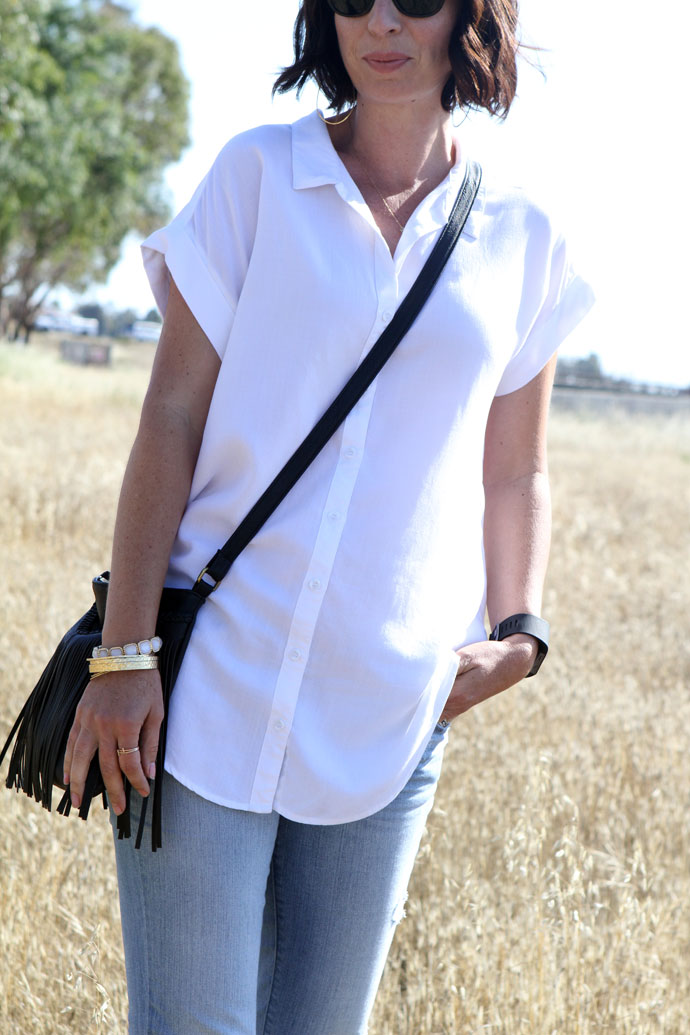 Anthro actually had a few similar blouses by this same designer Cloth & Stone, all in different silhouettes and styles, in varying shades of neutral. The fabric feels almost like a cotton/linen blend, but is actually made of tencel, a sustainable and natural, man-made fabric made of wood pulp. Because I wear it a lot, I've spilled a great many things on it including buttery pasta noodles and salsa, and it cleans up beautifully with a little bit of pre-wash treatment. Washability is always a concern with crisp white pieces like this, but it has really worn quite well so far. It's also fairly easy to press to a crisp clean finish, unlike straight cotton shirts, which stubbornly hold on to stains.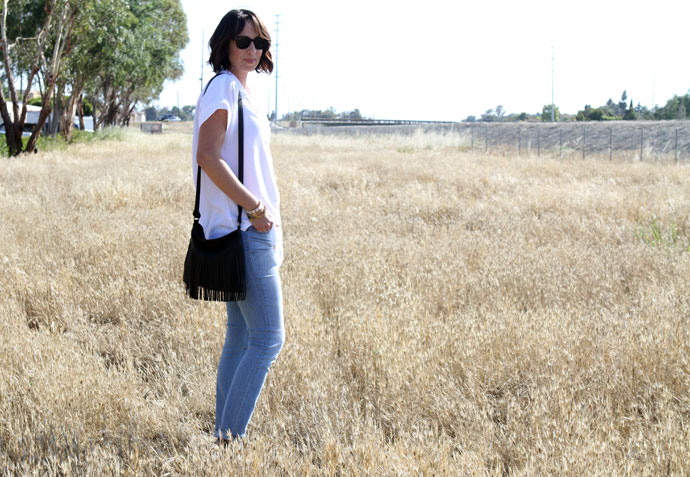 I've been able to wear it a number of ways, including back to casual chinos and my Birks, as seen in this IG post, and it looks so darn cute belted, and worn back to skinny jeans or the fish pants. When worn belted back to the fish pants, it feels very 60's inspired Mad Men. The back is also slightly longer, and has a vented pleat, making it a great choice to wear with leggings, when you want to be a bit more modest with your backside. I seriously can't tell you how much I love the simple and effortlessness style of this blouse.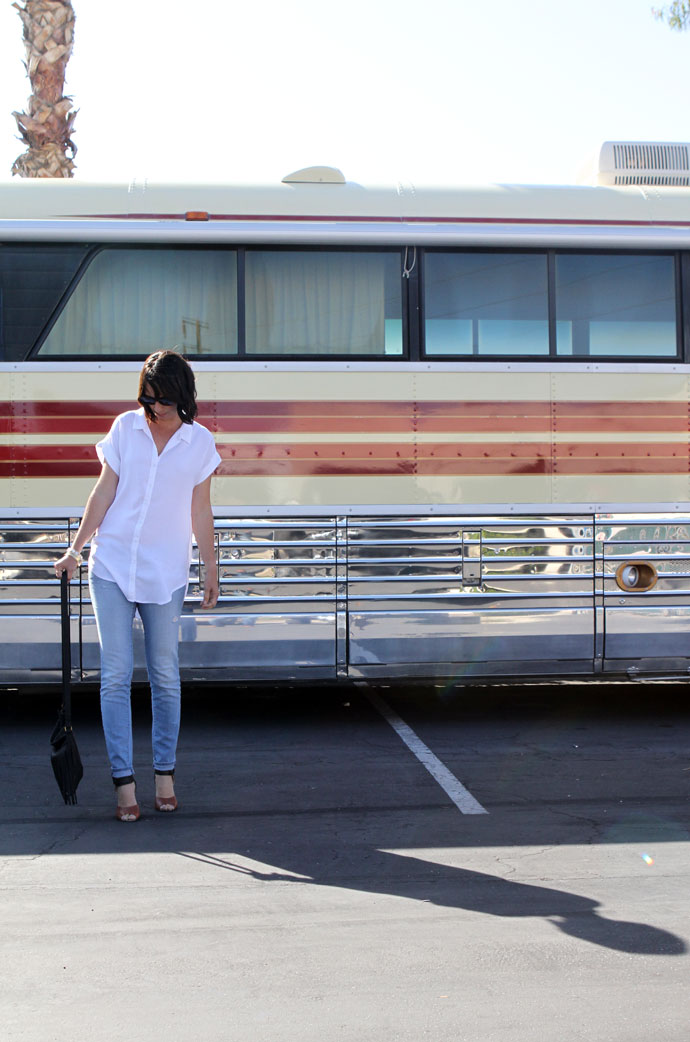 I've been a bit more quiet than usual around here the past few weeks, as I settle in to my new role helping Art at his office two days a week. It's only been two weeks but so far it's been great, and I'm really enjoying being able to help relieve some stress, and duties off his plate. I'm taking more of an office manager role over there, but will also be doing social media stuff as well. It's only 2 days a week, working out to about 14 hours a week, but will increase once Hayden begins preschool in the fall.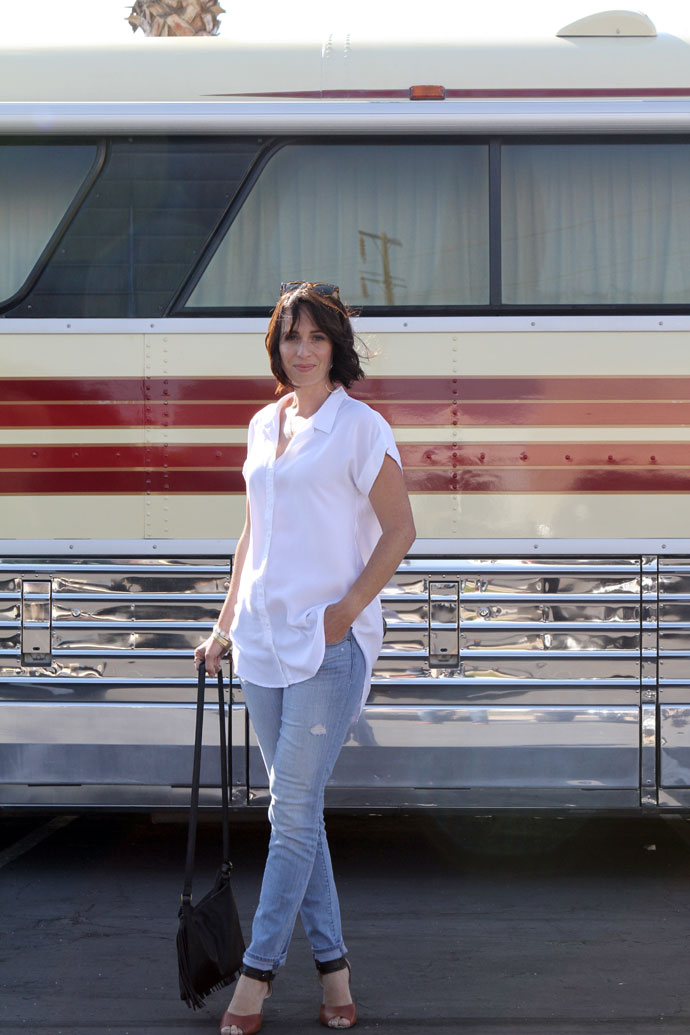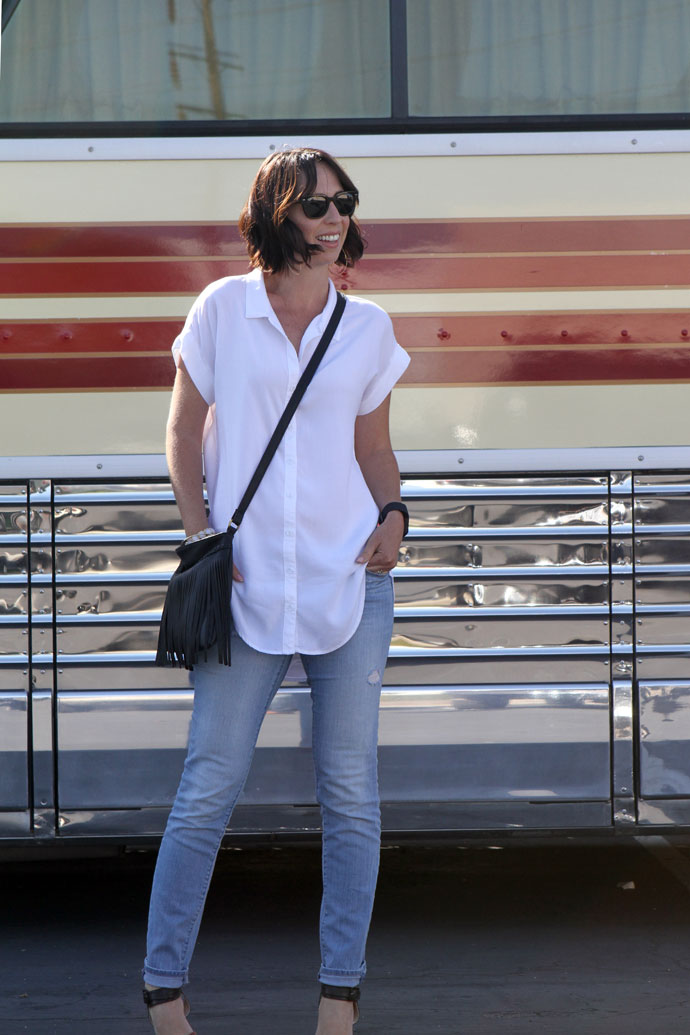 Besides being able to see Art a bit more, I've also enjoyed having a reason to get a bit more dressed up than usual. Not that I couldn't roll in there wearing sweat pants 😉 My feet and back aren't too keen on the heel wearing though, so I quickly changed into my Birks when I left and we went out to dinner for Syd's birthday. I can't believe I now have a 10 year old and an 8 year old. Where does time go?!? Hoping you all have a wonderful weekend and we'll see you back here on Monday with a new post on my updated beauty routine.