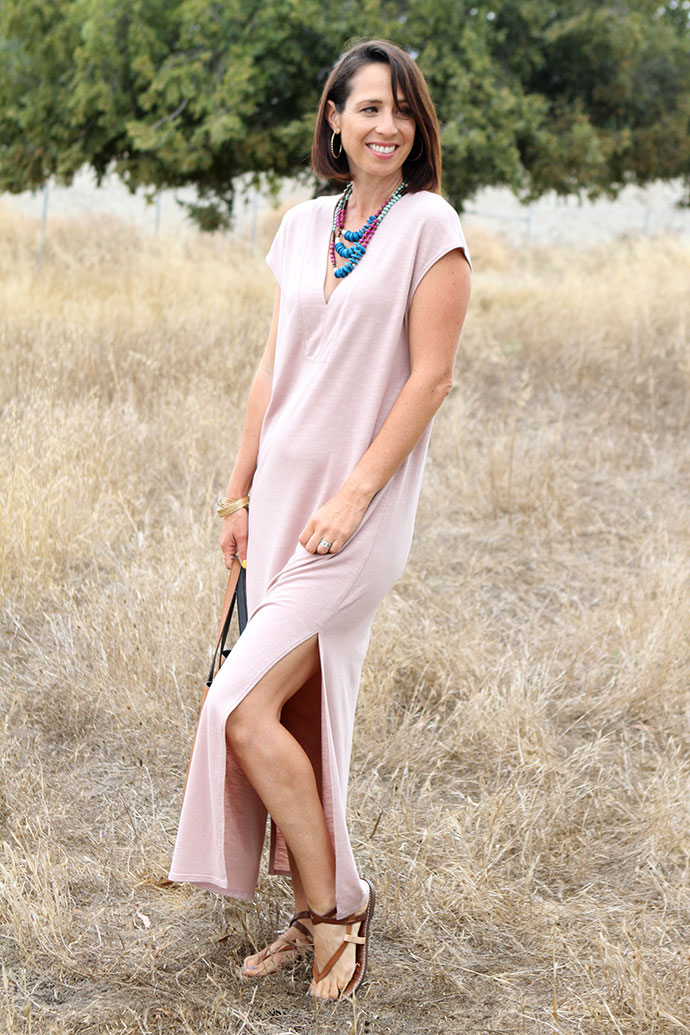 Caftan Maxi Dress – Lanston; Sandals – Sam Edelman Garrick Gladiator; Reversible Faux Leather Bag – Nordstrom BP; Nile River Necklace – Noonday; Hoops – Stella & Dot
So the MuTu program I follow highly encourages us to wear "barefoot shoes" in order to help with our walking form and alignment. Here's a little bit of information on why it's important, but basically, "when you walk properly (read 'naturally'), the muscles of your backside, core and pelvic floor work properly too. As a result your glutes actually work as you walk and run, your core is effectively supporting your centre of gravity as you move and your pelvic floor muscles are at full length and doing their job of holding everything in." And in order to walk correctly, you have to be wearing shoes that allow your feet to wiggle freely and which have a heel strap of some sort so your toes aren't constantly trying to hold the shoe in place, as they do when you wear clogs and flip flops. The sole should also be soft and flexible. Most barefoot shoes are, to put it nicely, interesting looking, so imagine my excitement when I came across these pretty sandals by Sam Edelman, which for the most part fit the profile of a good barefoot shoe; secure ankle straps, open room for toes to wiggle around, and a fairly flat and soft sole.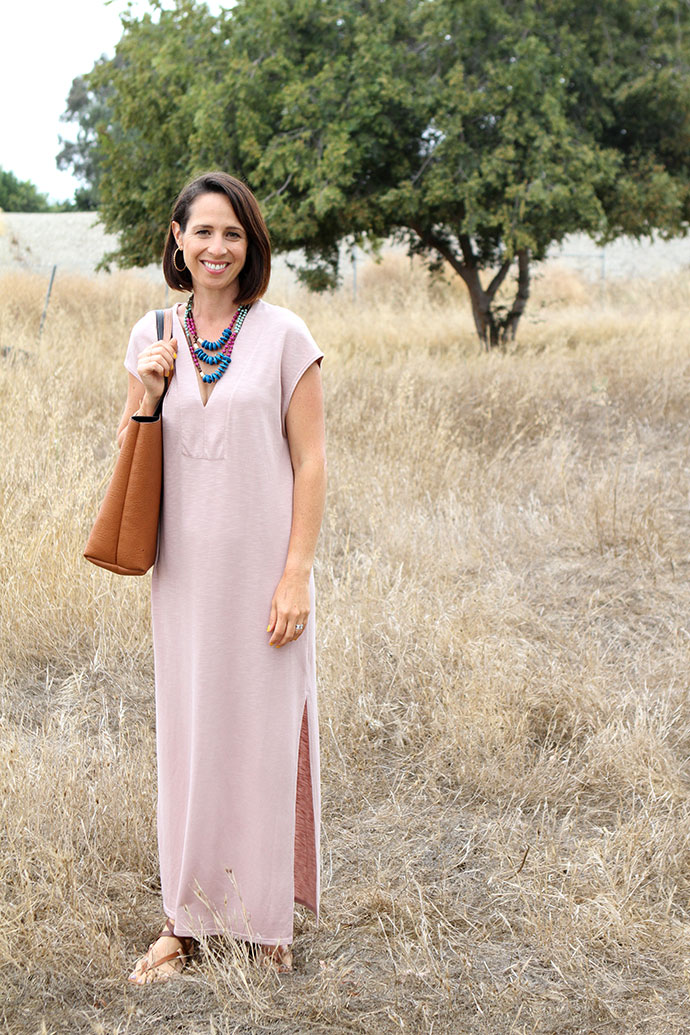 I was even more excited about these sandals because they are three shades of brown, making them really versatile. Plus, I've always had good luck with Sam Edelman shoes lasting a long time. My last pair of gladiators got multiple years of wear out of them and I was sad to finally toss them when the heels wore through. So in short, even if you weren't intentionally looking for a good for your feet sandal, know that this one will benefit you, your feet and your pelvic floor. Women of multiple children, this is especially important to you and your life as it relates to sneezing and jumping.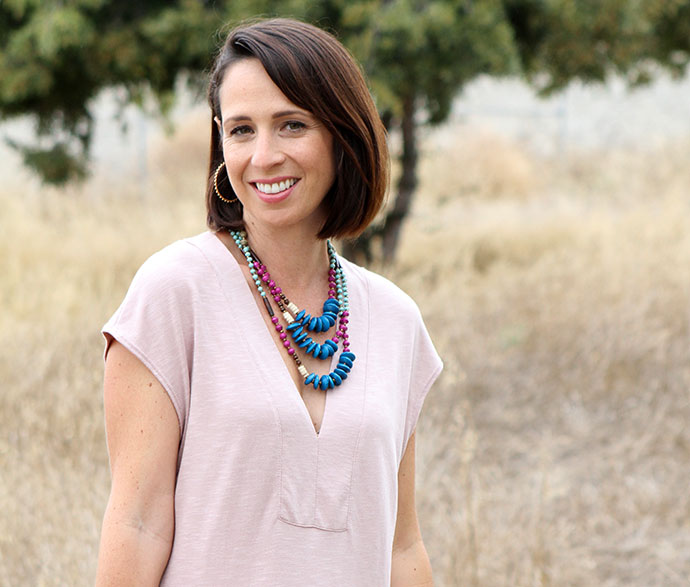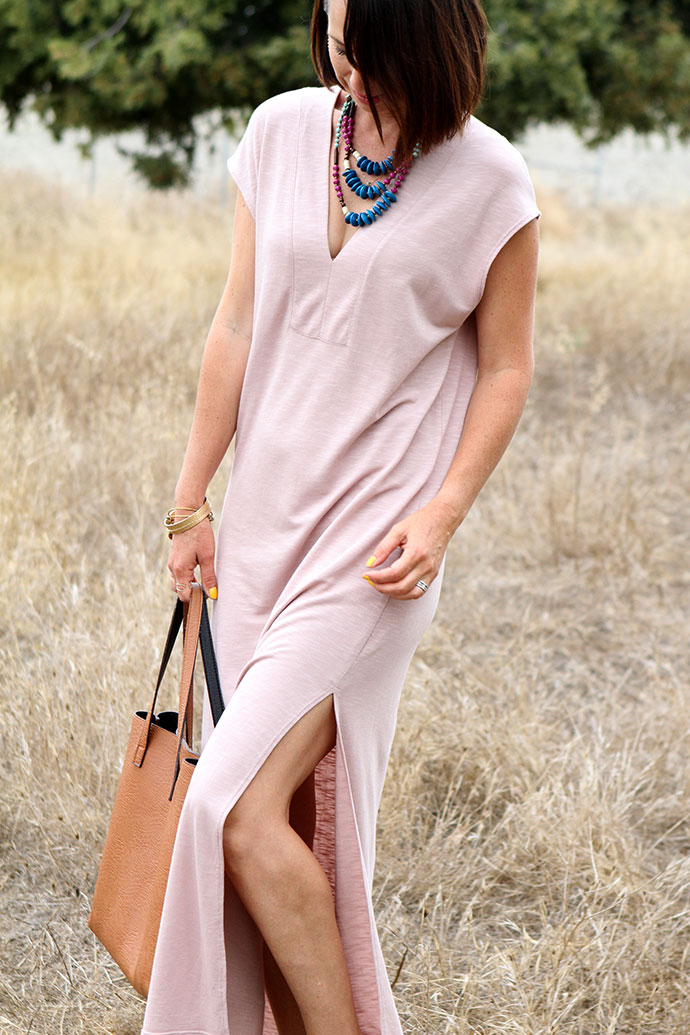 Now, let's talk about this maxi dress, which I'm fairly certain I could live in 24/7. The material is soft and lightweight, but not so lightweight that it's see-through. In fact the coverage of this dress was something I was a little concerned about because of the light color, but it turned out to be perfect. The lower neckline and side slits are a perfect balance of sexy without being toe revealing either. And the silhouette is loose but not boxy. I am in LOVE with this dress and you'll be seeing me in it all summer long! It runs true to size, so the medium fit me perfectly, and is a little more blush pink than these photos reveal. The pictures on the website are more true to color.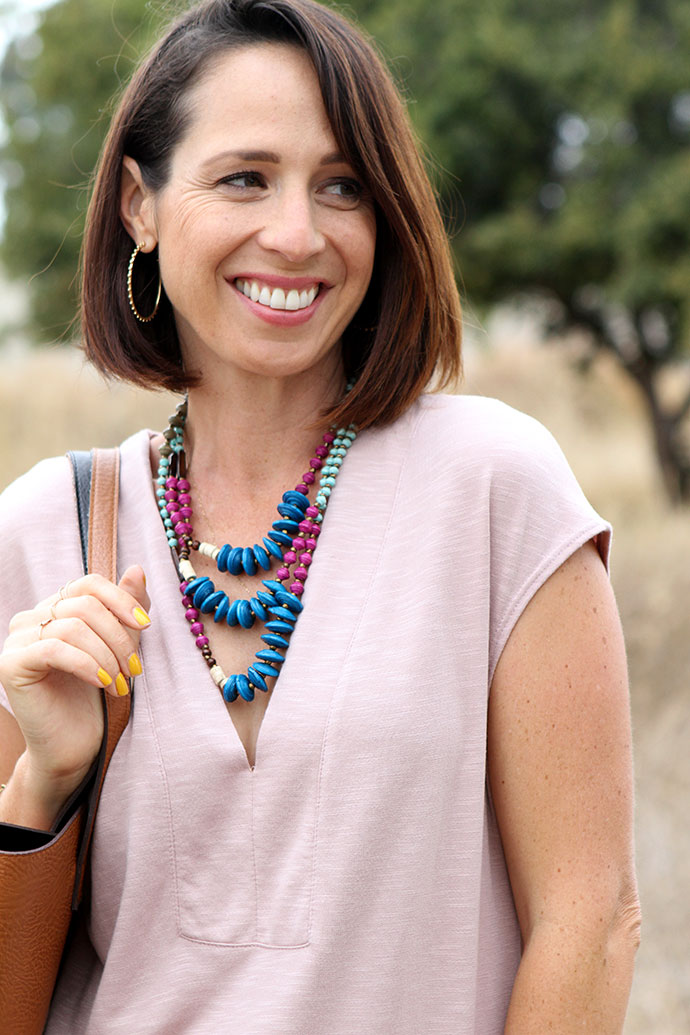 Hope you are all having a great week and are keeping cool. Our summer has yet to really start, as June gloom has moved into July. Of course it will get hot right when the kids are ready to go back to school but that's just the way it goes. Have a good day guys!