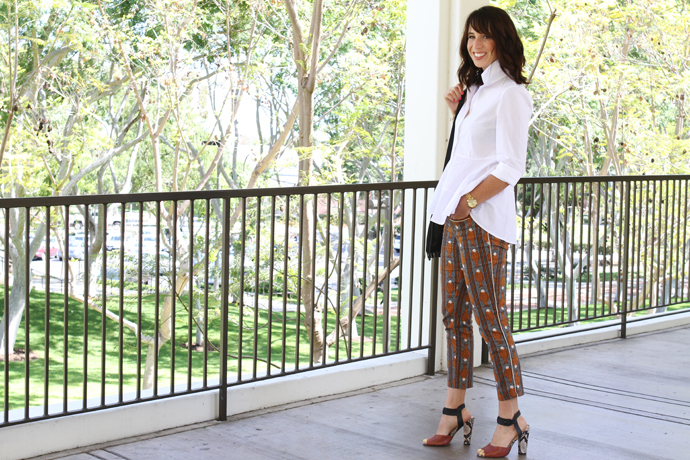 Peplum empire top – Anthropologie, Fishing line pants – Anthropologie, Fringe bag – Nordstrom for $28(!), Shoes – old ShoeMint but similar here & here, Lip color – Beautycounter Lip Sheer in Twig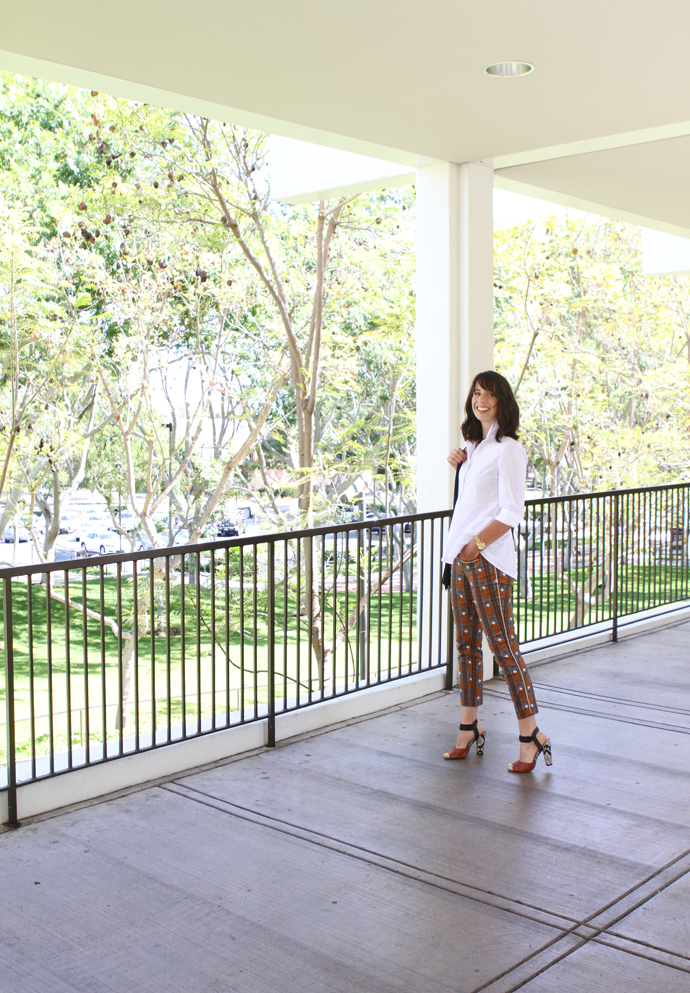 You may have caught notice on Instagram that it was my birthday this past Friday, and I entered my last year in my thirties. I whined quite a bit about this turn of events, and proclaimed how old I felt several times throughout the weekend, and it got to the point that my sweet husband very kindly told me to shut up. While I know age is just a number and blah blah blah, and I do in fact feel like life is just really getting started, I also can't help but notice the subtleties of age creeping in. Too much wine affects my sleep, too late of a night renders me useless the next day, I wake with back aches that need to be worked out with some "morning stretching" and each day more and more gray hairs seem to pop up. When added up, they don't really mean much, I know this, but they are just reminders that I am of course aging. And even as I type this out, it all sounds so ridiculous, I know. So ridiculous in fact that I'm just going to stop right here and move on.
I may have been busy feeling sorry for myself on Friday, I did however, manage to find some time to partake in a little retail therapy. On Friday morning I woke to the loveliest email from Anthropologie, titled "A gift for you!" My mother and mother in law had both bought me gift certificates, so I carted all three kids down to the mall, shoved some electronic devices in their hands and browsed for as long as they allowed. An hour later, I had scoured the store and tried on about 30 pieces, leaving with these 2 favorites, and a couple more which I'll share later.
I made sure to try on these pants with several different tops to make ensure they'd work with things I already had in my wardrobe. I did the same for the blouse, pairing it back to boyfriend jeans, shorts and even a wide leather belt. Both looked fabulous and I left there feeling giddy. The blouse will especially be in heavy rotation, as I love a crisp white blouse. This one though feels both dressy and casual at the same time, making it perfect for just about any occasion. Seriously, if you want a great white blouse to add to your wardrobe, this one is PERFECT in all sorts of ways.
I wore this outfit exactly as styled to my birthday dinner Friday night, and got compliments all around. I can't remember the last time I shopped full price at Anthropologie, usually I only allow myself to scour the sale racks, but it was a fun indulgence considering my birthday discount and gift certificates, and I can't wait to wear these pieces in many different ways in the year ahead. Here's to birthday indulgences, and feeling great at any age. The more I say it, the more I'll believe it ha!