Besides the sparkly dress I showed you all on Wednesday, I also took photos in my favorite dress purchase of the year, this tie dye number from Forever 21. As an after thought, I decided to pack a really casual outfit to change into as well and while I love these shots too, these remind me more of just everyday (really pretty everyday) pictures. I guess that's not necessarily a bad thing though.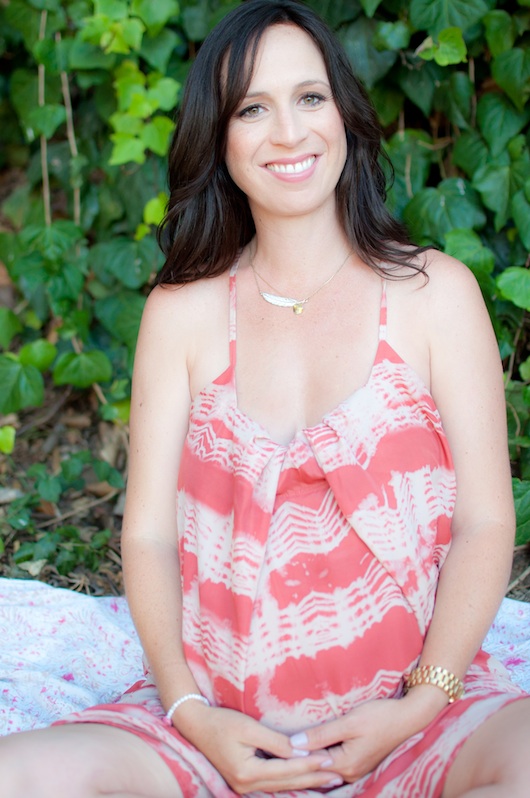 Tie Dye Dress – Forever 21l Shoes – Red Valentino; Accessories – DIY by me and Michael Kors; Sweater – Target; Jean Shorts – H&M Maternity; Tennies – Converse
A couple of people asked me some tips for getting prepared for a maternity photo shoot, and while I may not be the best person to dole out advice since I frantically ran out to Target, the closest store to home, 2 hours before the shoot to get Art a new shirt for our family pictures (see the whole series here and here), there are a few ideas I have in mind:
– Treat this is a very special photo shoot, because it is!  Don't feel silly about buying a new dress, or even a ridiculously fancy dress, for the occasion.  Get your hair done, and/or your nails.  You will never regret spending the extra time on yourself for this occasion, but you may regret not spending the extra time making it special.
– Plan at least 2 outfit changes to make it more fun and interesting.  If you're going to spend the time booking the appointment, make it count.
– Get your family involved – just because it's a maternity photo shoot doesn't mean it's only about you. Get pictures of this special time with your husband and any older siblings.  You're usually so busy ahead of time getting ready for baby that you may not have stopped to get any pictures of you all together, so now's the time to do it!
– If possible, get outdoors!  Our first two maternity shoots were done inside a studio.  Being outside this time was a refreshing change of pace and made for such a pretty backdrop and amazing lighting!
– Most importantly, wear what you feel comfortable in!  And when I say comfort, I don't mean your yoga pants.  I mean wear the most flattering outfit you own so that you feel at your best when the photographer is shooting away.  If you a buy a new dress, make sure you try it on ahead of time and plan out your shoes and accessories so that you're not scrambling at the last minute if your dress is too short or the bust is too tight.  Bottom line, you want to feel pretty, not self-conscious because it will come across in these pictures.  And consider undergarments!  I wore my favorite Forever 21 dress, which I usually wear with a thin strap t-back bra since the straps are so thin.  Normally I don't mind if a bit of my bra strap shows while out and about, but for the pictures I knew I was going to be tugging at it the whole time, trying to hide the straps.  Miranda told me to just take it off for the shoot and I'm glad I did.  My girls were drooping a bit for a short time, but because the flowy nature of the dress I don't think you noticed it at all…ahem, at least I hope you don't!
Well I guess I did have more advice to give than I thought!  Let me know if you have any questions.  If you live in the LA/Orange County area and need a photographer, hit up Miranda.  She has never failed me yet for a photo session and her relaxed nature really puts everyone at ease.  Have a good weekend everyone!