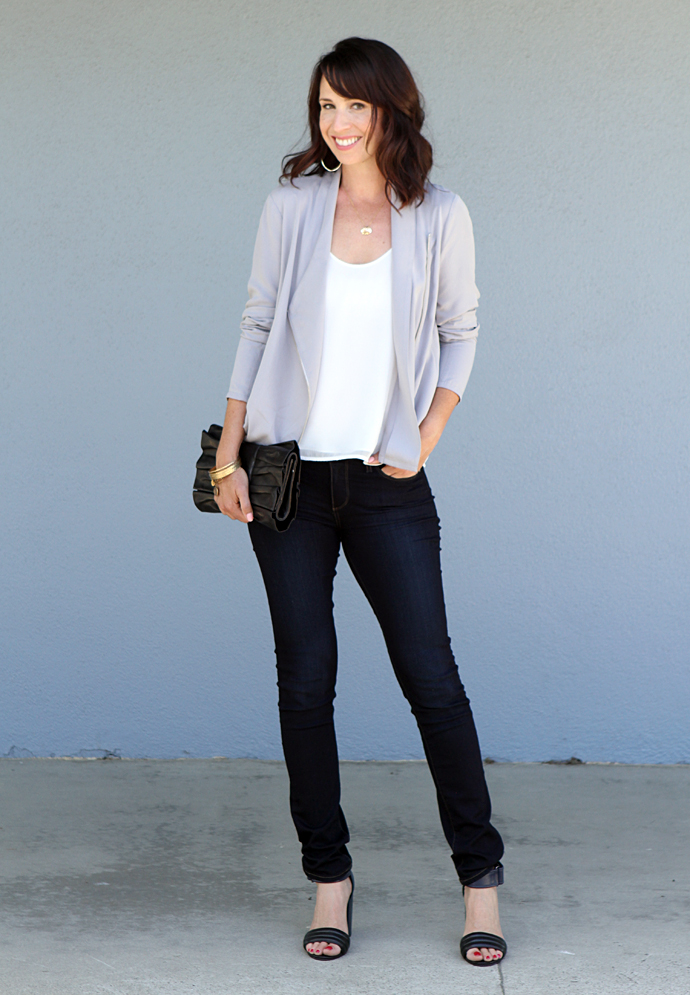 Jacket – Trouve via Nordstrom; Camisole – Nordstrom; Dark Wash Skinnies – Paige Denim; Shoes – ShoeMint (old); Clutch – St. John (old)
I picked up this lightweight layering jacket before I headed to Expo West, with the intent of wearing it to interview Tyler Florence at Expo West. At the last minute though, I changed into this vest combo with the best tank ever, knowing from experience that the convention center gets HOT with 50,000+ people inside, so I didn't want to have to worry about messing up this jacket by lugging it around in my bag all day. The vest look worked out great and I felt perfectly dressed for the weather and the occasion. But I couldn't let go of this little jacket, loving the color, lightweight feel of it, and of course the asymmetrical detail.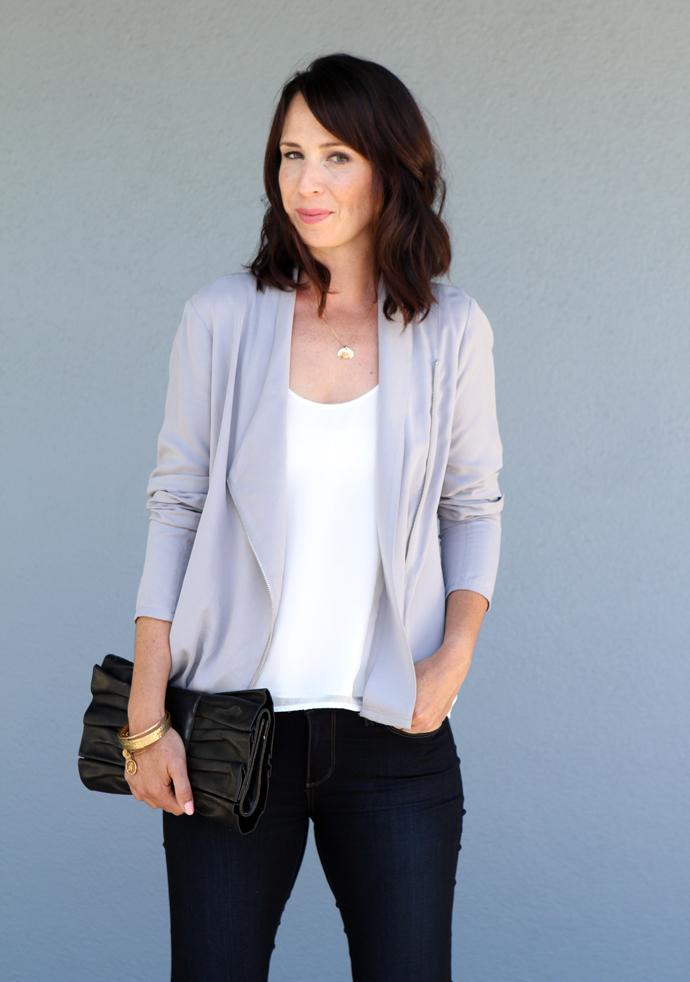 I originally went in with the intent of trying on this oversized moto jacket, but when the salesgirl showed me this option, I loved it much more because it was cheaper and it just fit better. You can zip it up and the lines get straight and even, but I'm loving the diagonal look lately, as last seen here and here.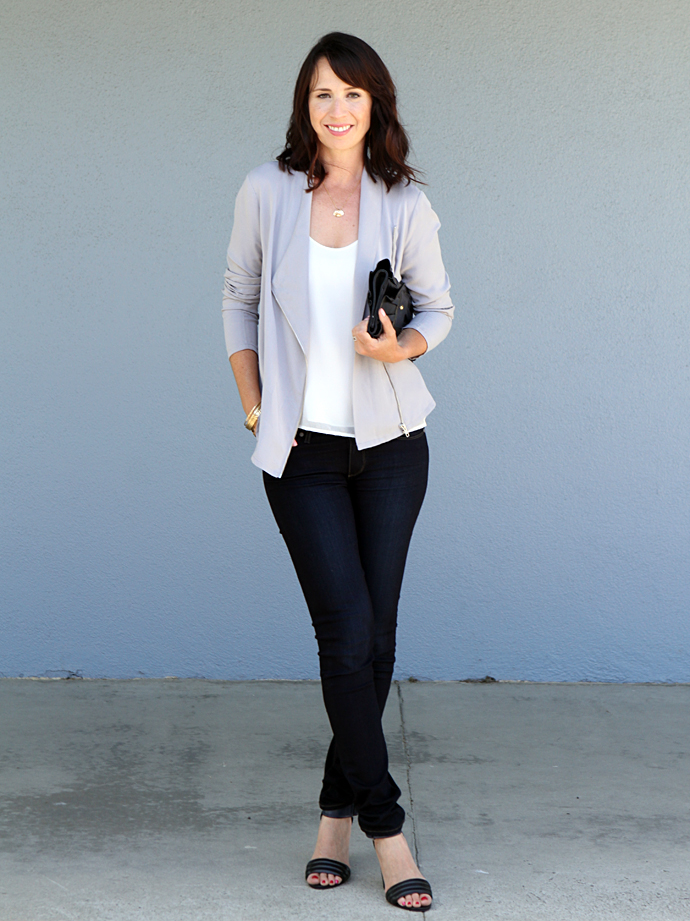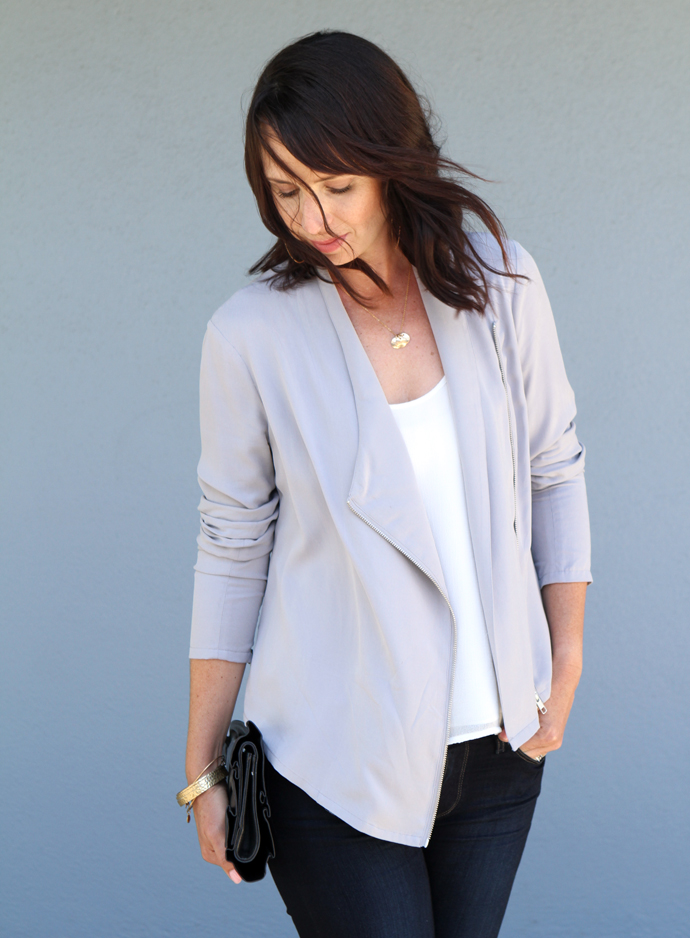 It works great to a lightweight cami, but I've also worn it over a simple shift dress to go to church, although the kids said I looked like I was very professional that way. Definitely not a bad thing, making this a great option for work wear because of its versatility.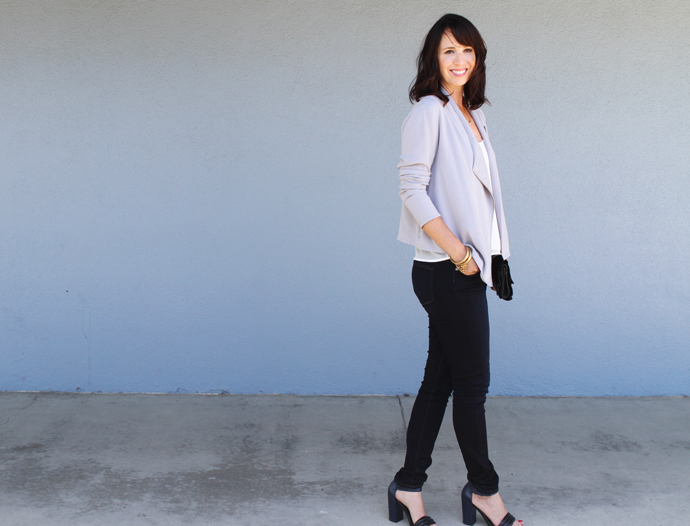 And I'm still loving my Paige jeans. I hadn't really invested in a new pair of higher end denim since well before Hayden was born, wanting to wait till I was steady at my post-baby body. Feeling good and happy about where I'm out, so I decided now was the time to invest in a pair that would stand up to multiple wears and washings. I love my LOFT jeans, but I wanted a really dark rich rinse, and I also wanted a quality pair that wouldn't bag and stretch out after just a couple of wears. So far these are fitting the bill perfectly and I've been wearing them a ton of different ways. I think it may be time to update one of my most popular posts and do a new review on Skinny Jeans for Women?
Happy Monday all, and hoping your weekend was wonderful!