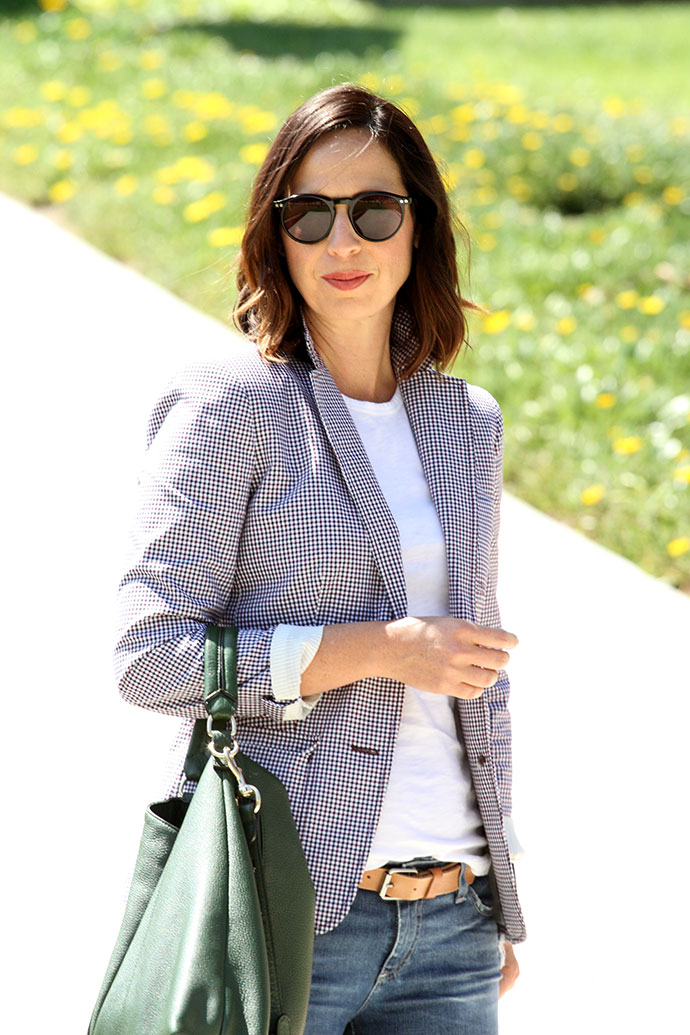 Blazer & T-Shirt – J. Crew; Denim by AG, flats by Steven & Sunglasses by Wildfox, all purchased through Shopbop save 25% off with code INTHEFAM, Bag – Rebecca Minkoff
I can't believe it's already been 3 weeks since I flew out to DC and visited the White House. I'm promising to get my post live this week, because I want to talk about Michelle Obama's Let's Move initiative, and I also want to tell you all about how impacting my time in DC was for me. But before I try to put into words all that I want to say, I figure I'll get the easy part out of the way and talk about what I wore.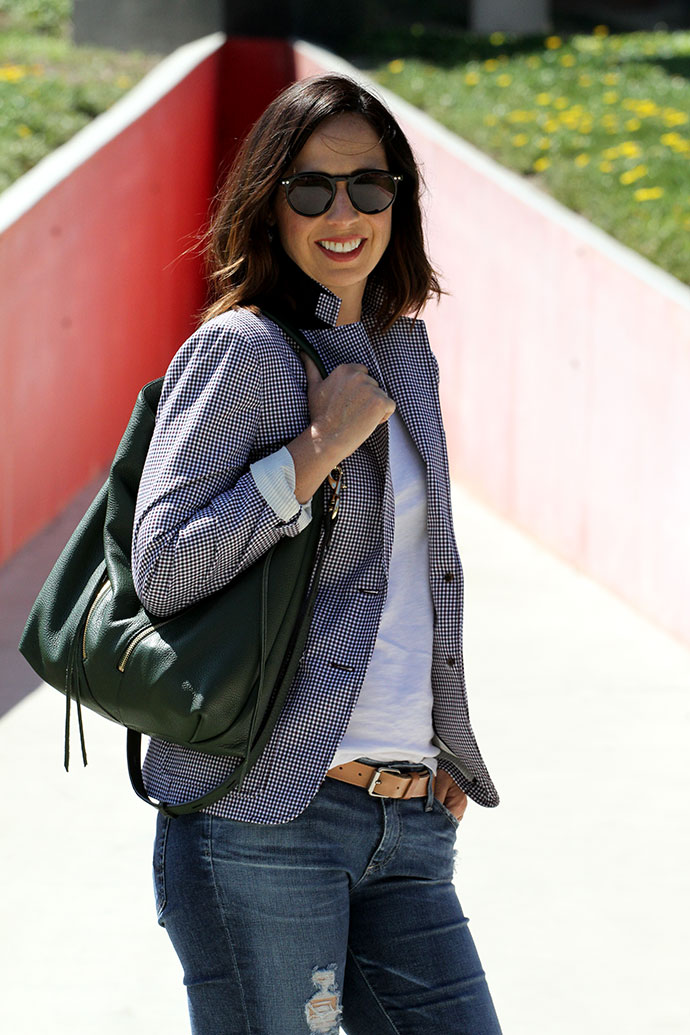 The official invitation for the event called for business casual attire, but everyone I spoke with suggested I weigh on the side of conservatism and try to show up looking more business than casual, and bonus points for a little east coast prep thrown in. While I have a several dresses that may have worked for a number of occasions, none of them felt quite right. They were all either too casual, too colorful, too jeweled, too much pattern. Anyhow, you get the picture. So I decided that such a special occasion deserved a little shopping trip.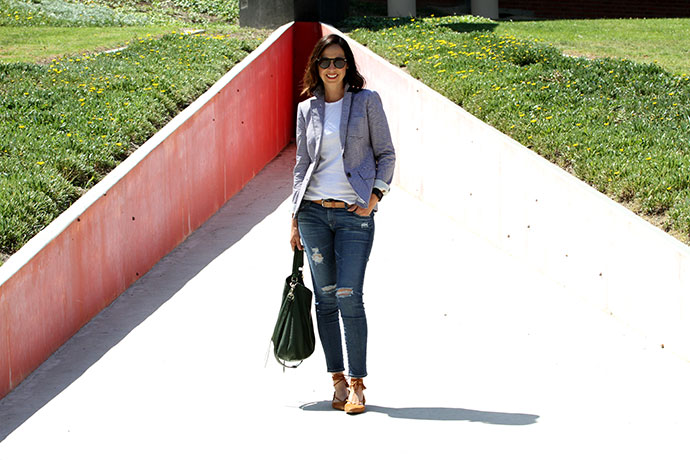 I really wanted to get a dress, however I knew that after this event, a conservative dress option would most likely get zero use. I finally landed on separates so that I could be comfortable and stay warm, as well as get more use out of the individual pieces. I landed on this blazer, and a pair of cropped, flared navy pants, along with the same white t-shirt and ankle lace up flats. So essentially this exact outfit, with just a different pair of pants.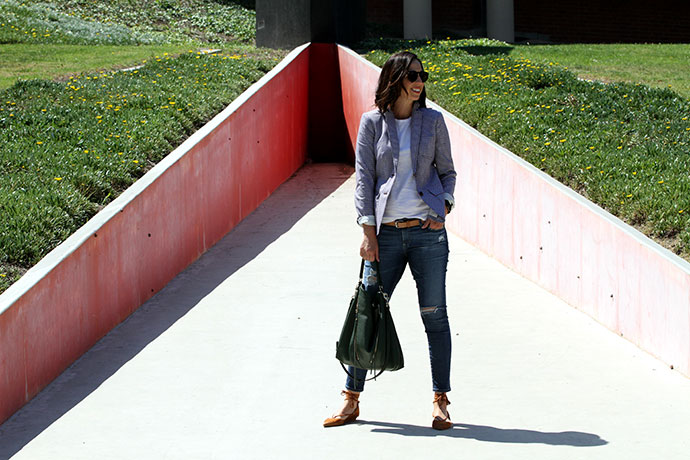 I love the gingham checked blazer, and the day I went in I scored it at 25% off, as well as an additional 20% off for having a coupon. The pants I wore were also on sale, so I got an entire 3 piece, quality outfit for under $200. Back home, I knew I'd get a lot of use from the blazer, when styled a bit more on the California casual side, and indeed I have. This is my favorite way to wear it, when I'm not going to the White House 😉
I've shared the lace-up flats on IG a couple of times, and get lots of compliments on them when out and about. They are comfortable and well made, and at $90, on the less expensive side of the spectrum considering most similar styles are priced upwards of $200. The denim jeans are fab, and look great with sandals or my white converse. I got them both the last time Shopbop had a sale, and now they're having their Friends & Family sale so you can core them both at 25% off. The shoes fit true to size and the jeans run a bit on the smaller size, so I sized up to a 30 instead of my usual 29.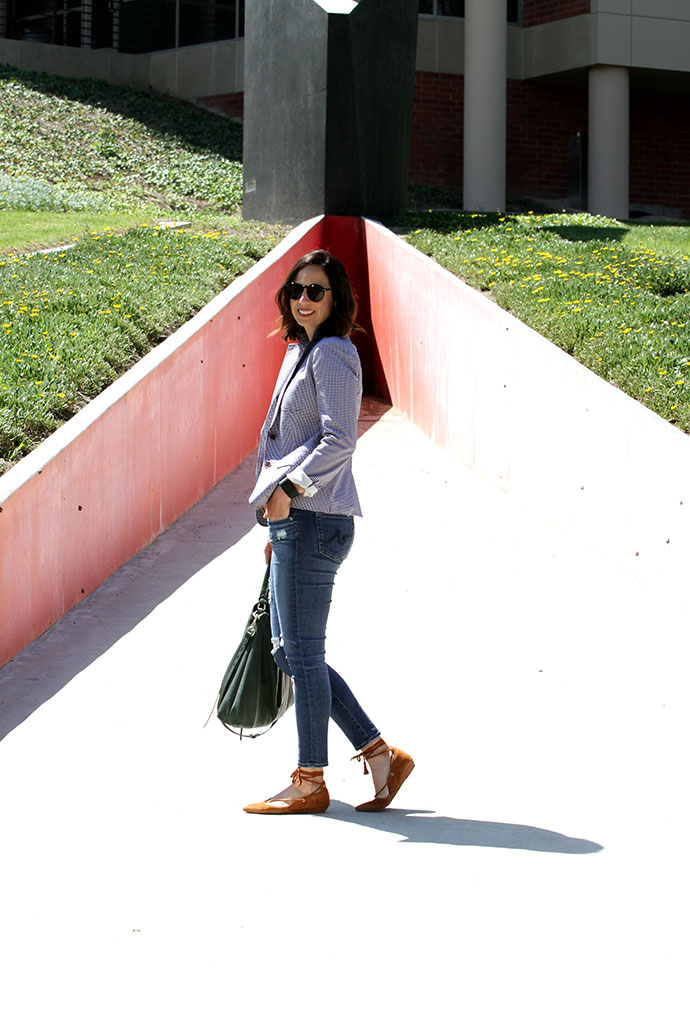 The Shopbop Friends & Family 25% off sales code is INTHEFAM, and is valid today if you have a registered Shopbop account. If you don't, the code won't work until tonight at midnight, and is valid through Thursday 4/7.
I'll be back this week with my DC tales, and hope to be back on a permanent blogging schedule starting now, since we are finally pretty well settled in at home now.