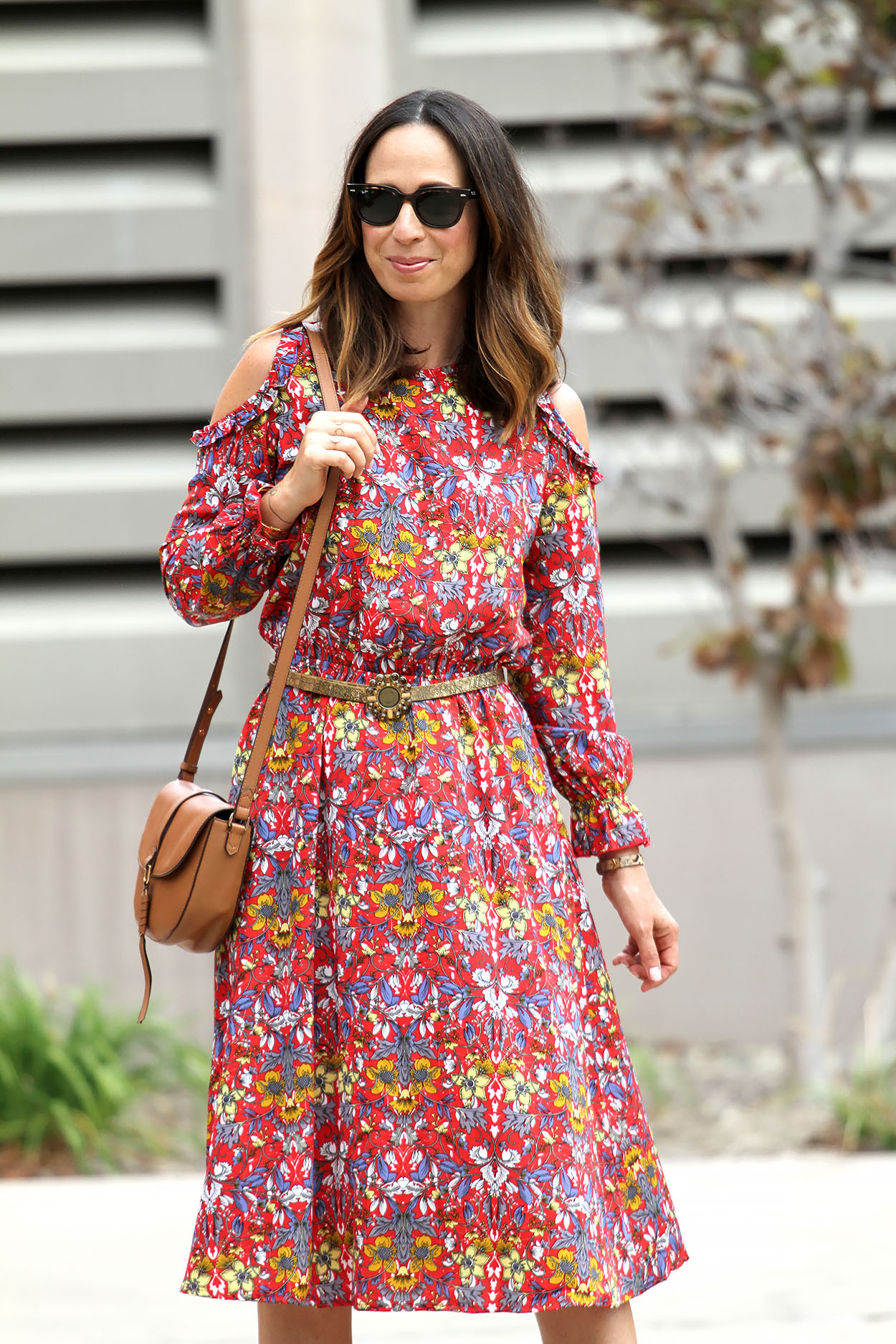 Dress – Fraiche by J via Nordstrom; Shoes – old ShoeMint but found similar here & here; Purse – Stella & Dot; Sunglasses – Ray Ban via Nordstrom
Well, hello style friends, it's be a very long while. If you search the archives of this blog, you'd know that for a long time I primarily focused on sharing personal style posts, with some family, food and DIY thrown in. After 3 kids though, I not only lost my passion for crafting, but standing in front of the camera started to feel increasingly uncomfortable, especially as the kids got older. I met a friend for lunch well over a year ago and told her I would probably stop blogging all together now that Taylor was entering middle school, as I didn't want her to be embarrassed of me.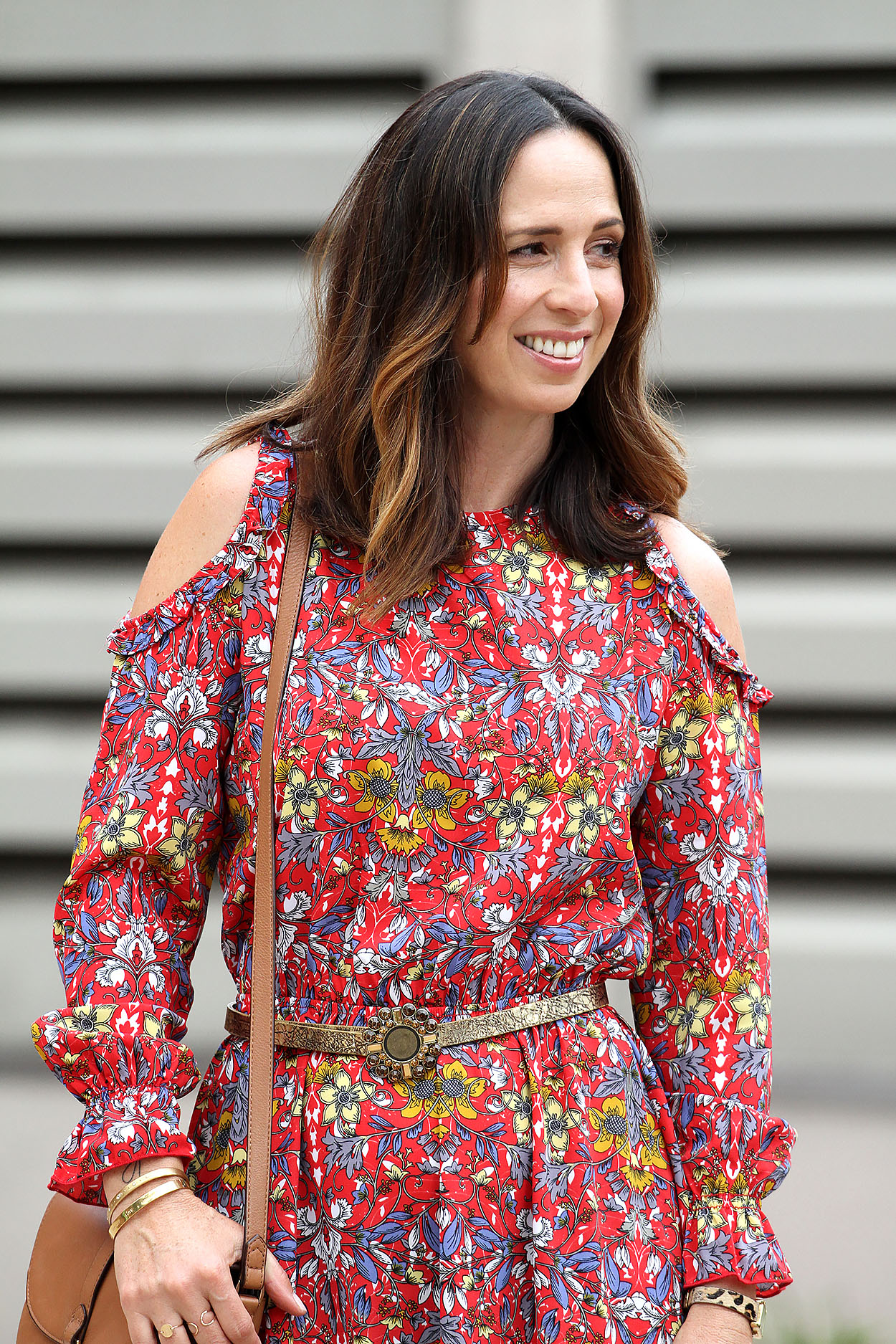 Fast forward a year and a half, and I've realized that tweens and teens will be embarrassed with their moms no matter what they do, so you've gotta just keep living your life. And in all reality, she says she's embarrassed of me, but I know deep down she thinks I'm the coolest mom ever. Okay…maybe I'm getting a little carried away.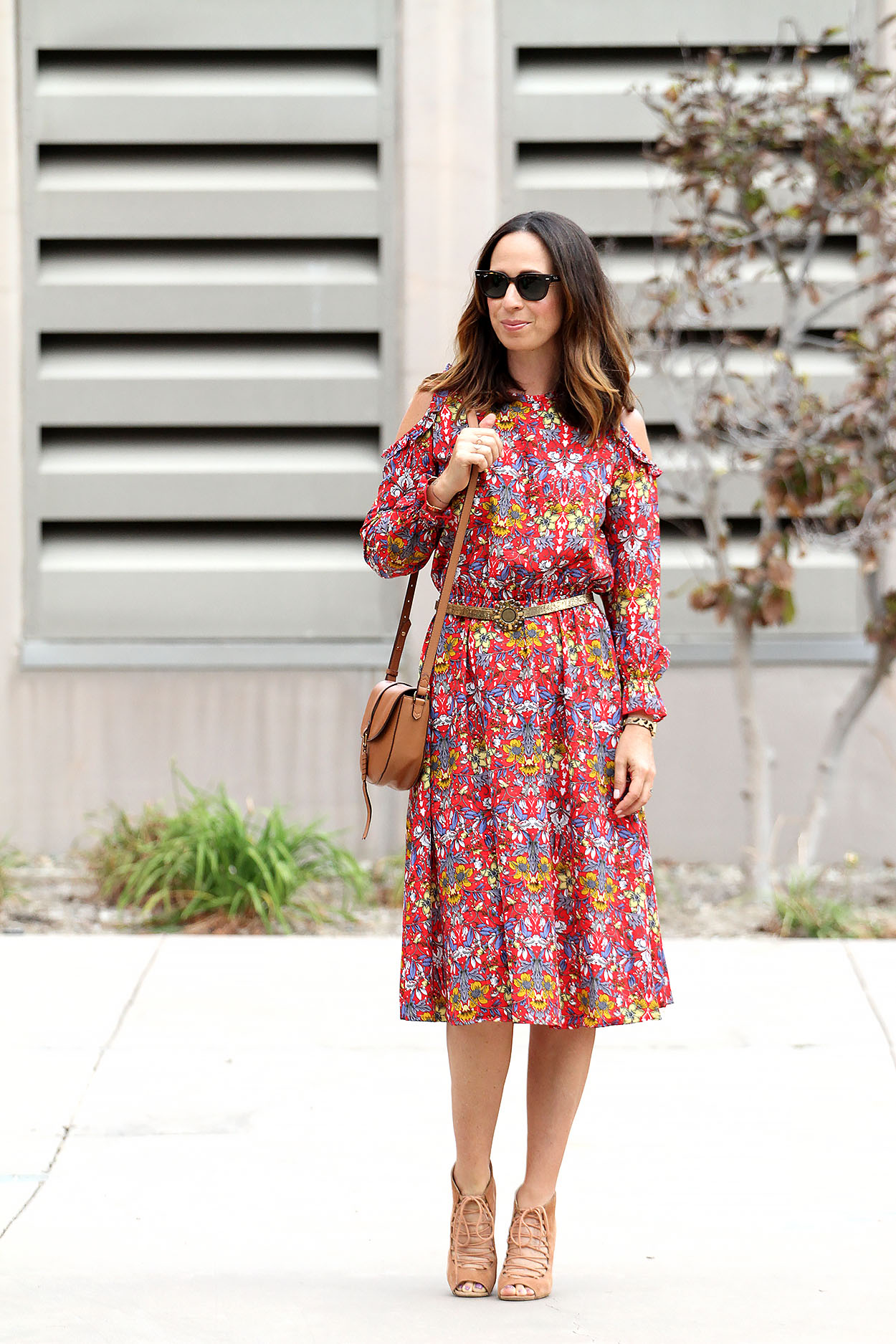 So this dress is a bit brighter than what I'd usually wear, but something about the pattern along with the silhouette (I love a good midi dress), called out to me. At $105, the price tag wasn't too bad either, especially for a well made dress. The fabric is lightweight but really nice for Fall, as it doesn't at all feel sheer or summery, and will transition nicely as the weather continues to cool, and look adorable with knee high boots or booties & tights. It's the all around perfect church, Friendsgiving/Thanksgiving, "I want to look presentable and cute" dress. It's that dress that's perfect when you're just tired of wearing black and need a pop of something-something. And of course because it is a lighter weight and the pattern isn't overtly Fall, it will look just as great among the turning leaves as it will among blooming buds in Spring.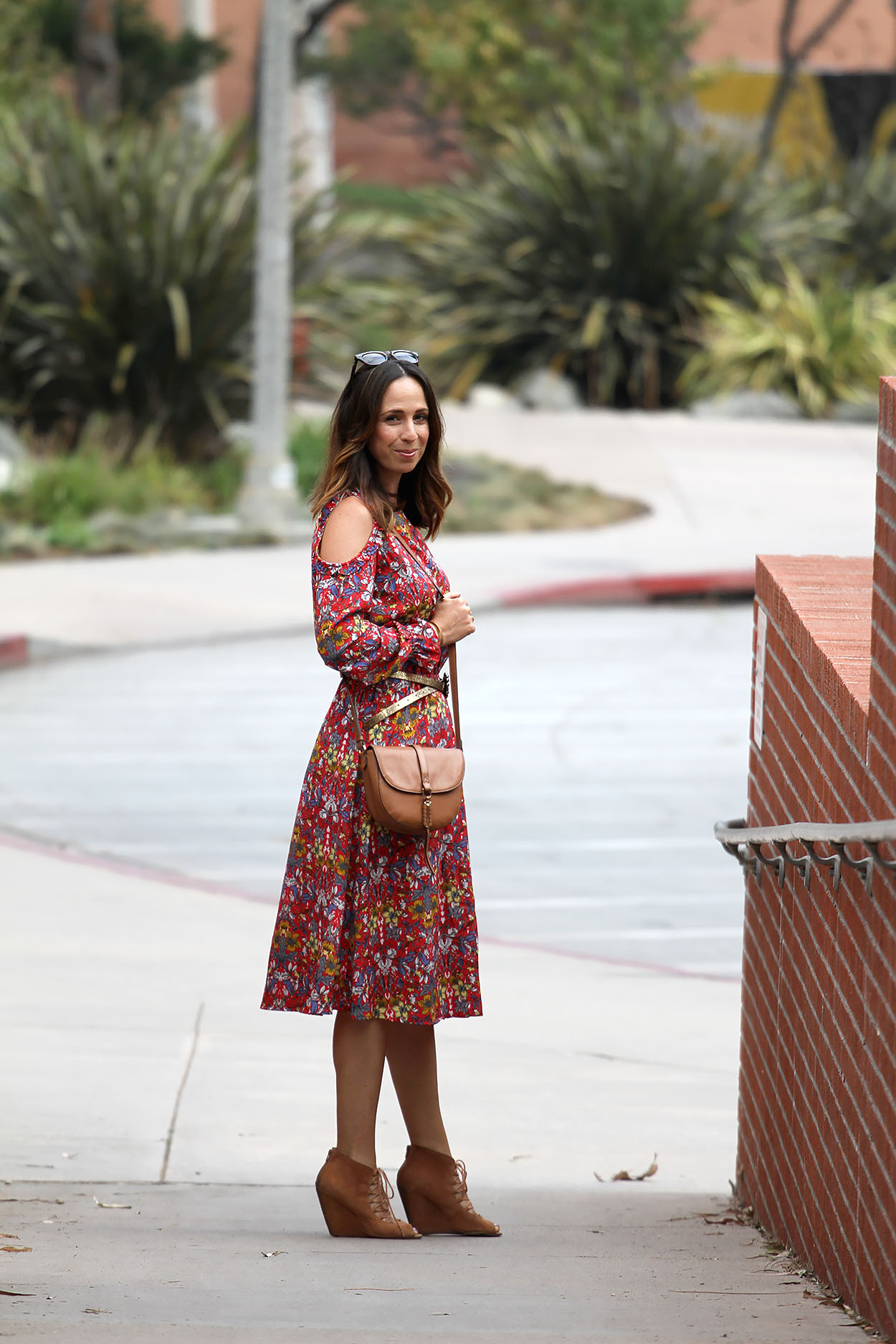 The pattern detail is outlined in the thinnest black line, so you could also wear it back to black accessories, or brown as I'm doing here. When a piece looks just as good with black or brown always indicates a winner for me in the versatility spectrum.
So I guess I'm back. Art and I were definitely out of sync a bit, as we haven't done this in a long while. We shot these at CSULB, which is just around the corner from our church, 15 minutes before service started. As we were driving away I noticed that my belt was off kilter a bit and I snapped at him that he should have told me it was askew. He replied, "I'm the photographer, not your stylist!" To which I replied, "So if I had spinach in my teeth, you wouldn't tell me because you just take the pictures!?!" Then he said, "Take your own pictures then!" And I said, "I WILL then!" Ahhh, just like old times. 🙂
As we pulled into the church parking lot in silence, he said, "You know, we can fix the belt in Photoshop." And I was like, "Oh, really? Cool, thanks babe!" And then we didn't even fix it cause I'm lazy and life is all about pretty dresses and belts that are askew. It feels good to be back