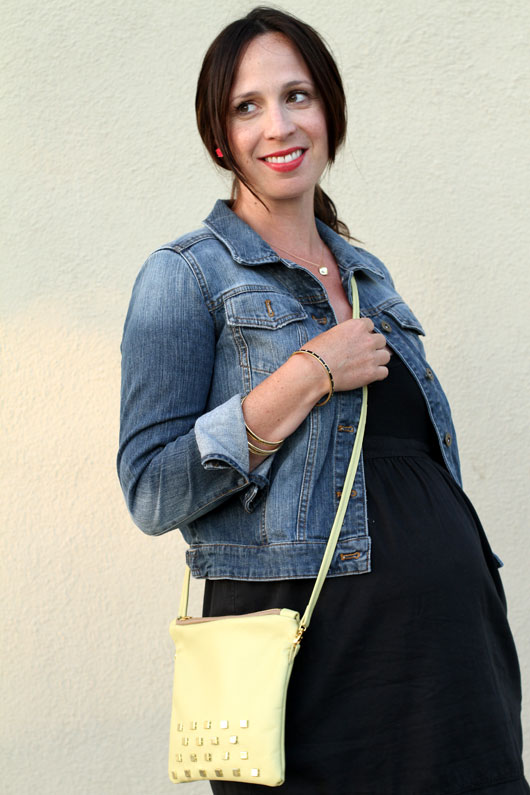 Dress – James Perse; Jacket – Nordstrom BP Dept.; Shoes – Red Valentino; Crossbody Bag – DIY by me & full tutorial available at Making It Lovely; Bracelets & Earrings – Kate Spade
My life this week has been consumed by Downton Abbey, end of year school prep, baby prep, and completing this glorious crossbody bag.  I have given up all searches of a bag until after the baby comes, and have returned all 3 of the previous options I had bought.  Instead, I made my own to get me through summer.  Isn't it cute?  I wanted to add some studs, but nothing too edgy or industrial, so I used the pretty flat gold studs and I think it's the perfect little touch.  Me and this bag are going to get along just fine.  After baby I may have to shorten the straps since I made these extra long to fit over the belly.  It's funny to think that even purse straps have to be adjusted in consideration of a pregnant belly.
And is it weird, or just extremely immature of me, that whenever I say "belly", I can't help but think of the Austin Powers quote "get in mah belly!"  On second thought, don't answer that.  Whoa, pregnancy delirium!  Okay, off to watch an episode of Downton Abbey.  I can't believe they brought back that SOB Thomas.  Linking up to WIWW & Monday Mingle.