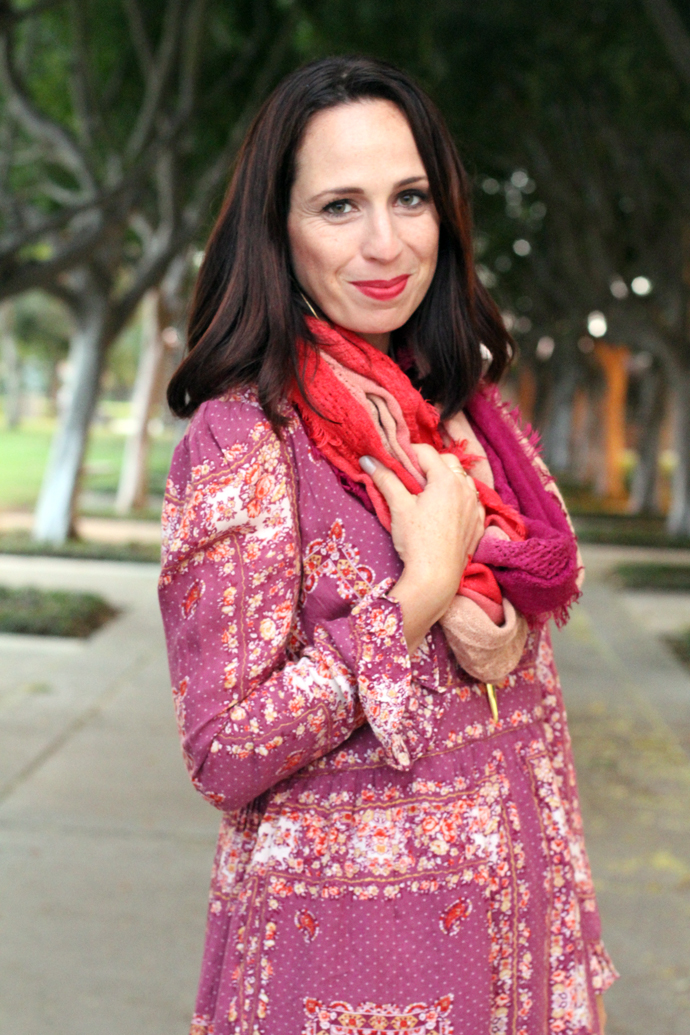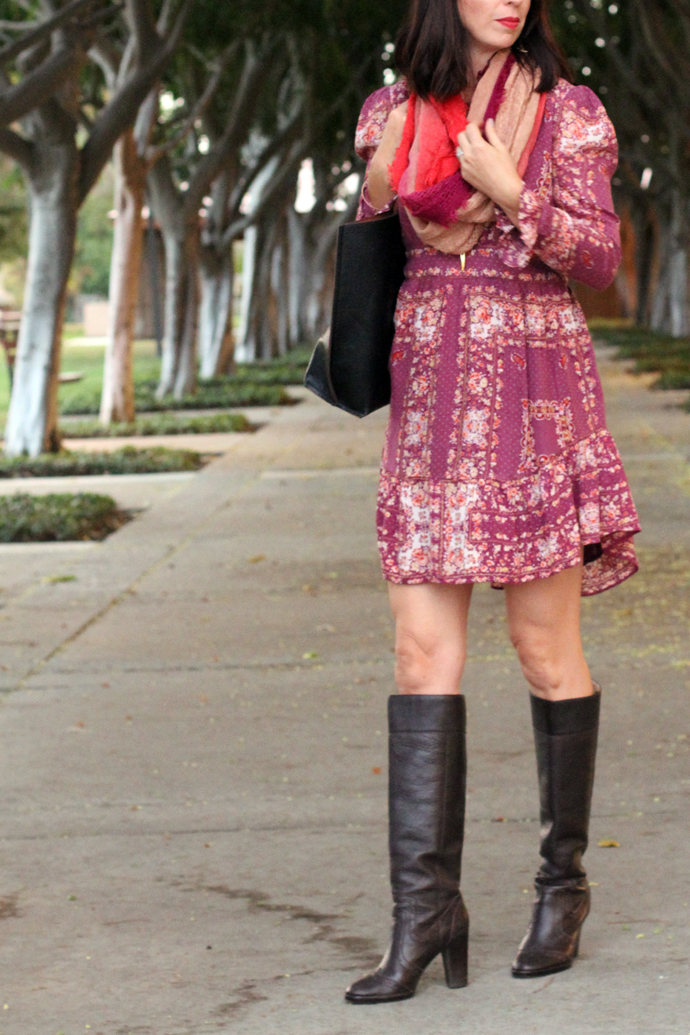 As I near 40, my closet continues to shape itself up in a way I'm happy with. Never one to identify with a "signature style", my shopping habits, and therefore my closet, has always been a mashup of both feminine and boyish styles; some bold prints tempered back to a endless sea of grays, blacks and browns, and very few pops of color, but the color that exists has proven itself to time and time again, make me feel my best. It's not like I'm some mystery when it comes with defining my style, it's more that I can't make up my mind, and so you'll often find a little bit of everything hung in closet and folded in my drawers.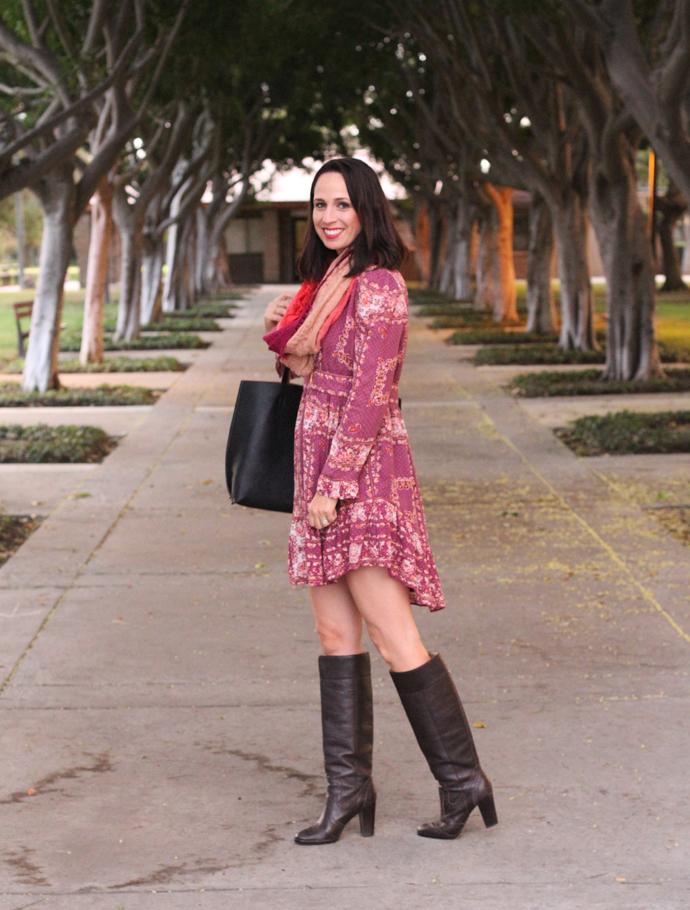 This pretty floral dress is not something I'd typically buy for myself, but both the combination of the color and print, made me feel completely me. My husband agreed, and kept telling me throughout the day how much he loved the dress on me. I rarely dress for my husband, but when we both find something he loves as equally as I do, it's definitely a nice perk.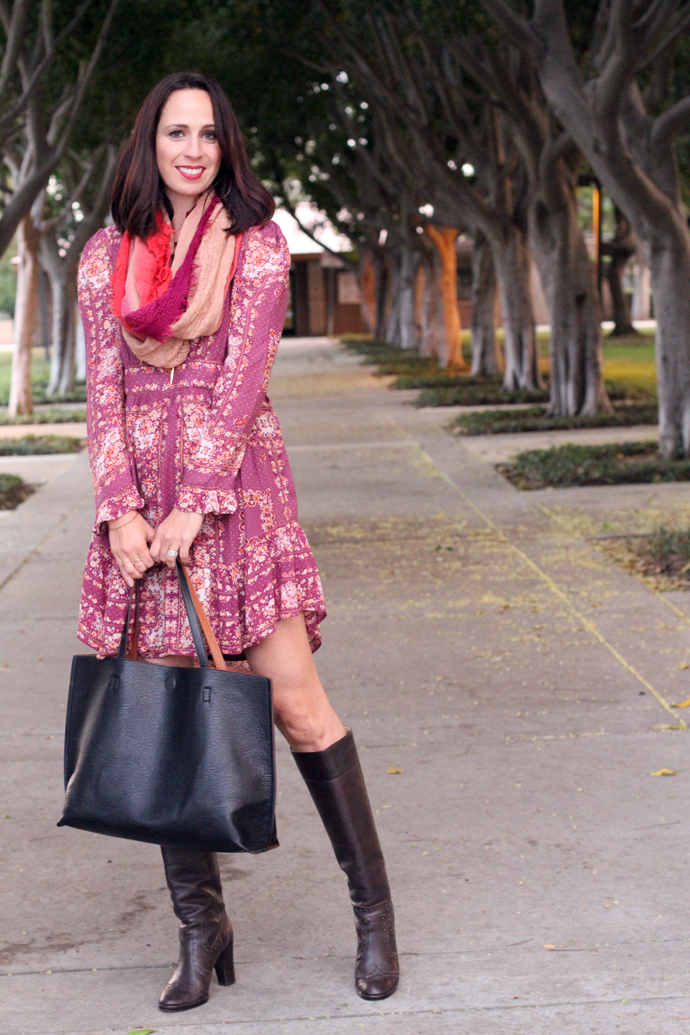 I initially thought I'd wear the dress back to some more masculine motorcycle boots, to add a touch of edge to the soft ruffles and print. But after a few changes, I landed on these very old riding boots, and it seems they do the dress the most justice. As it gets colder though, I think some cable knit sweater tights and those moto boots I was originally thinking of, would be a fantastic way to style this.
In partnership with Zappos, myself and a fellow style-loving blogging buddy, Jennifer of Just Add Glam, did a little shopping for each other. We used Zappos' site to pick out a couple of pieces we felt would complement their signature style, and hopefully be something they would love. I browsed her site and within 15 minutes, I had a pretty good idea of what Jennifer's style was all about; feminine styling, colorful pops of color, polished silhouettes and bold accessories. She loves to wear hats and statement jewelry, and she's got a killer shoe and handbag collection. I'd be lying if I said I wasn't a bit envious of her wardrobe and her ability to wear heels and dresses, without worrying about chasing after a toddler.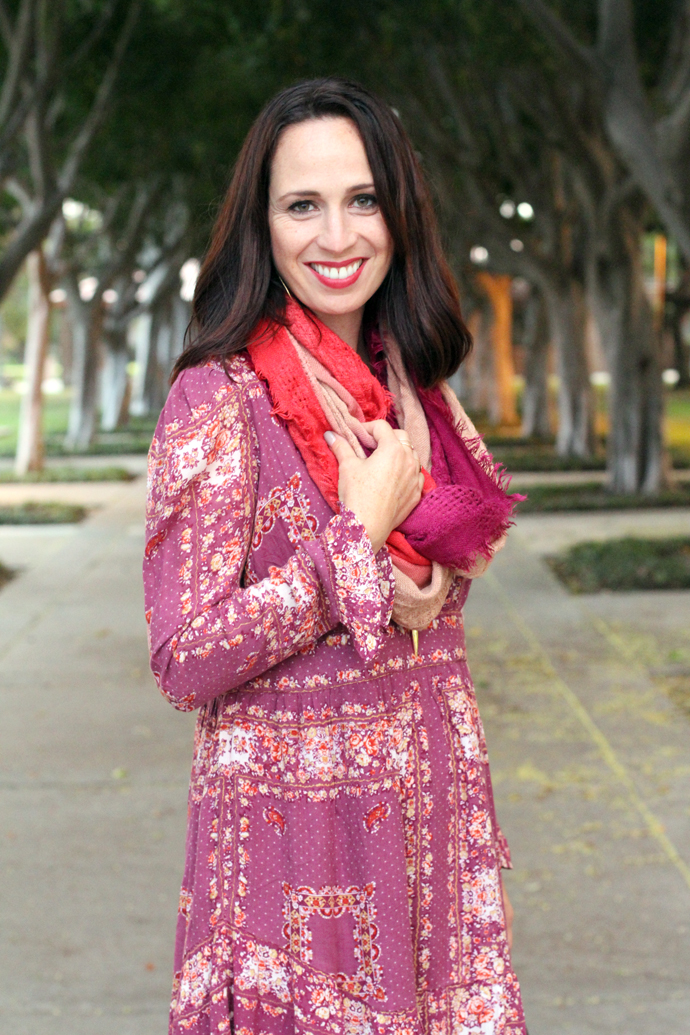 I initially thought I would gift her a cute handbag and maybe a hat, but since her handbag collection seemed to be vast, and hats can be tricky, almost as personal as finding the right pair of sunglasses, I took my chances with a dress. I chose a knit jersey dress from BCBGeneration because it looked really polished and put together, perfect for Jennifer, but the asymmetrical hemline added a touch of uniqueness to her usual mix of dresses with fuller skirts or bold colors. To complete the gift, I thought this beaded Kenneth Jay Lane necklace was spectacular and would really stand out against the black dress. You can see how she styled it in her post here.
In return, Jennifer gently nudged me out of my comfort zone by gifting me this gorgeous dress by Free People, along with the prettiest complementing accessories. The necklace is by Vince Camuto and is a simple long gold pendant, and I've been wearing it daily back to a simple white tee or as seen here, dressed up a bit more. The infinity scarf  by BCBGeneration is a great add-on that works perfectly with the colors of the dress, and works just as well with a chambray shirt and comfy jeans.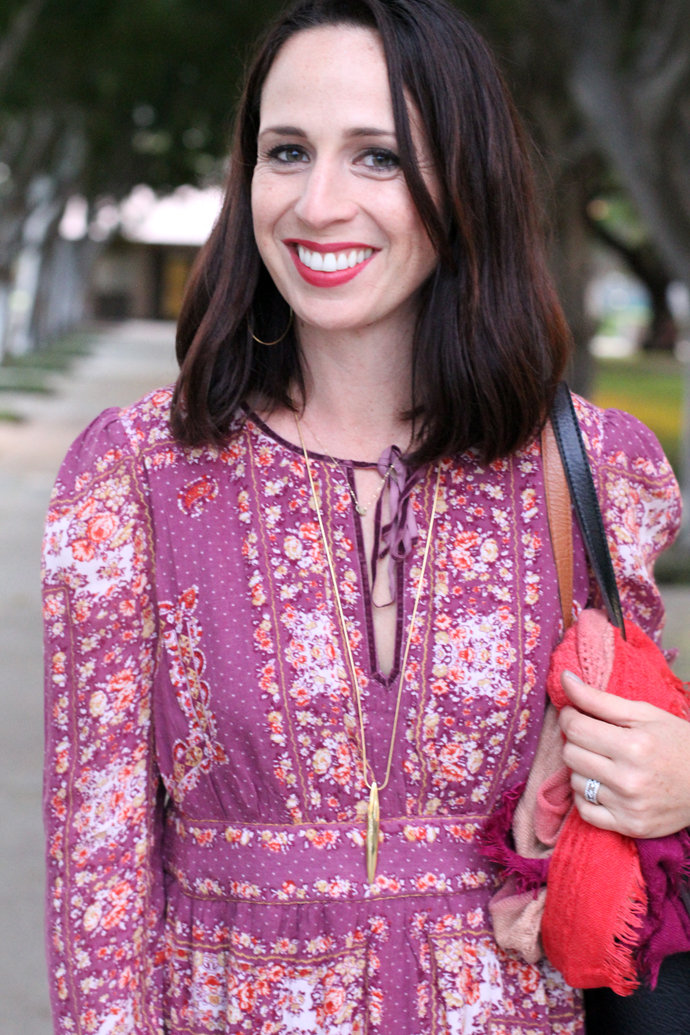 Zappos offers free (2 day!!) shipping and no hassle returns 365 days of the year. You can find a heck of a lot more than shoes on Zappos these days, and they've curated one of the most well-thought out collection of brands and items I've seen on a shopping site in a very long time. Ordering couldn't be easier, as are returns, so rest assured that whatever you gift to your family or friends, can easily be returned for something else they love or need. To find great gifts for everyone on your list, in every budget category, visit the Zappos gift guide. Also, for the first 500,000 orders placed between Black Friday and the end of business today, Zappos will donate $1 per order to Feeding America, so you know I love that. That's up to 5 million meals!! I love doing good while shopping all at the same time.
This post is sponsored by Zappos, but all opinions are my own. Thank you for supporting the brands that help make this blog possible.