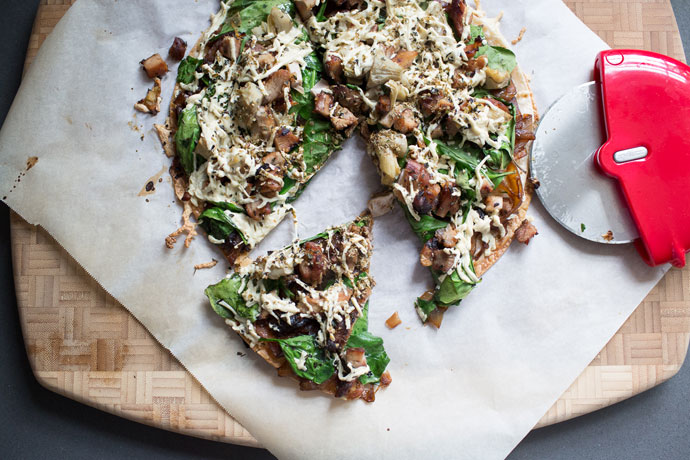 A couple of months after I completed my first 21 day cleanse, my friend Mary decided to give it a try. She had been suspecting she had some food sensitivities, so she figured it would be a good way to rule anything out. Lucky for us, a couple of weeks in, she got a bit bored with the cleanse food she had been eating, and decided to get creative in the kitchen, hence developing this kick ass gluten free, dairy free and sugar free pizza. This is the perfect indulgence to eat on the home stretch of the cleanse, and remind us that not all hope in humanity is lost. We will make it through these last few final days.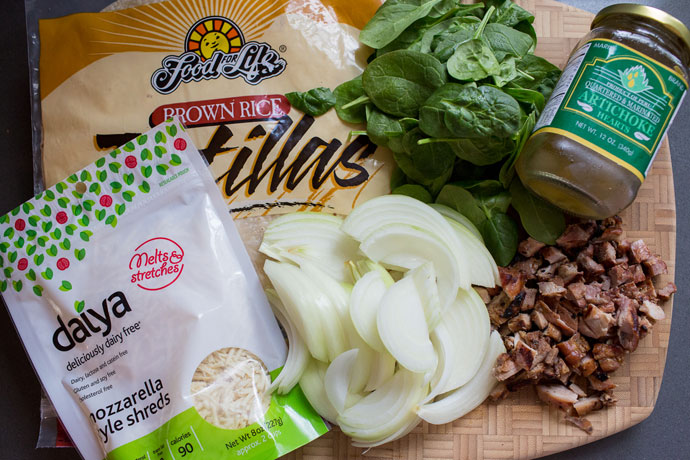 Of course you don't have to be taking some vow to eat like a saint to make this little number. This is perfect for anyone who is just interested in cutting down on their dairy intake, or for someone how is truly gluten and/or dairy intolerant, and want to feel like a normal human being again. We all know a significant time without pizza starts to make one feel not only deprived, but down right deranged. Or is that just me? Because I ordered Z Pizza for the kids the other night when Art and I were going out on a date, and it took all my strength to not make out with that pizza. Forget I said that. Start by gathering your ingredients.
A little background; Mary has three sweet boys who, unfortunately, all have some pretty monumental allergies; basically all the common allergens including dairy, wheat, gluten and eggs. I mention this not to divulge Mary's personal business, but to tell you that she has A LOT of experience with products and cooking this way, therefore, she knows her stuff. When I'm looking for the best gluten free pasta or dairy-free cheese, I go to Mary. She's an expert because it has quite literally, become her job the last 9+ years.  Let's begin, shall we?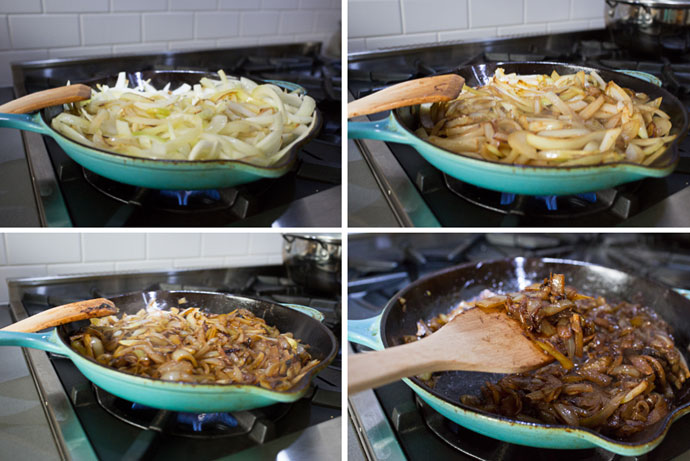 Begin by caramelizing your onions. Sort of like spinach, you start out with a massive amount in the pan, but they cook down quite a bit so don't be alarmed at how many onions you're cooking up. You also won't use these all for 1 pizza, but it's great to have leftovers for making pizzas the next day, or topping on salads, chicken breasts, you name it. Cooking the onions is the longest process of this recipe, so once that's done, you're on easy street, especially on round 2.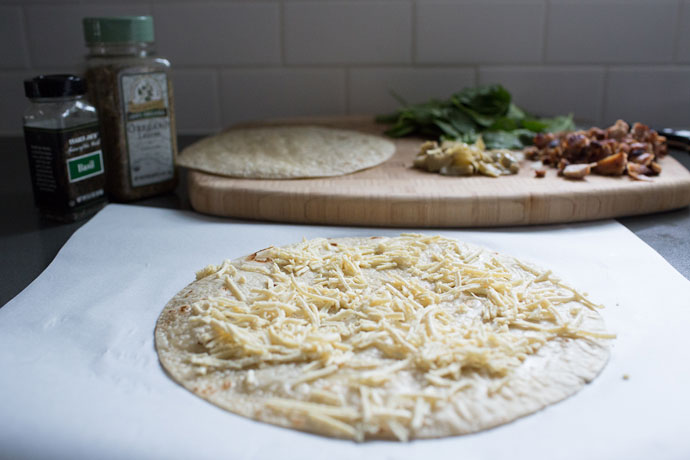 Mary's trick to making the "crust" hearty and stable is to layer two tortillas, with some cheese in between the two, before you begin laying on your toppings.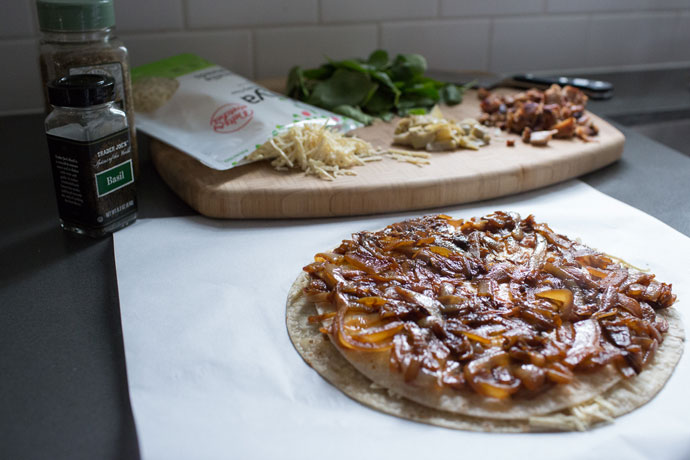 Spread out your onions, then your spinach, artichokes and of course your chicken. Then top with the rest of the cheese. A note about the artichoke hearts by the way. Mary suggests you use marinated artichoke hearts because they give the pizza a bit more flavor, but the plain kind that comes in a can also works.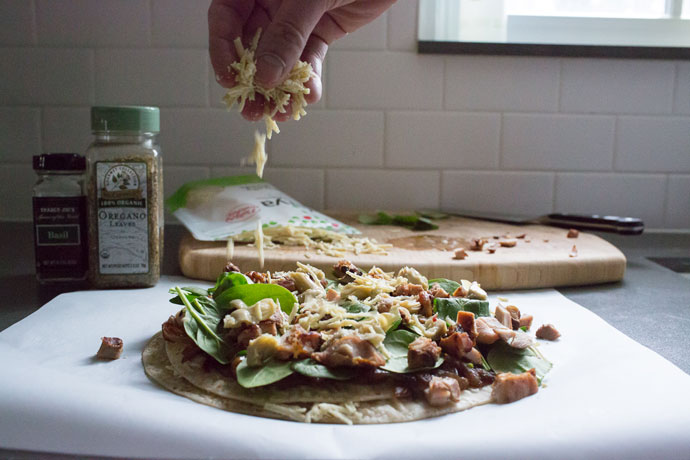 This is what the dairy-free cheese looks like before you toss it in the oven, and as you can see below, the cooked version doesn't look all that different. Mary suggests going by time versus the melty factor of the cheese, because if you wait for the cheese to get all gooey and melty, chances are you would have overcooked the rest of your ingredients.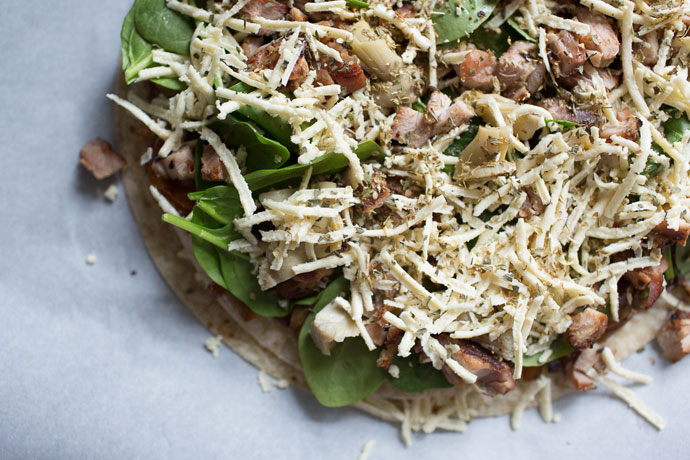 Feel free to drizzle a little balsamic vinegar on top, but just an option. The pizza on its own is pretty spectacular so don't feel like you've got to load it up with sauces to make it pop. Slice it up and don't feel guilty if you eat the whole dang thing.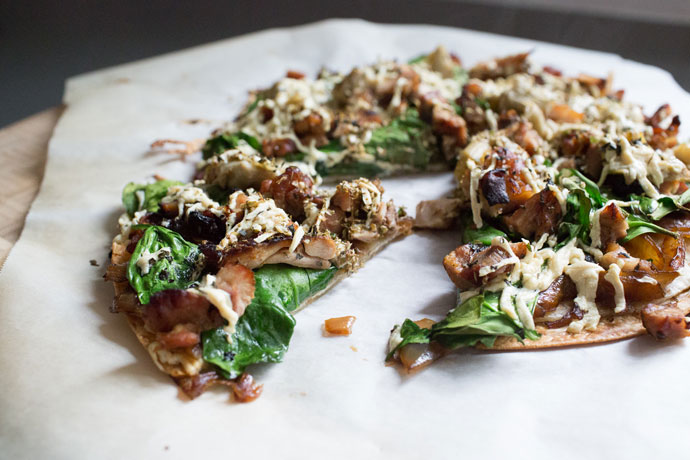 If you want to make this at home, see below for the printable recipe. And enjoy!
All photography by Mary of Yung Bean Photography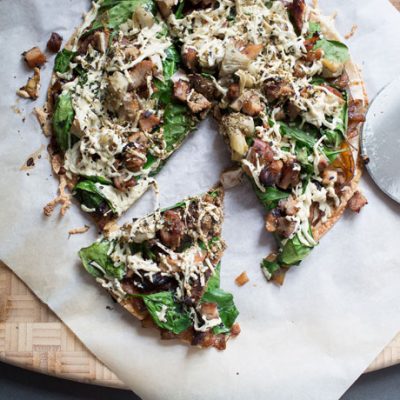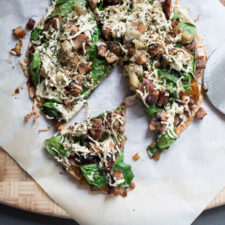 Caramelized Onion & Chicken Gluten Free Flatbread Pizza
A hearty and filling gluten free and dairy free pizza.
Print
Pin
Rate
Ingredients
1

yellow onion

sliced into half rings

extra virgin olive oil

¼

tsp

salt

¼

tsp

black pepper

2

brown rice tortillas

1

cup

rice cheese

Daiya brand preferred

1

cup

baby spinach

½

cup

artichoke hearts

chopped into 1" chunks

1

cup

leftover chicken

chopped into small bite-sized pieces

dried basil

dried oregano

balsamic vinegar

optional
Instructions
Preheat oven to 400 degrees.

Over medium-high heat, pour enough olive oil to coat the bottom of a heavy bottom pan. Once the pan is hot, add the sliced onions and 1/4 teaspoon each salt and pepper. Stir to coat the onions evenly with the oil. Spread the onions out evenly across the pan and let cook for 20-30 minutes, stirring occasionally and scraping the brown bits from the bottom of the pan. If you notice the onions begin to dry out or starting to burn, lower the heat a bit and add a 1-2 tsp of water to the pan. Once the onions turn a rich, brown color, turn off the heat and set aside.

Place one brown rice tortilla on a large piece of parchment paper. Evenly sprinkle half the rice cheese over the tortilla. Top with the second tortilla (the double layer makes the "crust" more sturdy to hold up to the toppings.

Layer the toppings on the tortillas starting with baby spinach, then the chicken and artichoke hearts, followed by the remaining rice cheese on top. Sprinkle on some dried basil and oregano all over.

Place the pizza with the parchment paper directly on to middle rack of the oven and bake for approximately 15 minutes. (Rice cheese does not melt like regular cow cheese so you won't be able to use the "melt" factor to gauge when the pizza is ready to come out.)

When the edges of the tortilla become browned and crispy, slide the pizza out onto a plate or cutting board. Optional: drizzle with balsamic vinegar. Slice and enjoy!