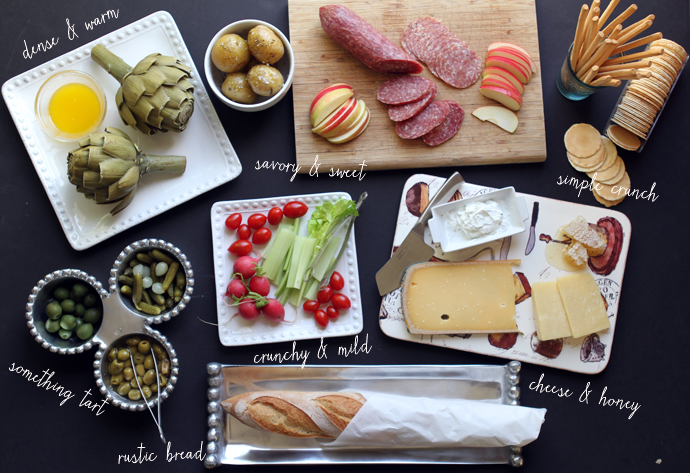 At some point several years ago, probably due to a mix of laziness and a love for all things savory, I started throwing together light appetizer spreads for small groups of guests. Eventually, as I became more proficient at these types of spreads, they got more elaborate and eventually took over as dinner. Now, I make them quite often, just for our little family, on nights when I both don't want to cook and also want to feel a bit more grown up. These spreads give you sort of a dining-out experience, while at home, and I often assemble them on the weekends when we're doing kid things, like watching Frozen for the upteenth time. The kids really enjoy these types of dinner overall, and while each kid has their favorites and picks and chooses what they'll eat, between the three of them, almost everything gets sampled. Us grown-ups of course eat it all, and I have just as much fun digging through our fridge and pantry, putting the foods together, as I do eating it all.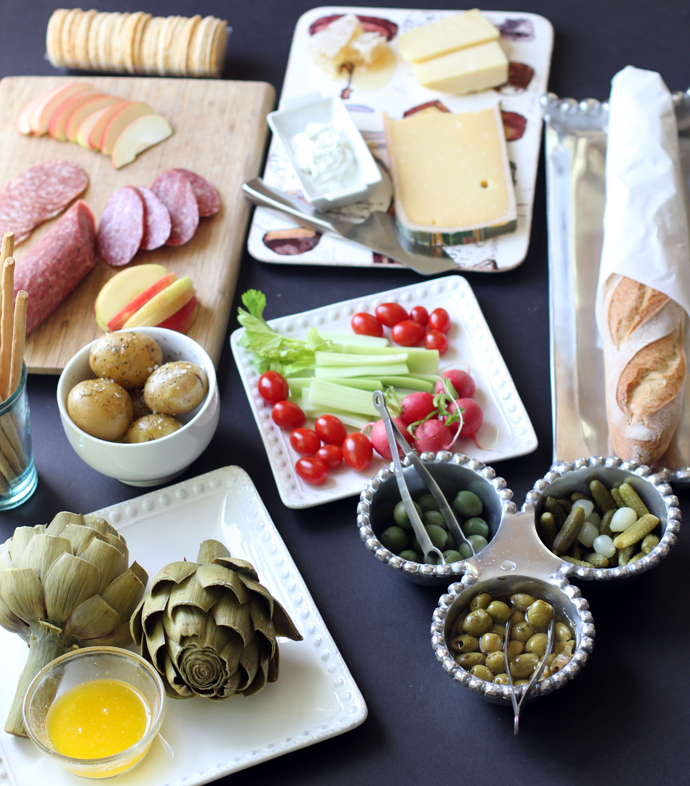 The key to a well-balanced appetizer spread like this, is to have a good mix of cheeses, cured meats, simple vegetables, both cooked and/or raw, and a sweet thing or two. Of course a couple of cracker or bread options are important as well. You want a variety of flavors, none too overwhelming and those which complement, enhance or even erase each other.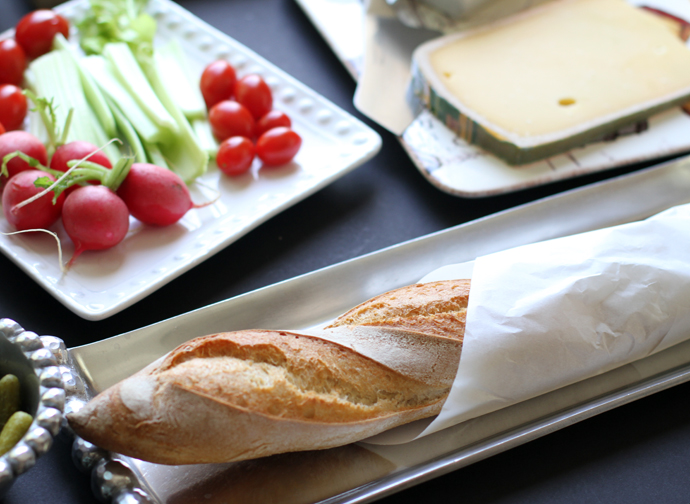 Fresh, raw veggies like carrots, celery, cucumbers and even radishes are perfect to munch on in between flavors, to cleanse the palate a bit and to lighten things up, when the salami gets too salty or the sweets become well, too sweet.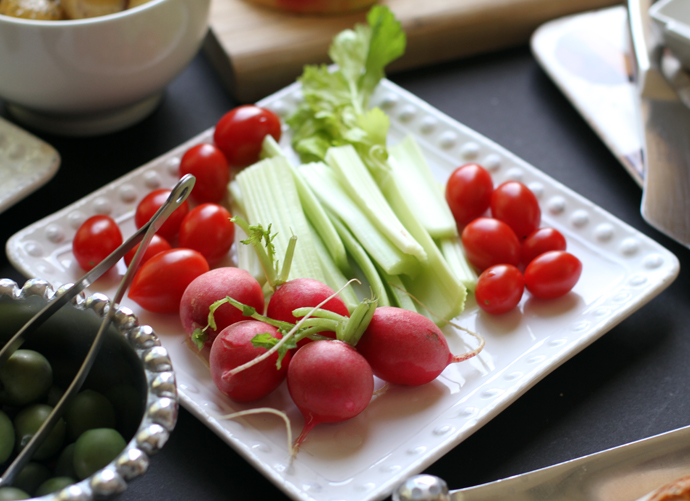 Apple slices, stone fruits or even dried fruits which aren't overly sweet, like dates or apricots, are also great complements to salty cured meats. You can build a true charcuterie with an impressive variety of meats, but I'd rather keep it simple and put out a salami and maybe some prosciutto.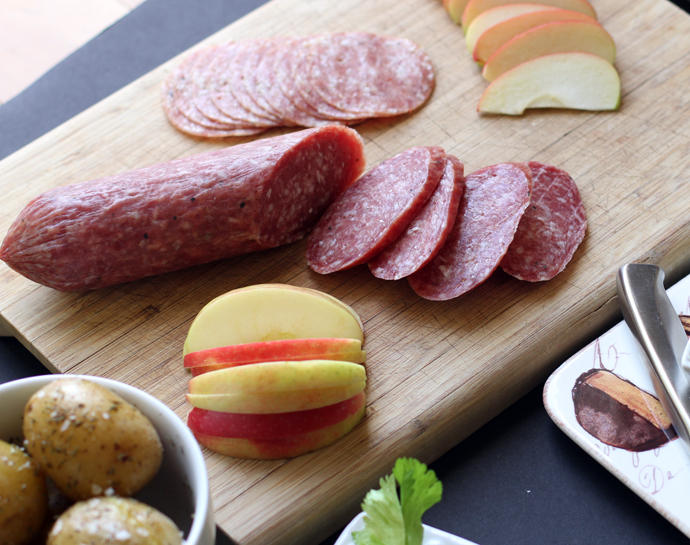 A rather new addition to our appetizer spreads is a raw honeycomb, which I get from a local cheese shop, but originally comes from the Savannah Bee Company. It's an indulgent addition, but by rationing portions I manage to make it last for a couple of months, although I do have to hide it way up high in the pantry, since I've found the kids pilfering it. Raw honeycomb is the purest form of honey you can eat, and is completely edible. We eat it straight, but I especially love small bits of it spread on cheese, then added to a cracker, or a bit on a raw fig sliced in half. Taylor loves to take almonds and dip them in it, and Hayden and Syd just try to stick their fingers right in the box and go for it. Since it is completely edible we indeed eat the whole thing, but plain honey seeps out of the honeycomb freely, so you can easily scoop some out of the box and spread on anything you like, if you're adverse to chewing on the waxy honeycomb.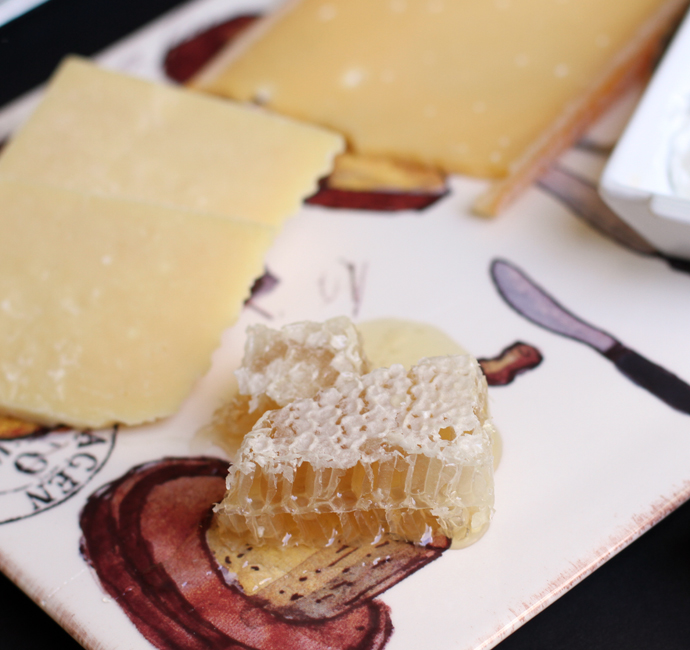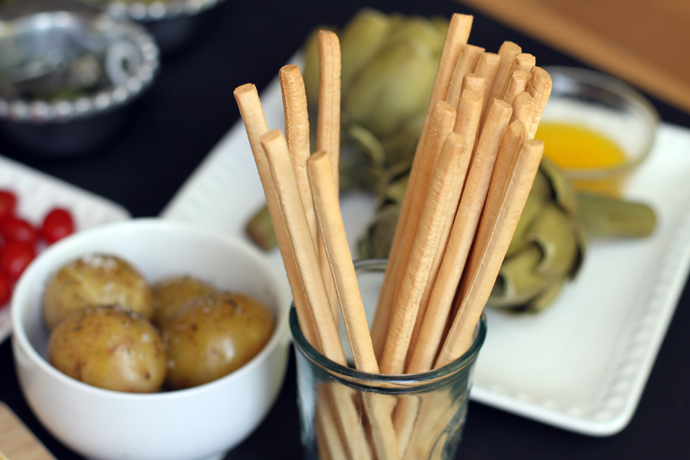 For the cheese portion of the program, I keep it simple and don't go beyond two to three choices, always including both a hard and soft variety like a goat cheese and grana padano, as well as a more medium textured cheese like a gouda. My favorite cheese shop is Cheese Addiction in Long Beach, and for how little I buy cheese, the occasional trip to pick up some special varieties is completely worth it.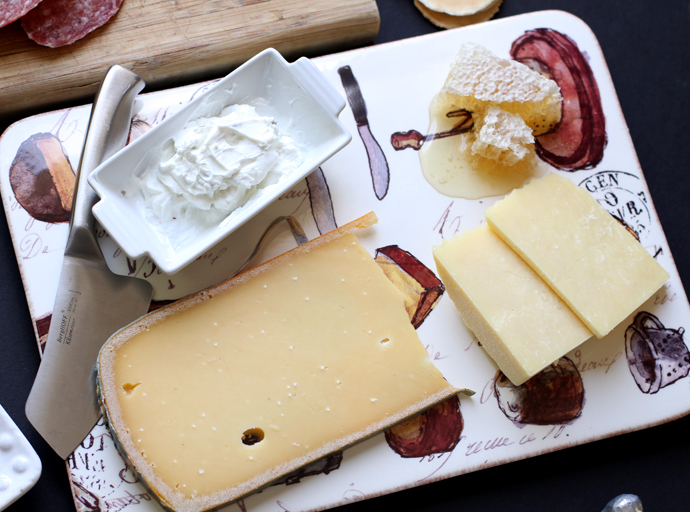 Another nice addition, on occasion, are some steamed artichokes served alongside melted butter, and boiled potatoes, tossed with olive oil, salt and pepper. Other "meaty" and filling additions are hard boiled eggs, sweet potatoes or broiled brussel sprouts. It all depends on whether you want to turn on the oven or leave it off all together.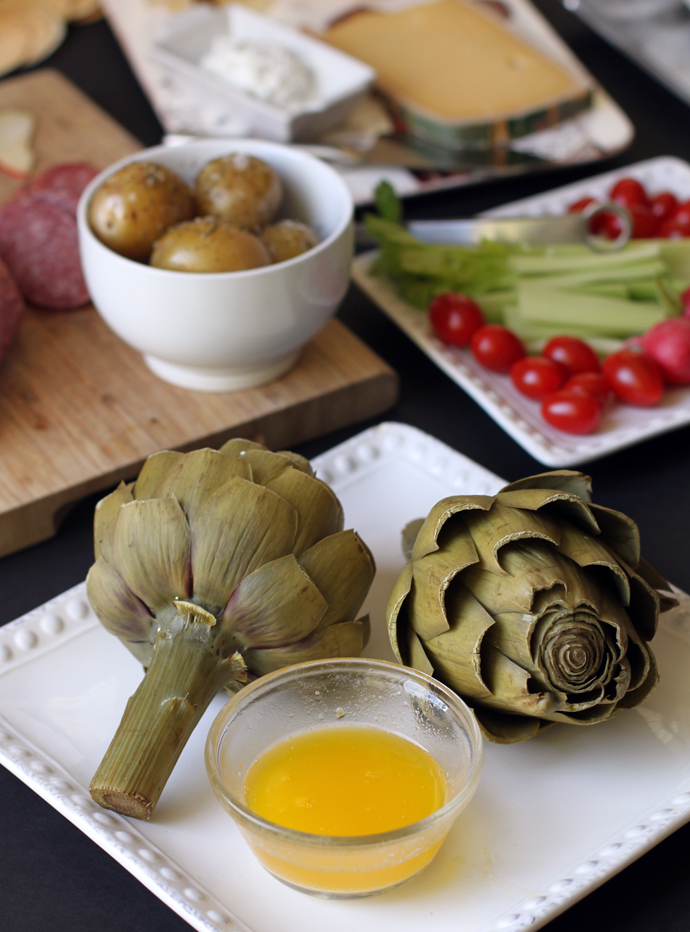 Next week I'll share another recent spread I pulled together, with almost entirely different ingredients to give you more ideas. The important thing here is to have fun with it, get creative, and go with your cravings at the time. The reward is a night off from cooking, and a variety of foods to please and satisfy any taste and preference.