Looking back through all these pictures makes me realize how much I miss being pregnant. I don't take lightly the gift of being pregnant, and I learned to appreciate and respect it the older I got and the more women, family and friends I came to know who dealt with infertility and loss. This realization definitely made me enjoy my last pregnancy to the fullest, and I look back with great feelings of love and happiness. Having Hayden to hold and take care of every day is unreal and amazing, but looking at these photos, it's clear to me how much he made me glow, swollen feet and all.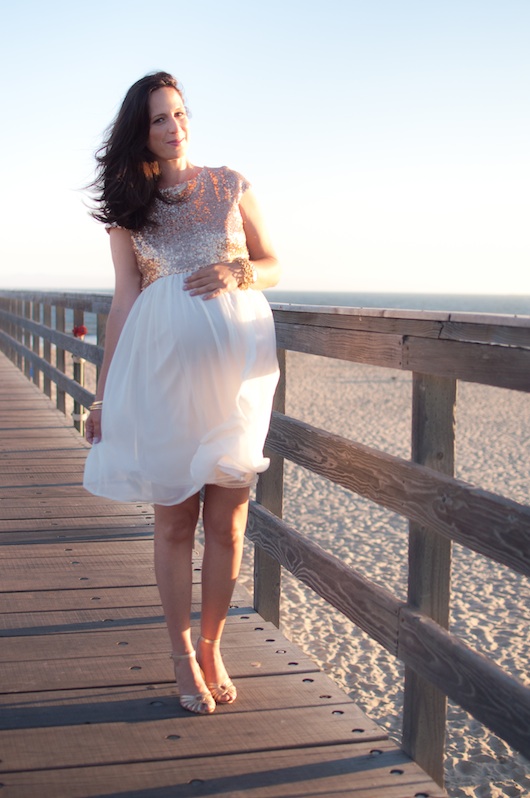 The key to the 3rd trimester was creativity, and lots of makeup. Loose fitting tops, elastic and empire waistlines, and a bit of color carried me a long way as well.  I was able to wear quite a few non maternity clothes in the 3rd trimester, mainly in the form of dresses, elastic waist skirts and flowing tops, sometimes bought up a size.  The styles available now were definitely much more accommodating to a pregnant woman than they were years ago when all tops bordered on belly skimming length.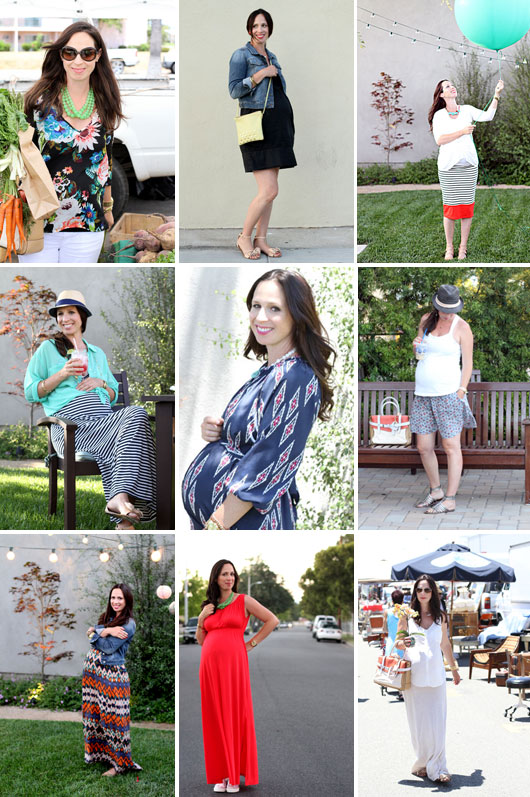 From the top left going clockwise (please note that unless otherwise stated, items are non-maternity): floral h&m top + gap maternity jeans; james perse dress + jean jacket; asos maternity skirt + flowy top; american apparel blouse + old navy maxi dress; tucker for target dress; target skirt + tank; target maxi dress + jean jacket; asos maxi dress; old navy tank + maxi skirt.
target striped maternity tee + gap maternity jeans; h&m maternity jeans + st. john knits bolero jacket + target maternity tank; isabella oliver maternity dress; forever 21 dress; h&m maternity jean shorts + target sweater; asos maternity dress.
You may have noticed that at least half the looks were not even maternity, and of the other half, only a small portion were maternity only outfits. The point being, with a little bit of creative shopping and styling you can stretch your current wardrobe and your dollar by sticking with as many non-maternity pieces as possible. Because maternity is considered specialty clothing, they tend to jack up the prices making you pay more overall. Look for elastic waists and loose dresses with empire waists. Layer long tanks under existing tops and tanks that may be too short otherwise. Plan out your season of dress accordingly and buy just 1-2 pairs of maternity denim. If you know that when you're the biggest it will be the hottest, purchase a pair of denim shorts and perhaps a loose pair of denim boyfriend jeans as opposed to skinny jeans, which can feel restrictive when you're feeling huge and hot. If you're pregnant for the majority of Fall and Winter, then perhaps 2 pairs of skinny jeans will be all you'll need so you can tuck into boots and such.
As far as jeans go, I have never found a pair that I absolutely loved.  Although I did find the 2 pairs from H&M to be decent.  I really did not like the Gap jeans and found their solid thick waistband to be uncomfortable and constantly slid down, so I always felt like I was hiking up my pants.  My favorite purchase of the entire pregnancy was the tie dye dress from Forever 21 which was not even maternity.  I've continued to wear it postpartum as well and will get a ton of use out of it this Spring and Summer.
Other than creative styling, my main bit of advice is to take a bit of extra time, if you have the energy, and put on makeup and wear color. Nothing will lift your spirits more if you're feeling tired and down than to look in the mirror and see, along with your beautiful baby, a bright flash of color across your face.
Visit here to see my 2nd Trimester Style Recap.Follow my blog with Bloglovin