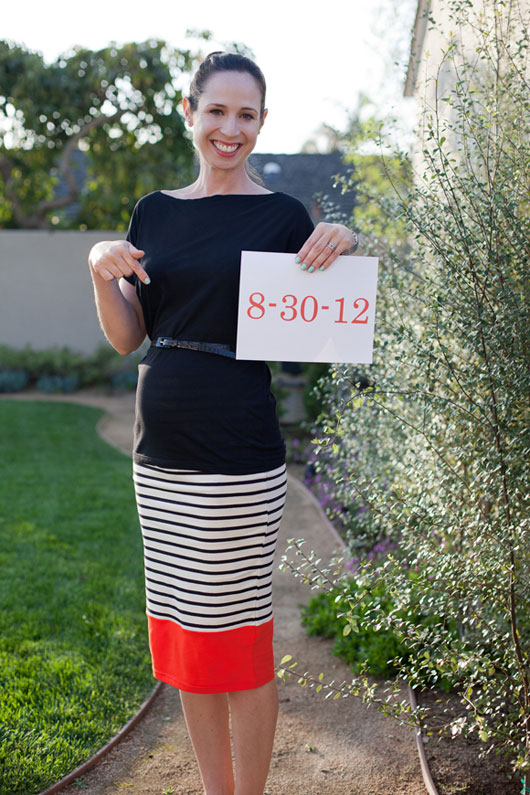 It's been almost one year ago that I announced my pregnancy with Hayden with the above picture, over on my other site.  This site hadn't even launched yet!  Wow, a lot has happened in the last year.  I've been meaning to pull together a style recap by trimester and go over the items that I loved the most and found to get me through the pregnancy with the least amount of expense and the most amount of comfort, and so I'm finally getting around to it!
When I first became pregnant with Hayden I decided that I wanted to spend as little money as possible on actual maternity clothes since this was going to be my last pregnancy and I wouldn't be able to get long use out of them.  I had previously invested in a nice pair of maternity denim with the other two pregnancies, but found that to be silly this time around, so I relied on hand me downs from friends for most pairs of denim and shorts, and only ended up buying 2 pairs of inexpensive denim jeans and 1 pair of shorts.  For the 2nd trimester, here is a breakdown of tips and tricks for making the most out of your wardrobe, and stretching your style as far as possible.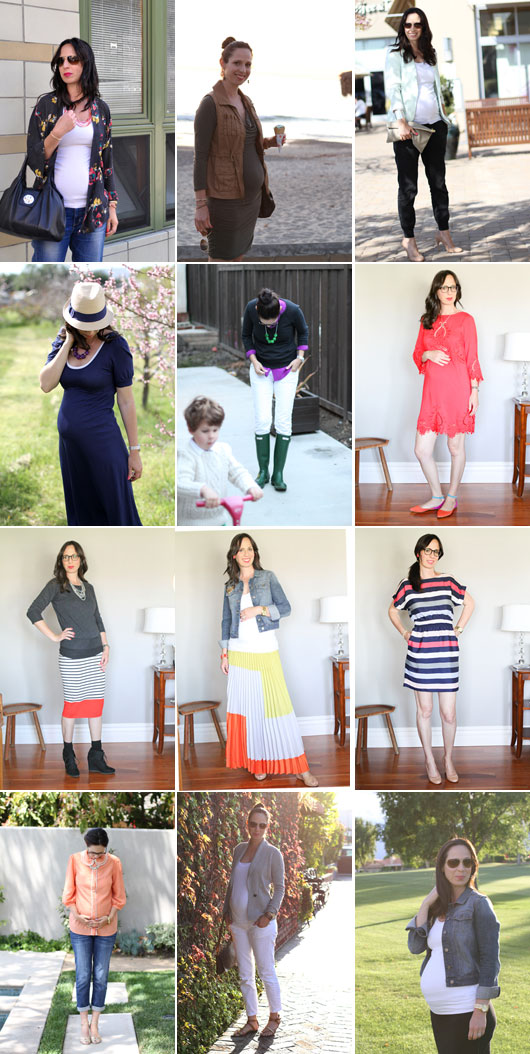 – First things first, take an inventory of your closet to establish what you have, and sort through items to decide what could reasonably wear throughout the pregnancy.
– Look for anything stretchy, long in length and with elastic waistbands. Items like long layering tanks will be essential as you grow, so see how many you've got and buy at least 2-3 if you don't have any. Elastic shorts or pants, while casual, will serve you well! Also empire waists are great, so if you have any of these items in your closet, pull them together so you know what you've got.
-Once you've taken your inventory, you may need to buy a few items to start wearing now that your tummy is growing. While longer tops and layering tanks that you already own may fit you for several more weeks, now is the time you will probably need to buy some comfortable maternity bottoms so you can breathe a bit easier.
– If this is your first pregnancy and you know you will have more, then feel free to invest in a better pair of maternity denim jeans at this time so you can get the most use out of them. But if it doesn't fit within your budget, no worries, I'll offer other alternatives below.
– Once you have at least 1-2 comfortable pair of bottoms that you can wear multiple places throughout the pregnancy, now you may want to add a couple of more everyday bottoms to rotate in and out. Depending on the season, this may be shorts, pants and or skirts. During the second trimester you can still usually fit into non-maternity clothes with elastic waistbands, even if you have to size up. To save some money, shop at places like Target and Old Navy and the Gap. Look for maxi skirts and elastic shorts in cute prints and patterns. These will be great pieces that you'll be able to also wear in the first postpartum months and so you'll get lots of use out of them for the next few months. Believe me, psychologically it's nice to not be wearing maternity clothes for 6 months after you give birth, so this larger non maternity items will be perfect.
– In the above collage, the only pieces I'm wearing that are maternity are the white jeans, the red dress, and striped skirt and the peach colored top.  Everything else are items I already owned in my wardrobe.
– In the collage below I added in one more dress (the red one with the denim jacket, and a pair of red denim shorts. I continued to layer tops I already owned and paired them with elastic waist bottoms, skirts and dresses.
-If you find yourself in need of some tops, the good news is that there are so many silhouettes now that are longer and more flowy in length. I'd say a maternity t-shirt or two are about all you need to last you the long haul. Otherwise just stick with layers and longer, looser fitting tops. Maternity clothes are just so expensive, you can almost always find something to non-maternity fit if you look hard enough.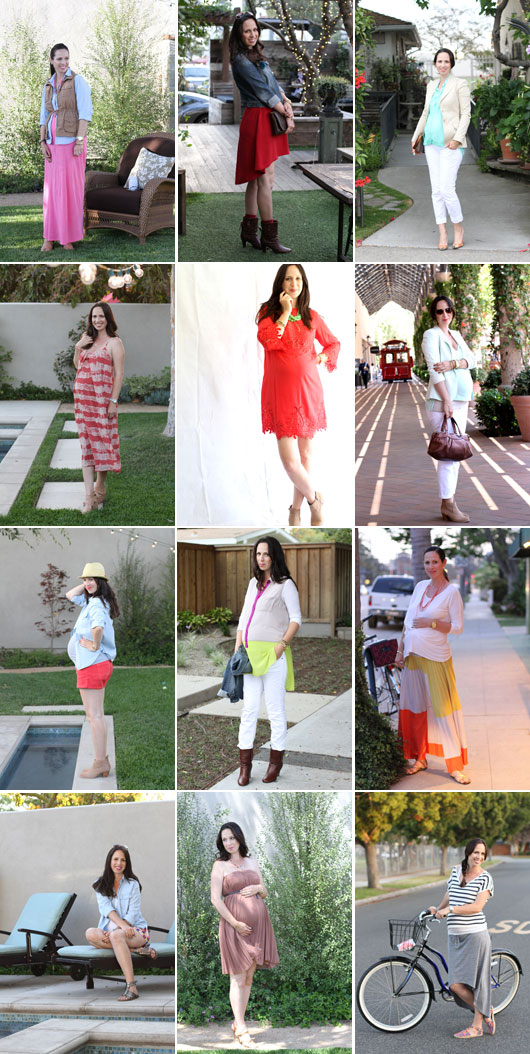 – Maternity clothes have improved though and you're no longer limited to A Pea In The Pod or Target. I found so many great pieces, especially dresses, at ASOS and TopShop. Both are affordable and offer free shipping and returns.
-I suggest taking a look at your calendar as well, and figure out if you have any important dates coming up that you will need to be prepared for.  Showers, weddings, anniversaries, etc. Plan ahead so that you aren't left scouring the Target maternity aisle for something pretty to wear before your big event. Even if you buy in advance and the pieces don't fit you for a few weeks, it's better to plan ahead when pregnant than wait till the last minute and freak out.  Because freak out you will, trust me.
-When in doubt, I offer two pieces of advice. Layer up, so just add a jacket or sweater to feel a bit more dressed up. And add color, usually in a bold lip. I fell in love with bright lips when I was pregnant because nothing picked me up quicker than a swipe of bright fuchsia lipstick. If bright lipstick doesn't suit you, than find a maternity top in your favorite color and buy a couple of them so you can always throw it in when feeling blue or blah.
Other than these tips, I cannot stress enough to just have fun with your clothes when pregnant. Unless you have some medical complications like extreme morning sickness, nothing lifts your spirits when your pregnant than taking the time to care for yourself. I always felt a little less tired, a little less huge, than when I took the time to get dressed and put on a bit of makeup. Long gone are the days when pregnant gals had to stick to side ruched tops, tent dresses or mumus. Everyone loves a pregnant woman, so embrace this time in your life and all the beauty it holds, and just have fun. Enjoy it! I'll be back in a few days with my 3rd trimester recap! I'll share a bit more of the nitty gritty of what jeans I loved, what I wish I hadn't wasted my money on, and the best purchase of my entire pregnancy!