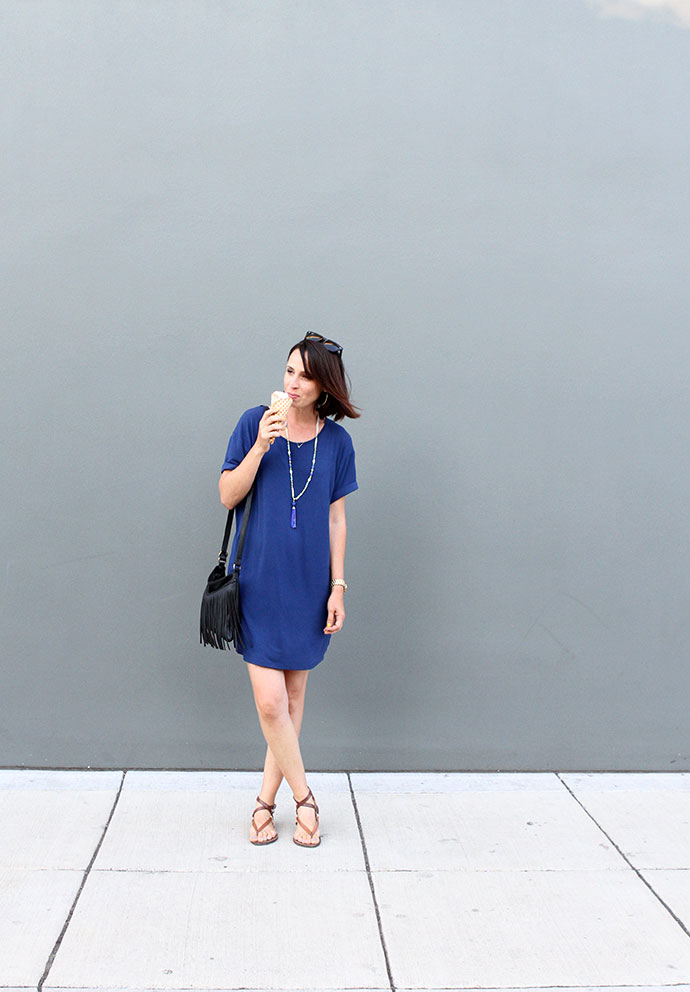 Chambray Back Dress – Vince on sale at Shopbop; Sandals – Sam Edelman Garrick; Fringe Crossbody – Nordstrom; Necklace & Earrings – Stella & Dot
If you've been following along on Instagram, you may have noticed that we've been on a pretty ambitious road trip since last Thursday. We traveled 600 miles our first day on the road, to make it just a couple of hours outside the Oregon border. On our second day, we made it into Oregon, making a quick stop at Crater Lake before arriving in Bend, Oregon late in the afternoon. We stayed in Bend for 3 nights and visited quite a few places in our short time there, and on Monday we left the mountainous high desert to travel 3 hours into Portland.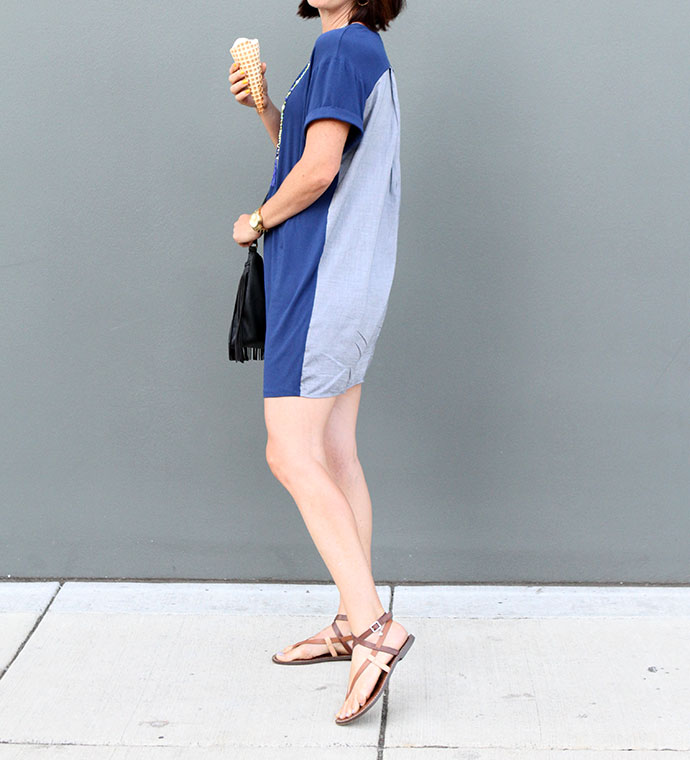 When we get home and settled in, I'd like to write up a whole recap of our trip, but for now I just wanted to do a quick check-in from Portland. We're staying 2 nights here, and at first we figured 2 nights would give us a chance to get a good flavor of the city, but the reality is we've barely scratched the surface. We have managed to pack in several highlights while here though.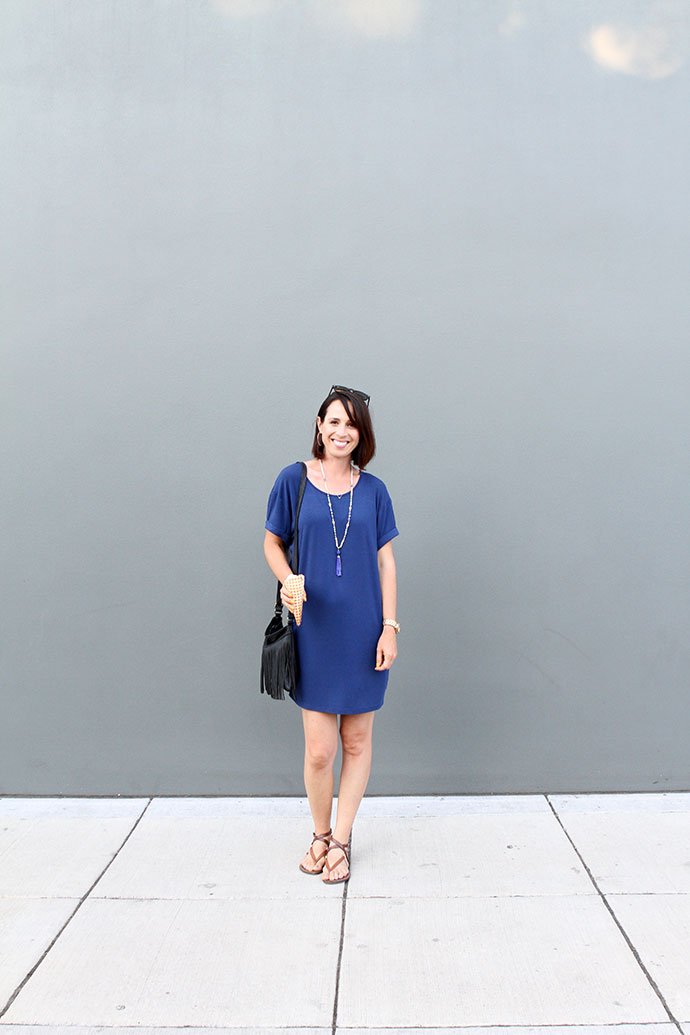 Last night after a long day on the road, we arrived famished so we just grabbed a quick burger along with truffle fries at Little Big Burger. We are staying with friends here in Portland (and in fact we're staying with friends throughout our entire trip), and they live in the Alberta area. Alberta is a great little street with one delicious option after another of great food, beer, coffee and ice cream joints, with some retail shops mixed in. After a quick burger and beer, we crossed the street to Salt & Straw for a famous ice cream cone.
They are known for their made fresh to order waffle cones, and unique ice cream flavor combos. I ordered a scoop of marionberry goat cheese habanero, and oh my word was it amazing – sweet and creamy with a little kick at the end.
We were lucky to not have to wait in line too long, but either way it would have been worth the wait. The ice cream was so good in fact that tonight we went back for more, and this time I ordered a split scoop of the strawberry balsamic black pepper and olive oil.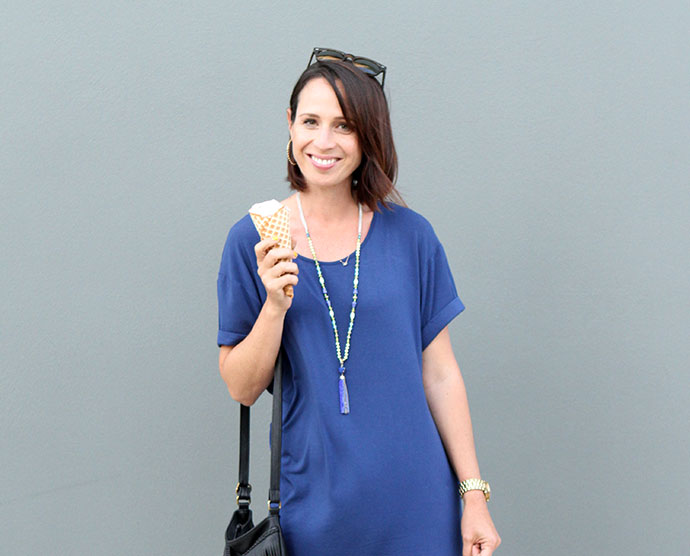 Other highlights of the trip have been a tour of the Nike World Headquarters where our friend works as a shoe engineer, along with a trip to the Nike employee store where everything is 50% off and of course no shipping. We cruised through 2 coffee shops including Stumptown, and also had dinner at Hopworks, a great local brewery that is super kid friendly and has some great food.
We are back on the road early tomorrow morning, but first we're going to hit up one last coffee shop which came highly recommended by some readers, and a gluten-free bakery. We've done nothing but eat and drink the last 24 hours, almost to the point of gluttony, but it's been fun to make the most of such a short trip.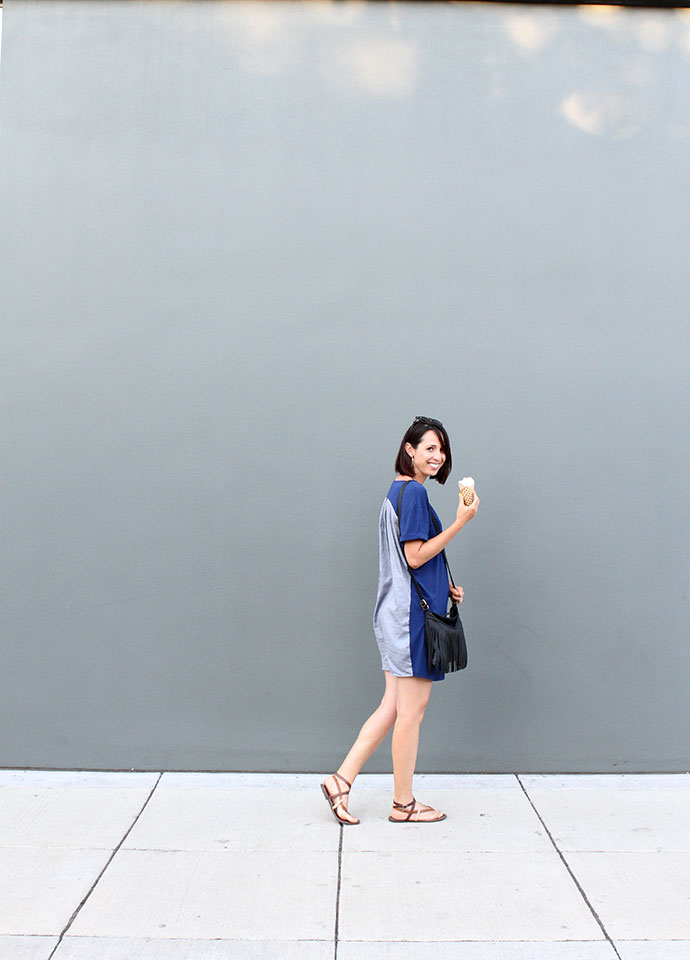 By the way, these are the only shoes I've worn the entire trip, besides my tennies, and they've gone well with everything and have been so comfortable. I wore this dress for the first time today, and it was the perfect thing to get me through a hot and busy day. Ridiculously comfortable, and casual but also put-together. The fabric draped beautifully and the front panel didn't wrinkle at all, as you can see since these photos were taken at 8 o'clock at night. The back chambray panel wrinkled a bit, but didn't look sloppy. This was the perfect outfit to take me all day through this casual and fun city, and the dress is on sale right now!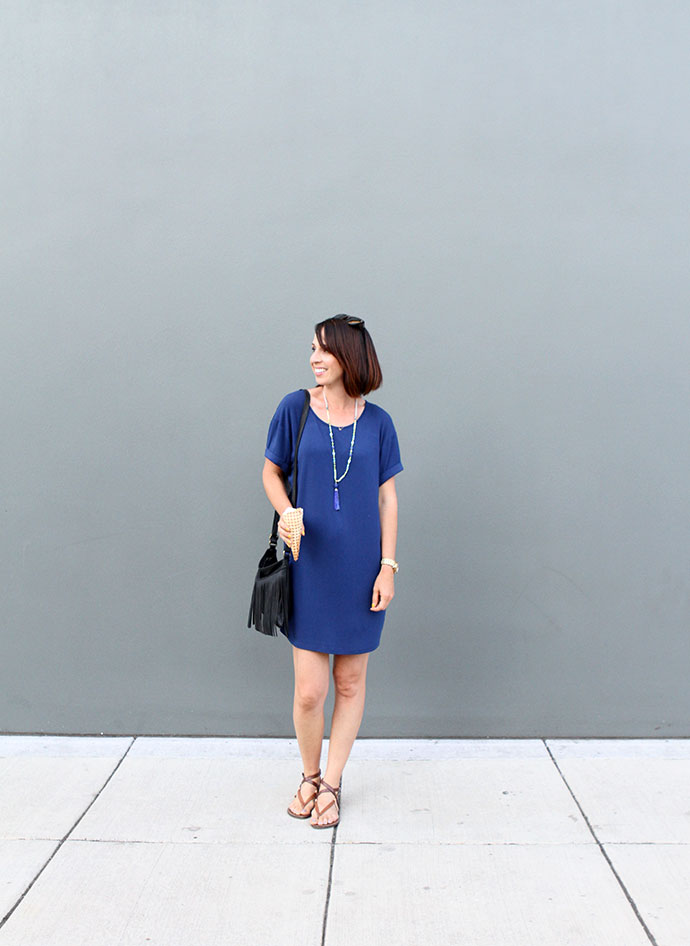 Follow along on Instagram, either at my personal account @andreavhowe, or on my food account @howeweeat, to see highlights from our trip. I've lived my whole life in California, and I can't believe it's taken me this long to make it up to our bordering state Oregon. It's been a memorable trip and we've had such a great time so far. Here's to another few great days on the road!