Happy Black Friday everyone. Popping in here real time to share a few book ideas for the food lover and home cook in your life. I'm including both cookbooks I have tested and used (some for years), as well as books *on* food and *about* food that I have really enjoyed and learned something from over the years. There are a few on this list though that I haven't yet read but have solid good reviews, and are on my wish list. So that we don't waste anymore time decking our homes and eating leftovers, let's get started!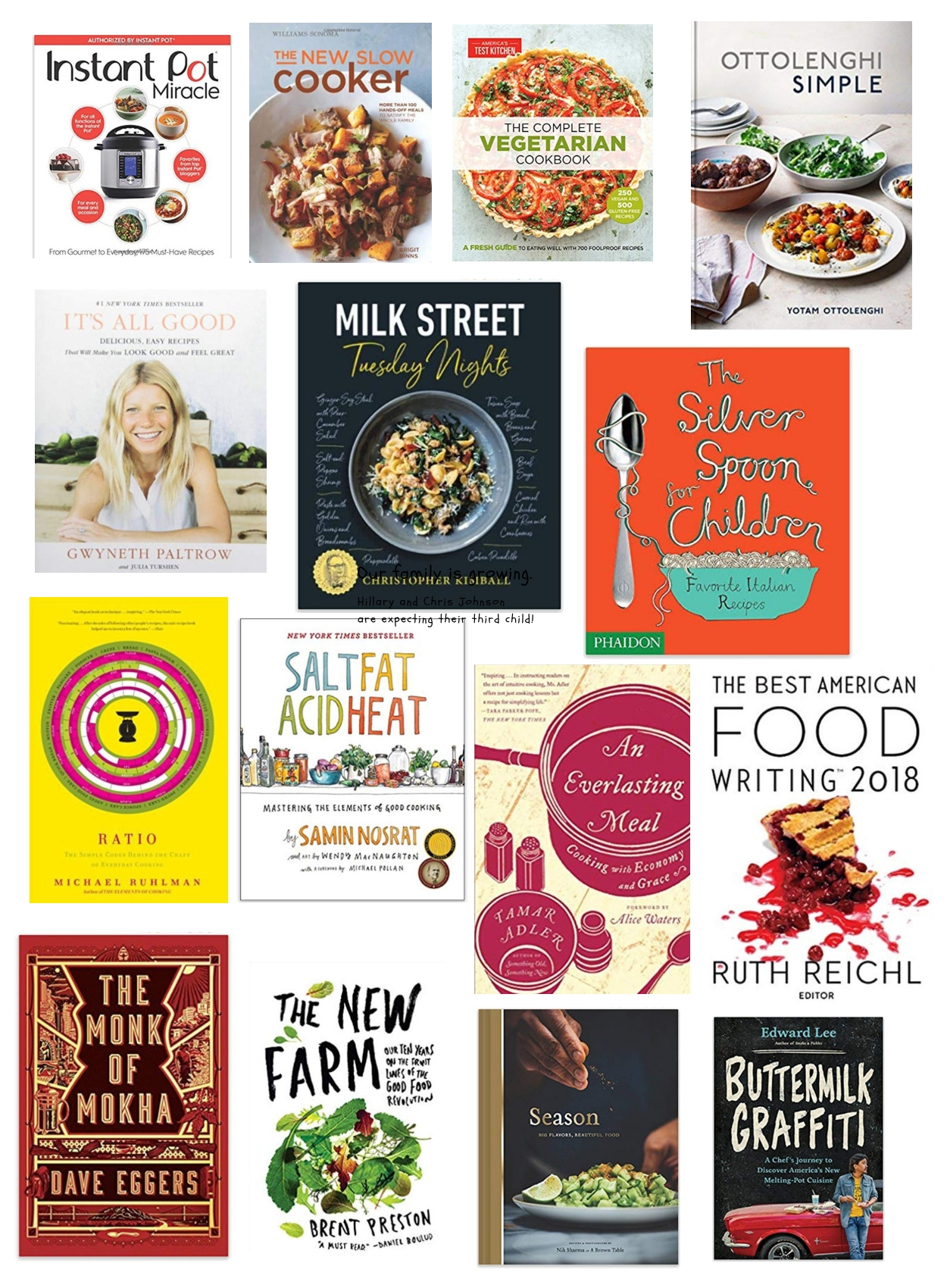 Solid Cookbooks I Vouch For by Category:
Instant Pot: Instant Pot Miracle: From Gourmet to Everyday from the Editors at Houghton Mifflin Harcourt $16.23 I wrote about this book earlier in the year and how much I've enjoyed it despite a couple of editorial glitches I discovered. Overall all the recipes I've made have been good and the instructions for closed pot time and release times are helpful in meal planning.
Crockpot: Williams Sonoma The New Slow Cooker: More than 100 Hands-Off Meals to Satisfy the Whole Family by Brigit Binns $23.64. I love this slow cooker book because the recipes all have some sort of interesting twist that takes them beyond the typical boring slow cooker meal.
Vegetarian: The Complete Vegetarian Cookbook: A Fresh Guide to Eating Well With 700 Foolproof Recipes by America's Test Kitchen $25.38. This is a very useful book for vegetarian families, but especially for meat eating families that want to incorporate more vegetarian recipes into their lives. There are so many vegetarian cookbooks out there to choose from and we have several, but I like this one the most because it really has all the basics covered and then some.
Regional/Beyond Basics: Ottolenghi Simple: A Cookbook by Yotam Ottolenghi $21.00. Ottolenghi has written several cookbooks, all well received, however his only stumbling block that he admits to is that they are often a bit complicated and contain a lot of unusual ingredients, but his new cookbook promises to contain less than 10 ingredients, most of them easy to find. This one also includes plenty of meat recipes for the omnivores in the family. If you're looking to switch up your cooking beyond the standard American fare, this is a fantastic book to help you do just that.
Intro to "Healthy" Eating: It's All Good by Gwyneth Paltrow & Julia Turshen $19.49. I had to include this one for old times sake, and also because all these years later, it's still a solid cookbook. I was talking to a reader recently who said some of the recipes are out of date compared to today's Keto/low carb lifestyles, but I still love it all the same and can think of 10-15 solid recipes out there I would still happily make any day of the week.
All Around Fun New Book: Milk Street Tuesday Nights: More Than 200 Simple Weeknight Suppers That Deliver Bold Flavor, Fast by Christopher Kimball $22.48  I recently attended a small talk and book signing by the author, best known for co-founding America's Test Kitchen & Cook's Illustrated and have since cooked a few of these recipes. In true CK form, they are all solid and work because they're rigorously tested for flavor and reproducibility in the at-home kitchen.
For Kids: The Silver Spoon for Children: Favorite Italian Recipes by Editors at Phaidon Press $16.95 This is a great book for not only teaching kids how to cook great Italian food, but also just how to cook. Wonderful illustrations that teach kids all the basics from chopping and slicing to mixing dough and browning up meat.
Books to Help You Learn to Cook Intuitively: 
Ratio: The Simple Codes Behind the Craft of Everyday Cooking by Michael Ruhlman $10.37 from the publisher: When you know a culinary ratio, it's not like knowing a single recipe, it's instantly knowing a thousand. He takes you through the basic cooking ratios of everything from sauces to doughs and batters so that you can cook recipe free.
Salt Fat Acid Heat: Mastering the Elements of Good Cooking by Samin Nosrat $21.00
An Everlasting Meal: Cooking With Economy and Grace by Tamar Adler $9.98
My 2018 Wish List
The Best American Food Writing 2018 by Ruth Reichl $10.99 From the publisher: Indeed, the twenty-eight pieces in this volume touch on every pillar of society: from the sense memories that connect a family through food, to the scientific tinkering that gives us new snacks to share, to the intersections of culinary culture with some of our most significant political issues. At times a celebration, at times a critique, at times a wondrous reverie, the Best American Food Writing 2018 is brimming with delights both circumspect and sensuous. Dig in!
The Monk of Mokha by Dave Eggers $15.74 From the publisher: Mokhtar Alkhanshali is twenty-four and working as a doorman when he discovers the astonishing history of coffee and Yemen's central place in it. He leaves San Francisco and travels deep into his ancestral homeland to tour terraced farms high in the country's rugged mountains and meet beleaguered but determined farmers. But when war engulfs the country and Saudi bombs rain down, Mokhtar has to find a way out of Yemen without sacrificing his dreams or abandoning his people.
The New Farm: Our Ten Years on the Front Lines of the Good Food Revolution by Brent Preston $14.30 From the publisher: The New Farm is Preston's memoir of a decade of grinding toil and perseverance. Farming is a complex and precarious business, and they made plenty of mistakes along the way. But as they learned how to grow food, and to succeed at the business of farming, they also found that a small, sustainable, organic farm could be an engine for change, a path to a more just and sustainable food system.
Season: Big Flavors, Beautiful Food by Nik Sharma $22.48 From the publisher: Season by Nik Sharma features delicious and intriguing recipes plus 270 of the most beautiful photographs ever seen in a cookbook. The bold flavors of Indian cooking combine with familiar ingredients and recipes of the American South and California in fresh ways.

Buttermilk Graffiti: A Chef's Journey to Discover America's New Melting Pot Cuisine by Edward Lee $11.95 From the publisher: American food is the story of mash-ups. Immigrants arrive, cultures collide, and out of the push-pull come exciting new dishes and flavors. But for Edward Lee, who, like Anthony Bourdain or Gabrielle Hamilton, is as much a writer as he is a chef, that first surprising bite is just the beginning. What about the people behind the food? What about the traditions, the innovations, the memories? A natural-born storyteller, Lee decided to hit the road and spent two years uncovering fascinating narratives from every corner of the country.
2 Honorable Mentions:
I did want to mention two other books that I have enjoyed and referred back to time and time again. The first is the Love & Lemons Cookbook by Jennifer Donofrio. This is a vegetarian cookbook that is great for vegetarian couples or individuals, but I don't find it as well suited for families when you're looking for Meatless Mondays. The portions are smaller, which obviously you can double, but I just prefer the vegetarian cookbook from ATK more for family cooking. I do love this book a lot though and use it quite often when home alone and cooking lunch or breakfast for myself.
The second book is the Body Love book by Kelly LeVeque. I reviewed this book earlier in the year and my review still stands that I think it's written for a younger audience. But with that being said, her recipes are great and I especially love her Fab 4 Smoothies. Those alone are worth the price of the book.