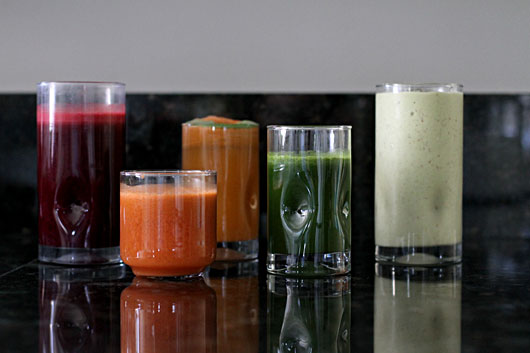 from left to right: carrot beet juice, kid's favorite juice; carrot cucumber juice, simple green juice, banana almond smoothie
While technically Gwyneth didn't make me actually start drinking juices, she did sort of push me to actually start juicing myself.  When I was pregnant with Hayden I had fierce cravings for citrus, and so I began going to Nektar at least once a week to get their Sublime juice.  The cravings grew into an addiction, and an expensive one at that.  I loved the way they made me feel, recharged, clean, healthy.  All those buzz words people throw around, i they all are in fact true.  For my birthday I asked for Amazon gift cards so I could buy my own juicer, but the gift cards have just sat there for the last 2 months.
So when I picked up her book, and saw that juicing was a big part of the cleanse menu, which I hope to eventually do, I figured I better start juicing.  Before I committed to one though, I took a friend up on her offer to borrow her old Jack LaLanne just to see if I would even mind the process.  It is in fact a process, from start to finish, including the cleaning of all the different parts, you're in the kitchen for at least 20 minutes.  For me it is absolutely worth it because I LOVE the taste of the juices, and as I said, I feel better after having drank them.  I just wish it wasn't so time consuming, because I might then juice  more.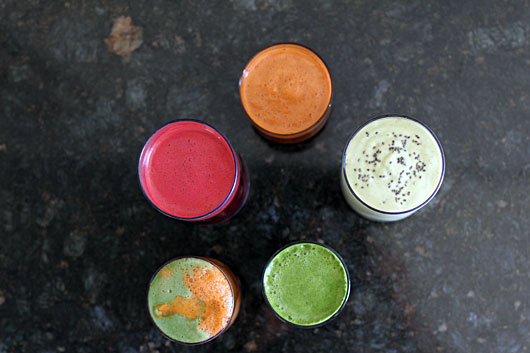 At any rate, even though it is a bit time consuming, it shouldn't be overwhelming, and so I wanted to show you what I've learned and created in just the past week of juicing.  It really is easy, and the juices taste way better than ones you'll get at Nektar and Whole Foods.  For some reason, it seems like the people at those places try to get all fancy pants and add a bunch of ingredients, but I like the simpler 4-5 ingredient concoctions the best. For all the juices, I don't worry too much about removing the peels or seeds, but I do remove the knobby ends from things like carrots and cucumbers, and I remove stems from apples. For all juices I just run it straight through the juicer, and for the smoothie I blend in my Cuisanart. I serve all at room temp just as they come out and taste so much better this way. I had been ordering all of my juices from Nektar and Whole Foods over lots of ice and it completely waters down the flavor. I thought I needed the ice to make it more palatable, but these are in fact so fresh and good, ice just ruins them, in my opinion anyhow, and you know I always have an opinion on things!  Oh, and when in doubt, add an apple.  Apples seem to be the secret key ingredient to take the edge off of everything, it's a nice healthy way to balance flavors and take the earthiness out of greens and beets by adding just a bit of sweet.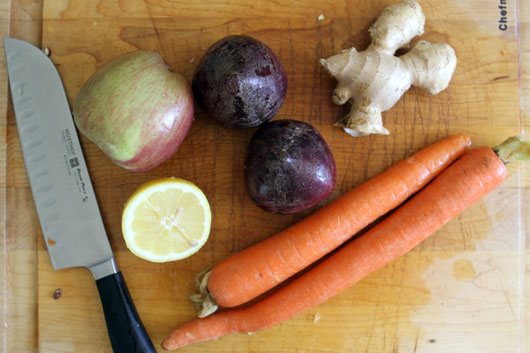 Carrot Beet Juice (GP's recipe from It's All Good)
2 smaller beets cut up
2 medium carrots cut up
1/2 lemon peel and pith removed
1 medium apple cut up
1 inch piece of ginger
A sweet yet earthy flavor with a vibrant red color.  Hold back on the ginger if you're sensitive to the taste, like my husband, because the ginger really shows up in this blend.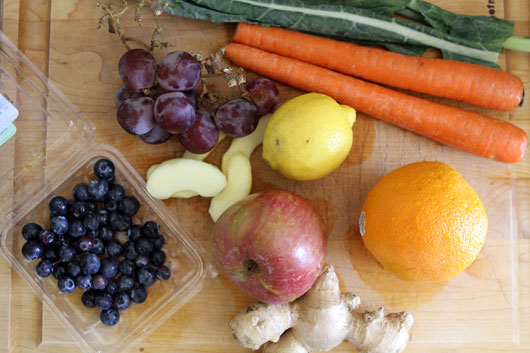 Kid's Favorite Juice Concoction
This is basically whatever the kids feel like adding in that day, and we have lying around the house, leftover from lunches or those random fruit cups you get at restaurants that the kids never seem to eat. I hate wasting those so I always bring them home, freeze them and then add them to smoothies. Now, we add them to their juices. On this particular day the kids added big globe grapes, an apple, blueberries, half an orange, half a lemon, a couple of carrots, some ginger, and a couple of kale leaves just because they like to feel "healthy", as Taylor puts it.  These always are so sweet and the kids down them.
Super sweet and kid friendly, by adding grapes and blueberries and less carrots, you get a really pretty purple color which the kids go nuts for.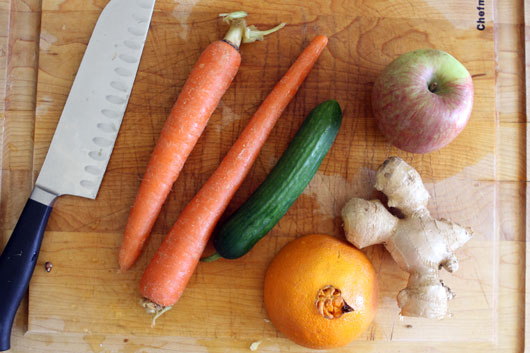 Carrot Cucumber Juice (my own concoction)
2 carrots cut up
1 baby seedless cucumber cut up
1/2 an orange peel and pith removed
1 apple cut up
1 inch piece of ginger
A pure clean flavor is the best way to describe this one.  The cucumber really adds a fresh watery flavor and cuts the carrot flavor down  a bit.  If you add the cucumber first, then the carrots, the green color floats to the top making a really pretty and cool effect.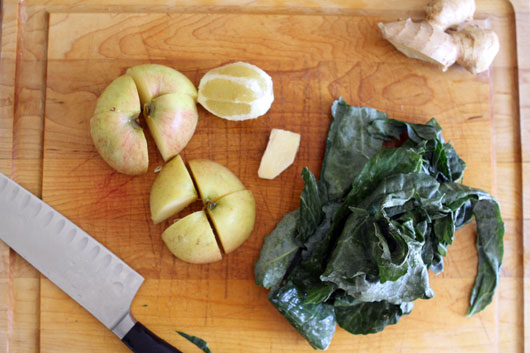 Simple Green Juice (GP's recipe from It's All Good)
5 kale leaves roughly chopped or torn stems removed
1 good size apple cut up
1 lemon peel and pith removed
1 inch piece of ginger
Quick and easy to make, this is definitely a very strong citrusy flavor so be mindful of that if you love or dislike citrus.  This blend doesn't make a lot of juice because of the kale leaves, maybe 4-6 ounces on average.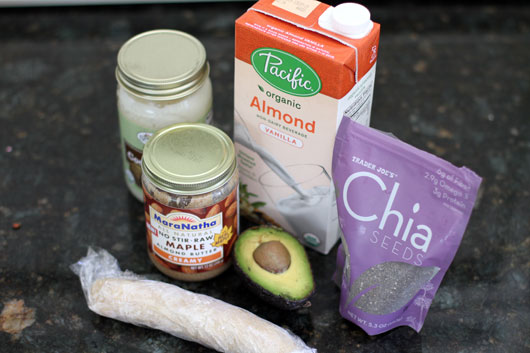 Banana Almond Smoothie (my own concoction)
1 cup sweetened almond milk
1 banana preferably frozen
1 tbsp almond butter
1 tbsp coconut oil
1 tbsp raw almonds
1/2 avocado
1 tsp chia seeds mixed in once blended
After a horrid recipe I followed in GP's book, kale almond smoothie, I came up with this, using some advice from friends.  The avocado adds in your "greens" in a much smoother way, and the frozen banana adds a lot of sweet.  This is high in banana flavor, so beware if you don't love bananas, like my daughter.  She won't touch this one, but my son loves it.  I've drank this in the afternoon in replace of my snack  and it really filled me up.
As you can see, I've learned a lot in the past week but am by far no expert.  Would love some of your favorite juicing and smoothie recipes, please.