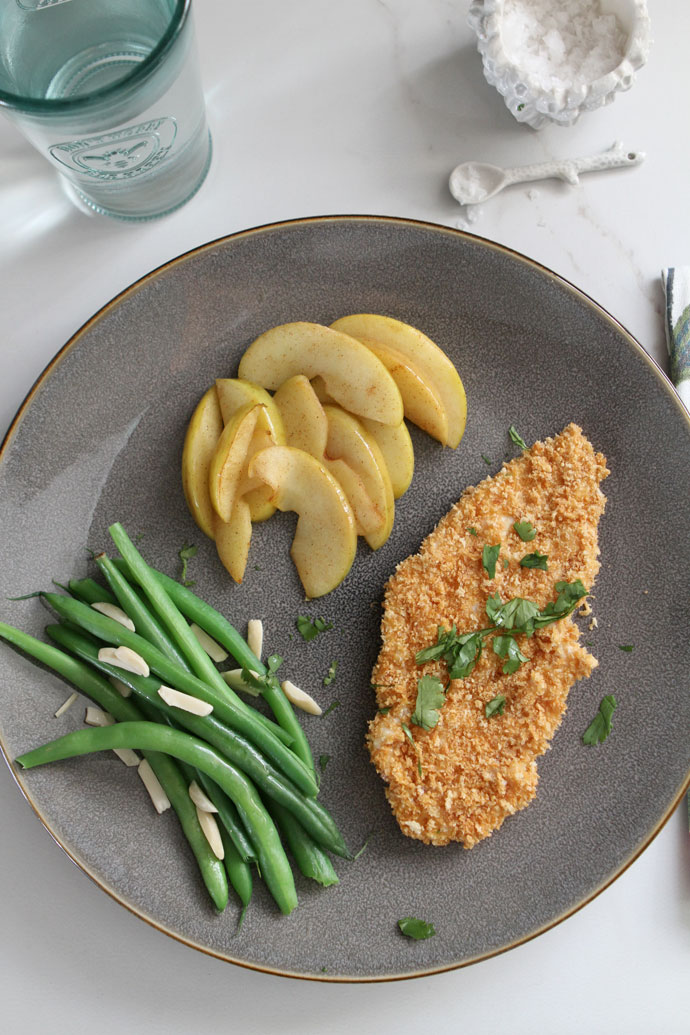 I have an internal conversation with myself each day as I prepare dinner, in which I decide whether Syd will eat the food I'm preparing. Most days it's pretty cut and dry, and I just know that certain things will require modifications, and other things he gobble down. Other days, I really can't decide and on those days, the kid usually surprises me. The fact that I'd even consider his tastes each day would have some people believe is strong proof of why he is particular when it comes to food choices. But if you spent any time in our house, they'd see this kid is particular about a lot of things, least of which is food, and so in an effort to try and understand him better, and therefore connect with him better, I consider his feelings on all sorts of matters, but especially food.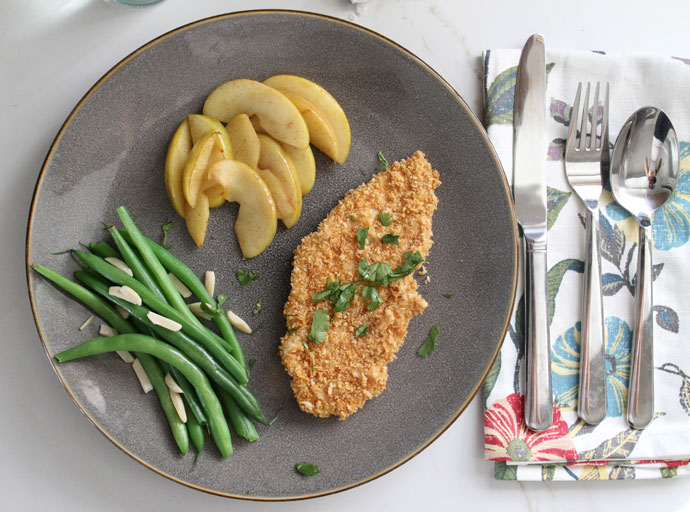 That was a really long way of saying, that because of my daily considerations of Syd's taste buds, I came up with these quick and easy chicken cutlets. I was making chicken parmesan for the family, but without question knew Syd would not want sauce on his chicken, as he loathes all things tomato based, including ketchup. So I simply left the sauce and cheese off of his chicken, and it turns out, these were just as good, albeit a totally different flavor, and reheated beautifully for leftovers. They also didn't lock us into a specific culinary region, like chicken parmesan does, making you feel like you must eat it alongside a bowl of pasta, and were just overall, a lot more versatile. As leftovers they served up nicely when chopped up and topped on a salad, and even worked in the kid's lunches one day. I've made these a few times now, and I think they strike a nice balance between grown up and kiddie food; being breaded they automatically appeal to the younger set, but being baked and not in the form of a nugget or tender, they appeal to grown-ups too. Here's how I  make these little beauties.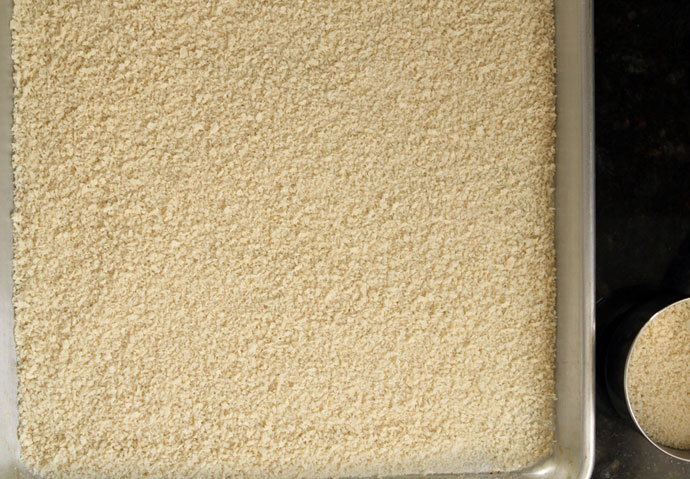 You've got to start by baking your bread crumbs, and while we're discussing bread crumbs, I think Panko crumbs work best here. Panko crumbs are just bread crumbs made with crustless bread. Baking the crumbs first will give them a nice golden brown color and make the cutlets look even prettier. Of course they add a little bit of extra flavor as well. Season your crumbs with salt and if desired, pepper, to give them a bit more flavor though.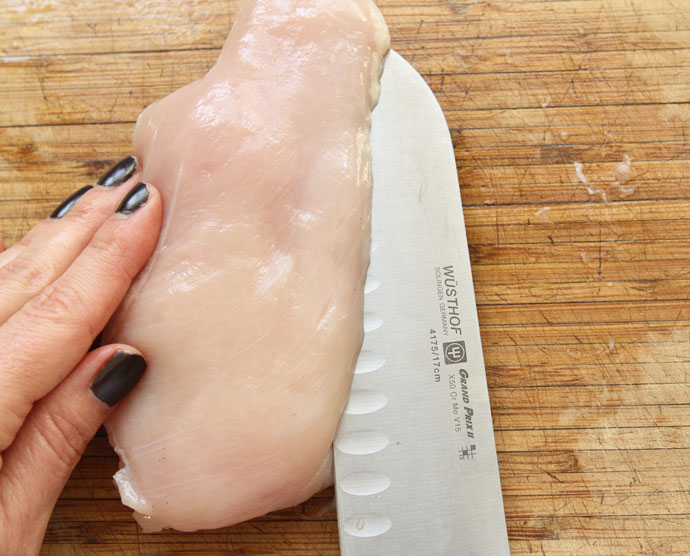 Now you want to use cutlets for this recipe, as they bake so much quicker, hence allowing you to get dinner on the table even faster. Plus, they just come out more tender this way too. Speaking of tenders, don't buy those little tender packs, as they're too small. Tenders are that little piece of flap meat on an actual breast, which are too small to serve much purpose, other than making kiddie chicken tenders. Save them for another purpose, or use them here if you must, but breast tenders shouldn't serve as your whole meal.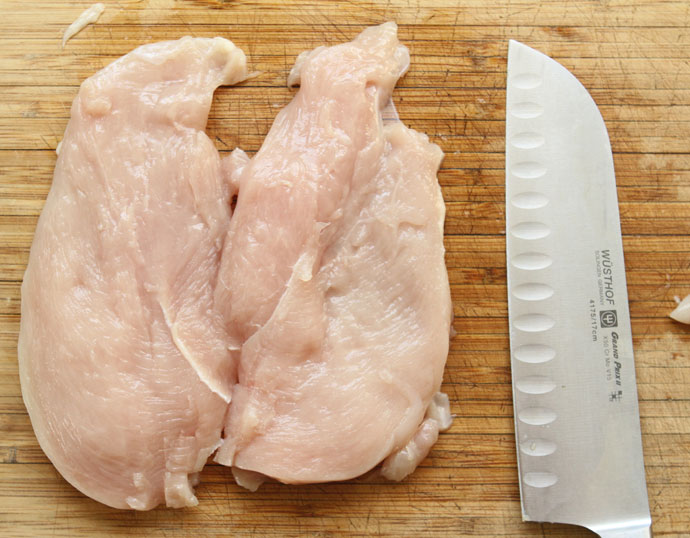 Cutlets are made by simply inserting a sharp knife into the middle of your breast, and slicing it in half. Easy peasy, and the extra 5 minutes it takes to cut each breast in half, saves you at least 15 minutes in cooking time, so there.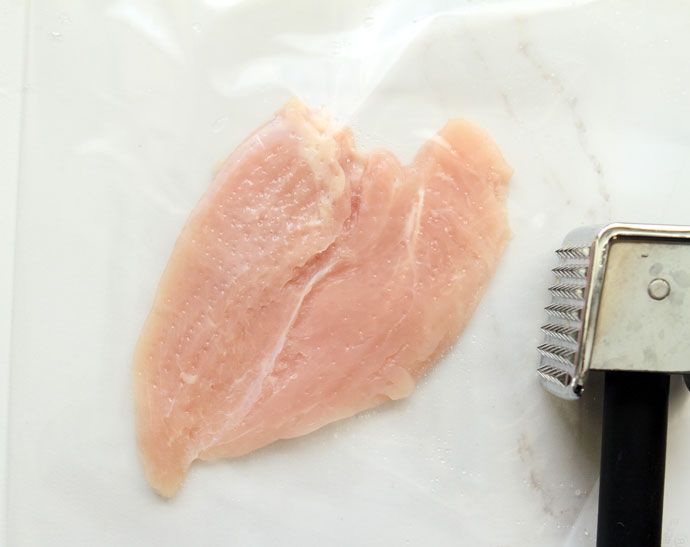 Place your cutlets either in a ziploc bag or between two sheets of plastic wrap, and pound into submission. Okay, actually don't pound too hard, just a few little whacks will do, as you don't want to demolish your beautiful cutlets, just tenderize them. Add some salt and pepper to each cutlet to give them a bit more flavor.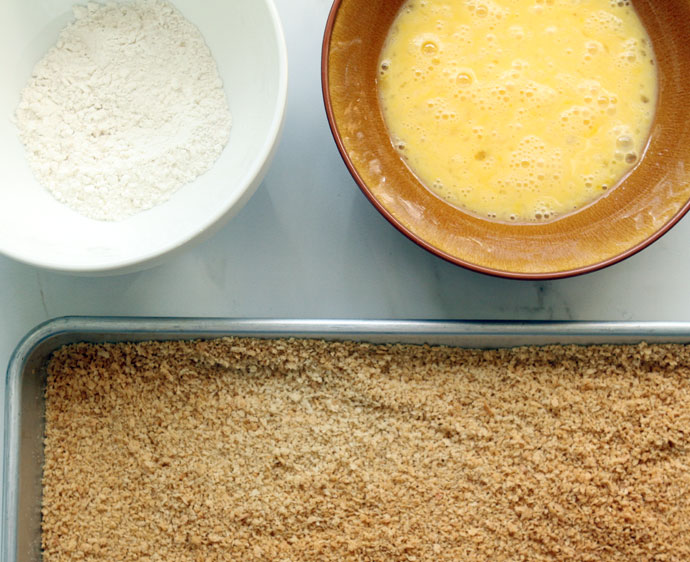 Get your flour or flour substitute, eggs and crumbs all together in a space that allows you to work efficiently, and dip in flour, dip in eggs, and then roll around in the bread crumbs to evenly coat. I then take one of those cookie cooling racks, and place it on top of another baking sheet, and place the coated cutlets on top of cooling rack. This allows air to circulate really well, cooking the cutlets perfectly, and also makes the cutlets a little easier to flip, with minimal bread crumb loss, half way through cooking. You will want to flip these by the way, to bake evenly on both sides.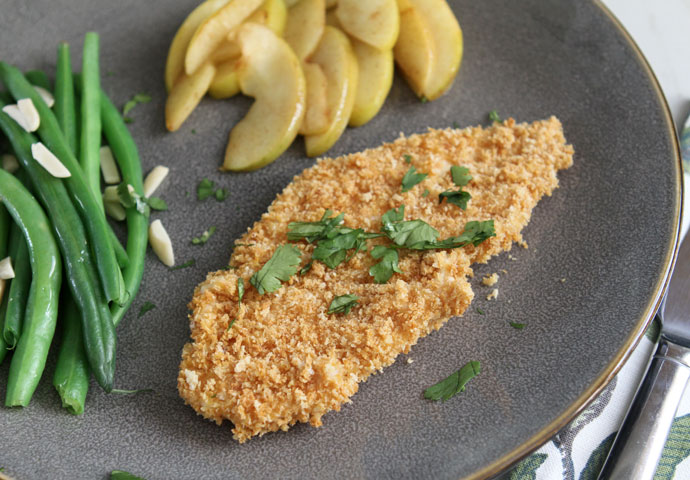 Serve alongside your favorite vegetable such as green beans or spinach, and I have found warm apples or applesauce is a nice accompaniment to this as well, sort of like pork chops and applesauce.
To reheat, simply store in your favorite container, and when ready to reheat, place cutlets on a foil lined baking sheet and heat in the oven with the broiler set on low. You'll have to watch them carefully though and only cook for no more than 5 minutes. If you tend to be forgetful about things cooking in broiler mode, just reheat in the oven.
Now, a word on making this dish gluten free. It's fairly easy; when coating your chicken, you just use a flour substitute like arrowroot powder or rice flour, and you sub almond meal, not almond flour, for the panko breadcrumbs. I have gone through the process of baking the almond meal first, like I do with the breadcrumbs, and have found no difference in taste or color, so just skip that part, and bake the rest as usual. No big deal at all.
Good luck and I hope you enjoy these as much as we do!
Print
Easy Baked & Breaded Chicken Cutlets

These easy breaded and baked chicken cutlets make for the perfect healthy, weeknight meal.
Author:
Prep Time:

15 mins

Cook Time:

12 mins

Total Time:

27 mins

Yield:

4-6

Category:

Main Dish

Cuisine:

American
Ingredients
2-3 chicken breasts, depending on size, cut into 4-6 chicken cutlets
4 cups plain Panko bread crumbs
4 large eggs
1/3 cup flour or flour alternative of your choice, arrowroot powder works well too
salt & pepper for seasoning
Instructions
Preheat your oven to 375. Season your bread crumbs with a generous amount of salt and pepper, and the spread out in a single layer onto a large baking sheet. Bake in the oven for about 7-10 minutes, until golden brown but not dark brown.
While your breadcrumbs are baking, pat your chicken breasts dry, and cut them into cutlets by inserting a sharp knife into the center of the breast, and slicing in half, creating two thin breasts, or cutlets. You will want to slice off the little tender piece of meat found on most breasts, and either reserve that for another use, or to make a really small version of these breaded cutlets.
Once you have your cutlets ready to go, either wrap in plastic wrap or place in a Ziploc bag, and tenderize them till soft and thin, but not see-through. If you wish, season the cutlets with a bit more salt and pepper.
Whisk your eggs in one shallow bowl, and place your flour in a separate shallow bowl.
Dip your cutlets one at a time in the flour or flour substitute, and then in the egg wash. Then dip in the browned bread crumbs, still spread out on the baking sheet. Make sure the cutlets get an all-over even coating of the crumbs.
Place cutlets on a wire rack, like a cookie cooling rack, placed over a baking sheet. This will allow for the breaded cutlets to get a nice even cooking, and will reduce the amount of breadcrumbs that fall off when you flip them half way through cooking.
Bake in the 375 oven for 10-12 minutes, flipping half way through cooking.
Serve along side your favorite side dishes, but they taste exceptionally good with some warm apples and buttered green beans.